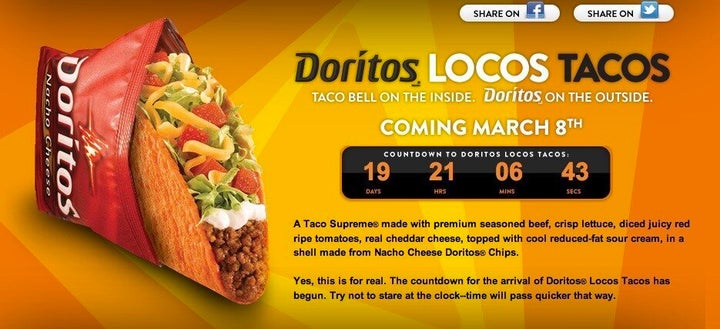 Depending on your orientation towards novelty in fast food, March 8th will either be a secular pseudo-holiday or the latest step on the well-trodden path to apocalypse. Why? On Thursday, March 8th, 2012, Mexican fast food chain Taco Bell will finally bring its long-gestating Doritos Locos Tacos -- which subs out a normal hard corn taco shell for a folded circle of Doritos -- to restaurants across the nation.
The tacos will cost $1.29 for a regular and $1.69 for a "Supreme." Taco Bell executives indicated that the Doritos Locos Taco would be a regular fixture on the menu for the foreseeable future, so no need to rush to stores the moment the tacos are available.
Still, Taco Bell seems to be anticipating (or maybe hoping for) such a rush: its website features a countdown clock to the Doritos Locos Taco front and center. It's also allegedly prepped 85 million Doritos taco shells in advance of the launch. That's almost one for every three Americans.
Popular in the Community