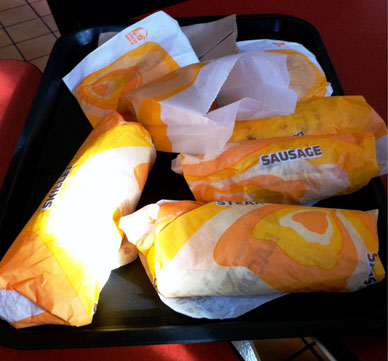 This week, Taco Bell rolled out its long-awaited breakfast menu at 750 locations in 10 states across the country. The Tex-Mex titan of fast food, whose parent company is Yum! Brands Inc., spent the past five years developing the 11-item menu, known as "First Meal."
Slideshow: Reviewing Taco Bell's New 'First Meal' Breakfast Menu
Breakfast menus have a long and storied history in the American fast-food industry. In 1971, McDonald's introduced the first Egg McMuffin. In 1977, they officially unveiled their entire breakfast menu. Today, most McDonald's locations start serving breakfast around 6:00 a.m., and a host of other fast-food chains (Jack in the Box, Carl's Jr., Burger King, Wendy's, and even Starbucks and Subway) have been slow but sure to follow suit in delivering the "most important meal of the day." The one major fast-food chain to hold off on this trend, until now, has been Taco Bell, a seemingly natural addition to the breakfast bandwagon (Photo Credit: Andy Sweat).

Slideshow: Reviewing Taco Bell's New Cantina Bell Menu
But all you late-night "Fourth Meal"-ers won't have to wait any longer -- your "First Meal" has arrived (does that technically make it five meals a day?). The options include a Johnsonville Sausage and Egg Wrap, two larger burritos (the Grande Skillet costs $2.79 and the Steak and Egg costs $1.99), two smaller $0.99 burritos (Bacon and Egg, Sausage and Egg), a hash brown, a quartet of Cinnabon Delights (fried dough balls with cream filling), fresh-brewed Seattle's Best Coffee (hot, iced, and flavored); and Tropicana Orange Juice.
Slideshow: How to Order Mexican Without Sounding Estúpido
So what are early reviewers saying about Taco Bell's "First Meal" launch? In the following slideshow, three different types of avowed Los Angeles-based fast-food connoisseurs tested every item on the menu and gave their honest opinions.
Judge number one is what some would call a "fast-foodie," a connoisseur of all things drive-thru, the kind of person who would name their first child Mickey, and their second child Dee. Judge number two is the "breakfast-on-the-run" type, that friend of yours who's always apologizing for stray McMuffin wrappers when you get in their car. And judge number three is the "health nut," the health-conscious provider and parent who recognizes the time-saving benefits of fast food, but also knows the risks.
Nutritional facts are included with each item, but reviews were primarily limited to taste.
- Joshua Morrison, The Daily Meal
More from The Daily Meal:
America's 10 Most Romantic Restaurants
The 10 Worst First Date Foods
A History of Food and Video Games
Best Athlete Food Endorsement Ads
Strangest Packaged Foods of All Time
PHOTO GALLERY
Reviewing Taco Bell's 'FirstMeal' Breakfast Menu
REAL LIFE. REAL NEWS. REAL VOICES.
Help us tell more of the stories that matter from voices that too often remain unheard.