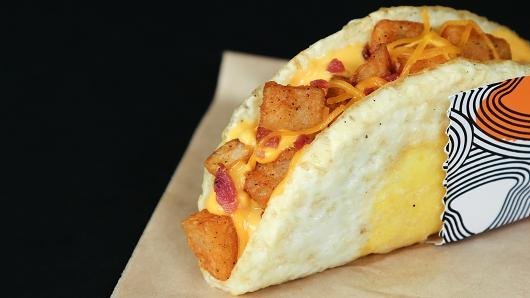 At the end of the month, Taco Bell is releasing a fried-egg taco shell nationwide.
This breakfast "taco," marketed as the Naked Egg Taco, uses a fried egg in place of tortilla and is filled with sausage, potato and cheese. It's striking, sure, but it makes us wonder: what in the world is wrong with a regular tortilla?
The answer is simple: the tortilla doesn't sell tacos like a waffle, biscuit or fried chicken can. Sophie Egan, author of Devoured ― a book that examines the way we eat ― told HuffPost that this is known as "stunt food."
"These species of food-like products are the click bait of the physical world," Egan explained. "They're so shocking you can't help but react and respond."
Egan explains that stunt food is essentially a marketing stunt, and it is entirely successful for three reasons. First, it preys on the consumer's fear of missing out. Second, as a nation we place an enormous premium on innovation and we applaud creative genius (even if it comes in the form of an egg taco shell). And third, consumers have a desire for experiential cred, which can come in the form of social media likes, that we get from our peers for doing something new or different. If you think about it, social media platforms like Instagram are essentially experiential resumés, visually highlighting everything a person has done (or eaten). Because of them, stunt foods have definitely found an audience.
According to Egan, stunt foods started with KFC's Double Down. This was a sandwich made with fried chicken in place of bread. But Taco Bell, which is owned by the same company as KFC, seems to have really taken ownership of this genre of food. The wild success of the Doritos Locos Taco, which has passed one billion dollars in sales, has inspired them to find another home run. "These legacy brands are losing touch, and they're looking for that next great hit," explains Egan.
"It's no surprise that they're looking for whatever ingredient is lying around the kitchen to see what works, to keep people coming in just out of sheer curiosity," Egan elaborated. Even if that ingredient is an egg.
Taco Bell is proud of that, too. Liz Matthews, Taco Bell chief food innovator, said in a statement, "Shell innovation is at the core of where we experiment."
And your social media account is where they hope it ends up.