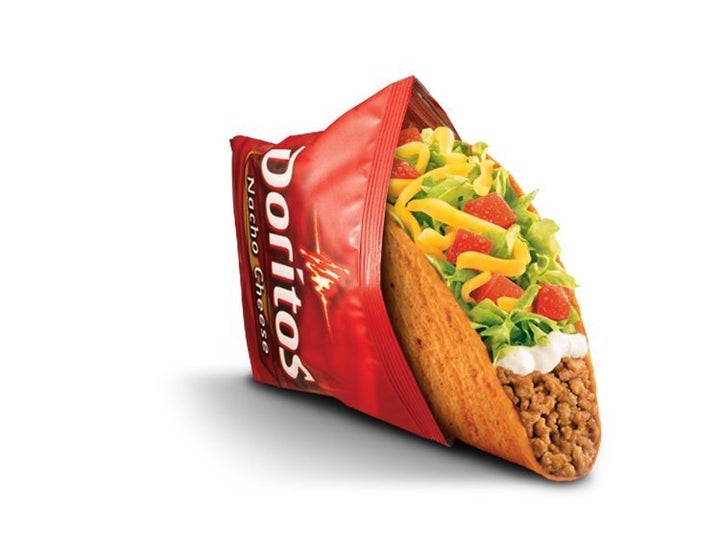 LOS ANGELES, March 19 (Reuters) - Taco Bell turned in an unexpectedly strong sales in 2012, but delivering a second consecutive year of restaurant sales growth will be a difficult task for the No. 1 Mexican fast-food chain.
Taco Bell's two-track strategy - cheap Doritos tacos for hungry young men and the slightly pricier and higher-quality Cantina Bell menu for more mature audiences - helped it outperform the industry in an otherwise tough year.
But maintaining that momentum could be a challenge for the chain, which has had a multiyear streak of uneven results.
"It's been awhile since they've been able to lap a good year with another good year," Sanford C Bernstein Research Analyst Sara Senatore said of Taco Bell.
Taco Bell last put up consecutive years of same-restaurant sales gains from 2002 through 2006, the company said.
The 5,700-unit chain owned by Yum Brands Inc for decades has used inexpensive food to build loyalty among cash-strapped teens and late-night party people.
But before 2012, Taco Bell struggled to find new game-changing food. It has grappled with food safety issues, including a 2006 E. coli outbreak that forced the temporary closure of dozens of units. And, in 2011, sales were hurt by a quickly dropped lawsuit that challenged its meat quality.
Last year's debut of exclusive Doritos Locos Tacos, priced slightly above $1, hit a bull's-eye with the chain's base of young male customers - quickly becoming the most successful product launch in Taco Bell's 51-year history.
The chain accounts for nearly 20 percent of Yum's overall operating profit, but for years has been overshadowed by the company's KFC business in China, which generates 40 percent of total operating profit and remains Yum's main growth engine.
Good performance from Taco Bell is like the "icing on the cake," said Telsey Advisory Group restaurant analyst Peter Saleh. "It's not going to be the driver of the stock."
Sales at established U.S. Taco Bell restaurants rose 8 percent last year, more than the 7.1 percent rise booked by burrito chain Chipotle Mexican Grill Inc, which has been one of the restaurant industry's best performers.
The results made Taco Bell a stand out in 2012, a year when dominant chains like McDonald's Corp and Chipotle saw business cool, but they followed 2011's 2 percent same-restaurant sales drop.
Taco Bell Chief Executive Greg Creed wouldn't forecast sales for 2013, but he did say that Taco Bell would clear its biggest hurdle from last year - 13 percent same-restaurant sales growth in the second quarter.
"I'm taking the over that we can beat plus 13," Creed said in a recent interview.
To do that, it needs continued strong performance from the Doritos line. Taco Bell has sold more than 350 million Doritos Locos Tacos since the flagship Nacho Cheese version rolled out a year ago and was followed by the debut of Cool Ranch this month.
Creed aims to sell half a billion Doritos Locos Tacos in 2013, when Taco Bell plans to add a third flavor based on spicier chili-lime Flamas Doritos and benefit from a switch from local to more effective national advertising.
Time will tell if Flamas tacos can match the success of their predecessors, which are based on the two most popular Doritos chip flavors.
As it expands that cheap Doritos line, Taco Bell is adding new food to its healthier, and pricier, Cantina Bell menu aimed at women and older men. Among the new offerings are fajitas that will set a new high price of $5.49 for the chain.
Taco Bell's Cantina menu resembles the one upscale rival Chipotle built its business on, but is priced about one-third lower. Unlike Chipotle, Taco Bell does not use premium organic produce and antibiotic-free meats.
In addition to pushing through the $5 price barrier with new fajitas, Taco Bell has plans for $4.99 steak quesadillas.
The chain might not get the sales they want from the new, more expensive food, but "it may keep the Taco Bell customer from graduating up to Chipotle a little longer," Saleh said.
Taco Bell said the Cantina Menu accounts for 4 percent to 5 percent of overall sales and helped the chain rebuild its reputation after the beef quality lawsuit.
Taco Bell's quality score dropped to a low of minus-10 after news of the meat quality lawsuit hit in 2011, according to YouGov BrandIndex. Its current score has improved to 4, but still lags 8 for McDonald's and 14 for Chipotle.
Every restaurant operator, including industry leader McDonald's, hopes to attract a broad audience with both value and premium-priced food - and they all struggle to get it right, said Bob Goldin, an executive vice president at food service consulting firm Technomic.
"It's very hard to do. The more you move away from your core, the more you risk losing your core," Goldin said.
Calling all HuffPost superfans!
Sign up for membership to become a founding member and help shape HuffPost's next chapter
BEFORE YOU GO
PHOTO GALLERY
Doritos Locos Successes