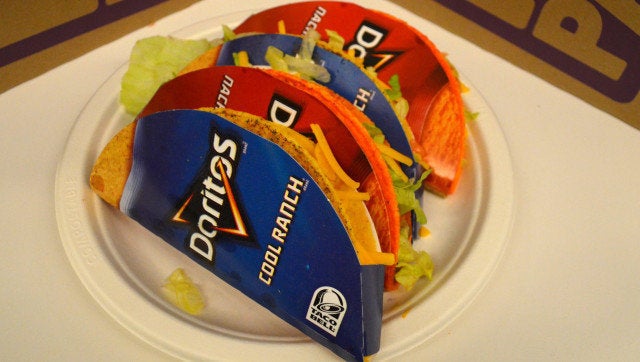 IRVINE, CALIF. -- Would you eat a "Mexagon"?
Probably not. The name, an unappetizing portmanteau of "Mexico" and "hexagon," might sound more appropriate for a high-school geometry class than for your lunch hour. Yet Stephanie Perdue, Taco Bell's marketing director, recalls it being floated as the name for one of the most successful products in the history of fast food, the Crunchwrap Supreme.
Taco Bell has long shaped Americans' lexicon of Mexican dishes from its headquarters here in sunny Irvine, Calif., which are as bland and pleasant as the offices of a company selling pharmaceuticals or web servers. (No nacho cheese sauce fountains or taco shell ball pits were in evidence.) In the 1960s, decades before salsa became America's most popular condiment, the chain taught English-speaking diners how to pronounce previously foreign words like "taco" and "burrito." The first Taco Bells served as few dishes as Chipotle does now -- and they had menus that included phonetic guides for each one.
Today, the Yum! Brands-owned chain has a repertoire that extends far beyond classic Mexican dishes. Taco Bell fields ideas for new products from customers, frontline employees and executives every day, and it tests thousands of them with consumers every year. Sometimes, new dishes take actual Spanish names: chalupa, gordita. But the 150 employees on the company's product development and marketing teams are trying to name their products to maximize sales, not authenticity. So they often coin new words to name dishes that would be as foreign in Oaxaca as they are in Topeka.
"Naming is really important to Taco Bell," said marketing VP Rob Lynch. The basic philosophy is to strike a balance between "functionality and engagement," Lynch said. In practice, that means finding names that are palatable to the majority of Americans while also giving them a flavor of the exotic.
Sometimes, a product's name is obvious. When executives from Taco Bell and Frito-Lay jointly came up with the idea for a Doritos-flavored taco at a meeting in Irvine, for example, they started calling it the "Doritos Locos Tacos" almost immediately. The name clearly revealed the nature of the product, while also suggesting, through its triple rhyme and use of the Spanish word for "crazy," a certain zaniness.
"We played around a bit with the form -- at one point, Frito-Lay asked us if it could be shaped like a triangle, for example, and we changed up the spicing a lot in the beginning," Perdue said. "But even when we didn't have the product right, the name was there."
Given that Americans have ordered over 425 million Doritos Locos Tacos since March 2012, the team seems to have been right to trust their instincts.
But inspiration doesn't always strike so precisely. More often, Taco Bell's marketing team experiments with more names than an expectant mother. In 2005, Taco Bell's corporate chefs tried wrapping a hard-shell taco in a big, soft tortilla to solve the age-old problem of taco spillage in cars. Seventy percent of Taco Bell's revenue comes from drive-thru windows, so the company's executives thought it could be a hit -- with the right name.
"We had to choose what aspect of the dish we wanted to emphasize," Perdue explained. "What really stood out for us was the texture, the combination of a crunchy and soft shell. But the shape was also unusual. Who's ever eaten a hexagon?"
Hence, "Mexagon." Perdue said her team also tested "Origami Tostada," "Crunchwich" and "Crunchilada," among many others, with Taco Bell fans to see which one they liked best. They ended up finding that the names that emphasized shape weren't alluring to consumers; they didn't scream "craveability," the crucial metric for most fast-food products.
"Consumers were really responding to Crunchwich," she said. "But they told us, 'You're not about sandwiches. You're Mexican!' So we changed the 'wich' to 'wrap.'" The Crunchwrap Supreme was born.
Some new products have taken even more work than that. To name a new upscale section of the menu featuring fresher ingredients, Taco Bell commissioned a naming agency that brainstormed 700 possibilities, including "Incredibell," "Chef's Selection" and "Bell Mercato." "Adobe Grill" emerged as an early frontrunner.
"When we tested that with consumers, they told us that it brought to mind Southwestern cuisine and spices," Consumer Insights Director Linda Ashbrook said. "But what we wanted to communicate was freshness, because we'd gone to all this trouble to source better ingredients. So we ended up playing around with the word 'cantina,' which made us think of street scenes in Mexico. It brought freshness to the forefront."
Initially, they toyed with "Bell Cantina," but they ended up switching around the words and settling on "Cantina Bell." Lynch said that the section, which was developed in part by celebrity chef Lorena Garcia and debuted across the country in July, is on track to generate 70 percent as much revenue as the Doritos Locos Taco in its first year of release. That's north of $500 million.
In a conference call with reporters on Wednesday, Taco Bell CEO Greg Creed reiterated his goal of doubling domestic Taco Bell annual sales, from $7 billion to $14 billion, within the next decade. Half a billion dollars doesn't quite get them there -- but it's a whole lot more than "Mexagon" or "Incredibell" likely would have netted them.
Click through below for a tour of the Taco Bell headquarters in Irvine, Calif.: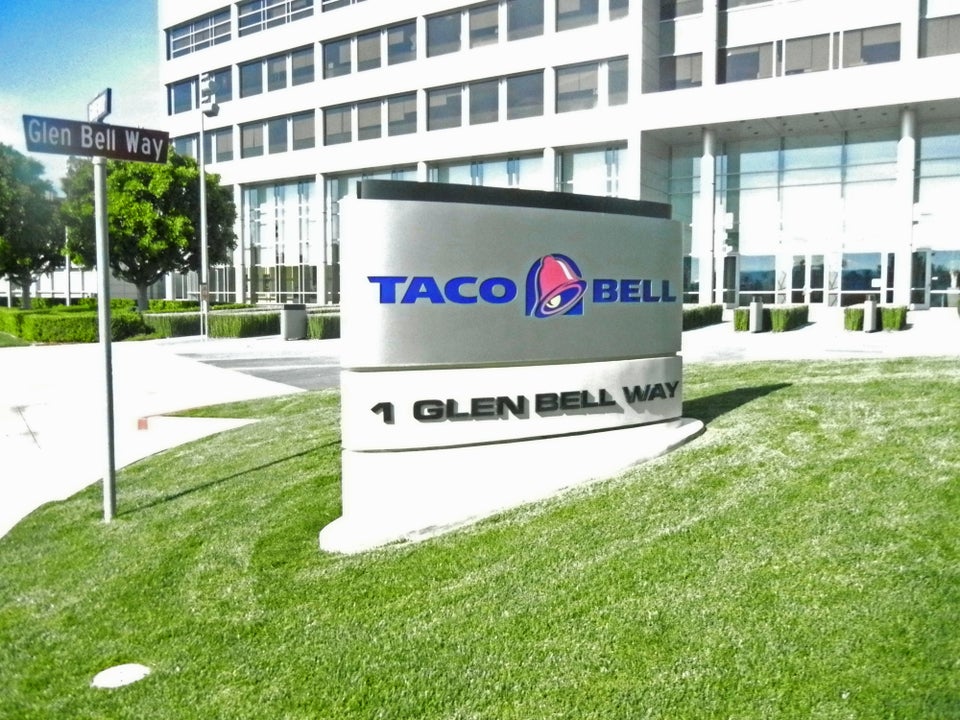 Inside Taco Bell's World Headquarters
Related
Popular in the Community