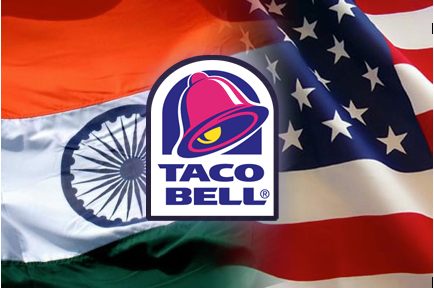 "1 Mexican Pizza, no meat; substitute with beans."
For thousands of Indian Americans, this phrase is second nature, and is often told with the enthusiasm of a kid in a candy store. Growing up, none of the my friends understood the love I had for Taco Bell. In fact, I would get many questions along the lines of:
"Dude, you're vegetarian... what the heck can you eat there anyways?"
"Bro, isn't everything made with beef, and aren't like cows sacred for you?"
The questions, although silly, make sense. Why in the world was a vegetarian Indian boy like myself eating ― of all things ― Taco Bell?
Although it's weird, and an unlikely phenomenon, there is a history behind the affection that Indian Americans have for Taco Bell. And it has to do with first generation immigrants from the eighties and nineties.
Between the wonder years of 1980-1999, the population of Indian born immigrants in United States increased from ~200,000 to over 1,000,000.
My parents were part of that group. And in the beginning of this influx of Indian immigration to the U.S., my parents found that there weren't many culturally relatable foods in this free world. Three things stood out:
1. No South Asian-specific grocery stores for key ingredients
2. There were few Indian restaurants
3. Not much vegetarian friendly cheap food
For Indian immigrants in the eighties, money was too tight to eat out at expensive restaurants. In addition, Hindu beliefs do not permit the consumption of beef, and therefore for strict followers, this means a vegetarian or poultry based diet.
Think about the restrictions. Even at home, a spice heavy cuisine (turmeric, chili power, etc.), was to be eaten with only the spices that were available. With many of these immigrants working long hours, or attending night classes, it was difficult to cook everyday.
In terms of affordable fast food, with the exception of McDonald's and Wendy's fries, and the occasional pizza slice, there was not much available to eat. And seriously, who wants to eat bread with cheese and lettuce?
Taco Bell changed the fast food game for these immigrants. Not only was it cheap and quick, but it also gave a freedom that was so difficult to find in other places: choice.
Anything on Taco Bell's menu can be substituted from beef to refried beans. And these items, whether the burrito, taco, tostada or Mexican Pizza, actually related to the tastes that Indians grew up with.
How is Mexican food even close in taste to Indian food? Simple: It carries a bread (roti vs. tortilla), a vegetable (beans, onions, tomatoes), dairy (yogurt vs. cheese), and most importantly, spice. The sauces produced by Taco Bell, whether mild, hot, or fire, give that masala spice flavor that fits the palate of an Indian. This was a match made in heaven. In fact, a regular tradition that formed was to take extra sauce packets home, and eat them with other foods!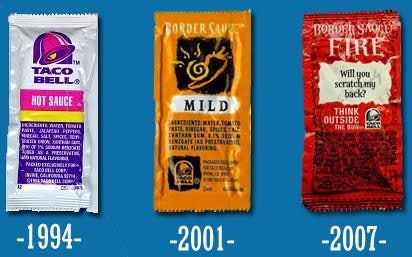 Taco Bell was fast, cheap, vegetarian friendly, and it tasted damn good. As the years have gone by, Indian Americans now make up about 5 percent of the U.S. immigrant population. Now, there are hundreds of South Asian grocery stores, thousands of restaurants, and many of these Indian immigrants have gone on to achieve the American dream. Despite the many culinary choices, and great success that has been accomplished through the years, these Indian-immigrants have passed their love for Taco Bell down to their first generation American kids. And the tradition will not stop there.