After all, Taco Bell may be best known for things like the "fourth meal" -- aka an extra meal at post-pot o'clock -- and the Doritos Locos Taco -- the stoner's dream mix of Doritos and taco. Niccol admits he has an inkling of what some of the biggest Taco Bell fans are up to, even if he asked the Reddit community "What's 4/20?" on Thursday. (If you too plead ignorance, 4/20 is an annual celebration of marijuana.)
"We love making tacos. We love having a late-night business. Everybody needs to be following the laws, so from there that's actually their business," Niccol, a dad in a crisp suit, told HuffPost shortly after his "Ask Me Anything" chat on Reddit. "We've got passionate fans that share with us what they're up to, so we do get some interesting insight from people sometimes." Now, the company is hoping that its late-night fans will stop at Taco Bell in the early morning. The chain officially launched its breakfast menu Thursday, and the offerings include what is sure to become another stoner favorite, the Waffle Taco.
All pot jokes aside, opening at 7 a.m. to serve breakfast is one of the few opportunities out there for Taco Bell to grow. The fast food chain is hoping its breakfast offerings will help it double its revenue and add 2,000 stores by 2022. Taco Bell accounted for about two-thirds of the U.S. profits of parent company Yum! last year -- or $451 million. "Look, I love being famous for late night, make no mistake, but [Taco Bell's core demographic] is up early too," Niccol said. And breakfast is "one of the few day parts in quick-service restaurants that's been growing for the past couple of years."
Niccol was coy about whether Taco Bell could win, calling the Egg McMuffin "a great breakfast sandwich." But his company is going for the jugular: It released ads Thursday with dozens of real-life Ronald McDonalds professing their love for Taco Bell breakfast.
Still, it could be hard to catch up, given McDonald's big lead. That company accounts for 31 percent of breakfast sales, according to food research firm Technomic.
"McDonald's has a huge head start in breakfast. Their Egg McMuffin is delicious, people go to McDonald's just for it -- and they also have the coffee, and other people go just for the coffee," said Mary Chapman, director of product innovation at Technomic. "It's hard to break a consumer's routine."
These are the foods people are most likely to buy when they get breakfast out during the week, according to Technomic. Waffle Taco has not yet made the list: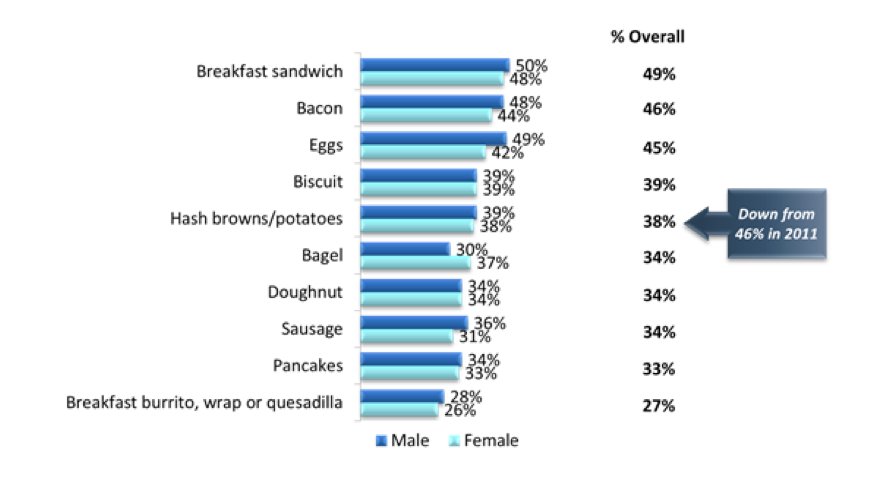 Niccol said he's hoping some of Taco Bell's new breakfast items will turn into staples, noting that if you're the type who wants eggs, cheese and hash browns in your breakfast sandwich (and we know what type that is), the A.M. Crunchwrap is the meal for you.
"It's really got all your breakfast in one," he said.
Check out Taco Bell's full breakfast menu below (descriptions courtesy of Taco Bell):
Bacon or Sausage A.M. Crunchwrap: All the classic breakfast tastes like fluffy scrambled eggs, real cheddar cheese, your choice of flavorful bacon or a hearty sausage patty, and a golden crispy hash brown wrapped and grilled in a warm flour tortilla, so it's an all-in-one breakfast good to go. Suggested price: $2.49

Bacon or Sausage Waffle Taco: A warm waffle wrapped around flavorful bacon or a hearty sausage patty and fluffy scrambled eggs, served with a side of sweet syrup. Suggested price: $1.99

Bacon or Sausage Breakfast Burrito: Flavorful bacon or delicious sausage, fluffy scrambled eggs and lots of warm, melted cheddar cheese, all wrapped up in a warm flour tortilla. Suggested price: $1.69

Bacon or Sausage A.M. Grilled Taco: Fluffy scrambled eggs, melted cheddar cheese and flavorful sausage or bacon folded in a warm tortilla and grilled for portability. Suggested price: $1.00

Steak & Egg Burrito: Fluffy scrambled eggs, lots of warm, melted cheddar cheese and marinated premium thick-cut steak, all wrapped up in a warm flour tortilla. Suggested price: $2.49

Sausage Flatbread Melt: Warm flatbread filled with a delicious sausage patty and real cheddar cheese, and then grilled to melted perfection. Suggested price: $1.00

Cinnabon Delights: Warm, golden bite-sized pastries filled with Cinnabon frosting and covered with Makara cinnamon sugar. Suggested price for 2: $1.00; 4: $1.49; 12-pack: $4.49

Hash Brown: A golden crispy potato hash brown. Suggested price: $1.00

Orange Juice: Tropicana 100% orange juice. Suggested price: $1.99

Premium Hot Coffee: Premium Rainforest Alliance certified hot coffee made with 100% Arabica beans. Suggested price: $1.49