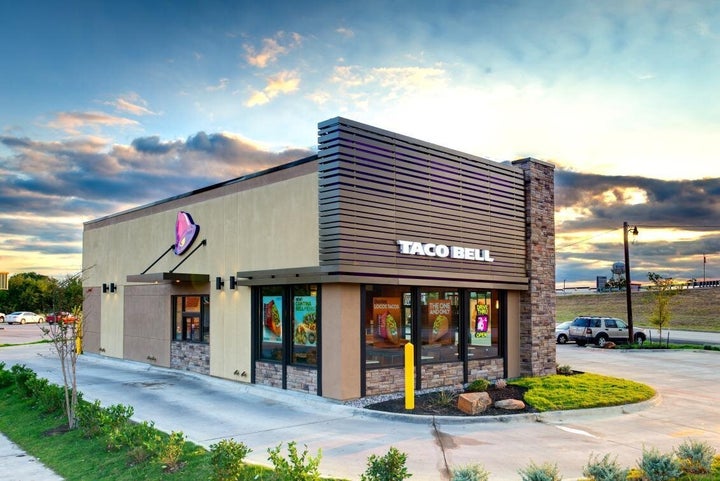 Like Jon Bon Jovi and Tom Cruise, Taco Bell turned 50 this year. And like Jon Bon Jovi and Tom Cruise, Taco Bell does not intend to start looking its own age anytime soon. Not with younger, hipper rival Chipotle nipping at its heels. So the Irvine, Cali.-based fast food chain is getting a facelift.
Taco Bell is testing out its new look at newly-built locations in Commerce City, Colo., Sanger, Texas and Redwood City, Cali. this fall, with three more slated to open in 2013. The design for the six locations was codified in a master plan for the brand developed internally about a year ago, Taco Bell's director of concept development Don Roberts told The Huffington Post.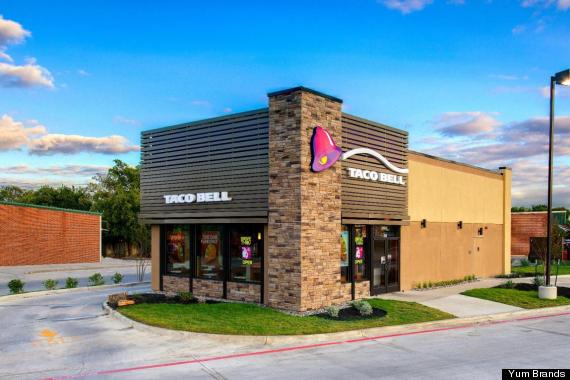 An exterior photo of the Sanger, Texas prototype of the redesigned Taco Bell.
The design's most striking feature is a layer of narrow black metal slats covering one of the building's four tan exterior walls. At night, LED lights shine Taco Bell purple light out from between the wall and the slats, which are spaced out slightly to let light through.
"As night falls, and as late night begins, we really celebrate that light-night feeling with a purple glow that comes from behind the slat wall," Roberts said. "You will be able to see it from a quarter-mile away. This building is truly going to be best on block, it will truly be a beacon in the night."
The rest of the changes are more subtle, but they bring the look of the stores closer to the sleek, minimalist look native to newer chains like Smashburger and Chipotle and also on display in recent redesigns of quick-service restaurants such as Wendy's. As such, the chain hopes the new designs will reinforce the consumer goodwill inspired by the recent success of Doritos Locos Tacos and the new Cantina Bell menu.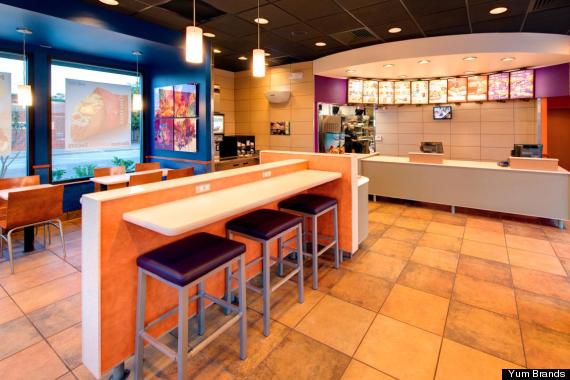 The interior of the Sanger location.
But marketing is not the sole concern Taco Bell hopes to address with the redesign. Roberts said that the new restaurants will cost less to build than those that follow the current guidelines. He declined to specify how much the new design will save franchise owners, but he emphasized that his group was guided by its "maniacal focus on cost reduction" in the hopes of making outposts affordable for new franchisees and markets.
Elements of the new design will also be applied to existing locations. Roberts said that every outpost will eventually get a new Taco Bell sign, with new typography and graphics, and that other features, including the backlit slats, will be installed on a case-by-case basis. Roberts claimed that the company's master plan does not specify a time frame for these renovations.
Related
Before You Go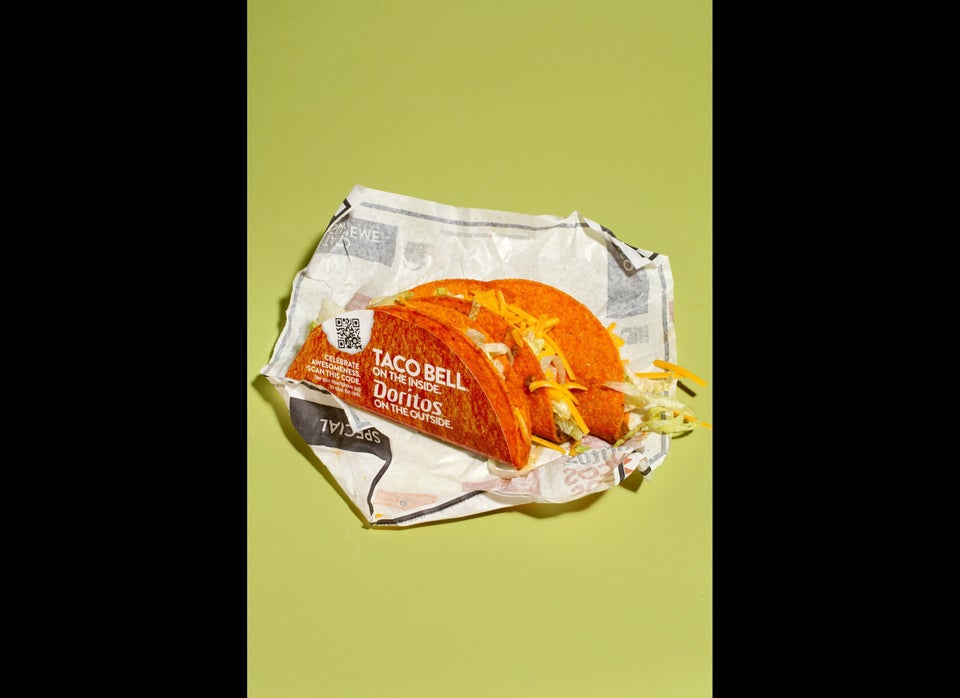 Doritos Locos Experiments