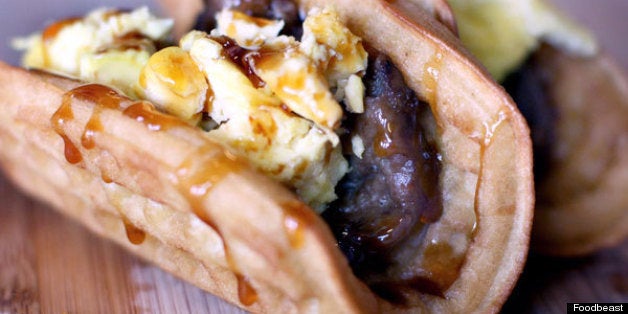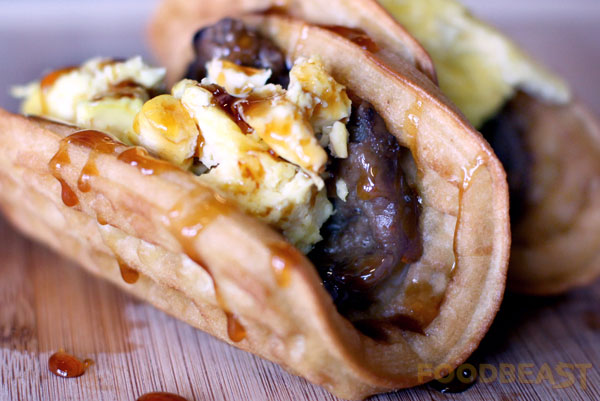 You can only imagine my joy when I learned that a Taco Bell in Southern California was testing a Waffle Taco.
Novelty is key here -- Orange County's foodie scene has been gravitating to the idea of utilizing waffles as a vessel for sandwiches for some time now. Over the past couple years, new restaurants like Bruxie and The Iron Press have been pushing gourmet waffle sandwiches to the locals -- panini sandwiches with waffles as the bread.
Initially reported by Brand Eating, Instagrammer Sarah1ch5 snapped a pic of the Waffle Taco when cruising through a Taco Bell in Southern California. When fellow Instalovers commented, "Why? Just Why?" She promptly responded, "Don't hate . . . It was awesome!"
Now that's our kind of gal. We immediately set out to a local Taco Bell that we heard had the item on their breakfast menu. We ended up on the corner of Grand and Warner in Santa Ana, CA, where we spotted the following signage in the drive-thru: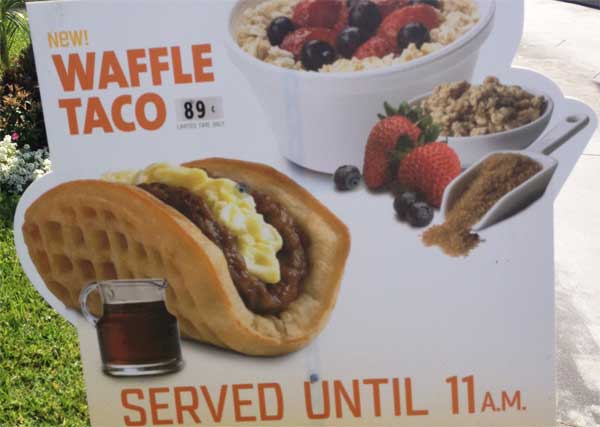 The Waffle Taco is currently listed at 89 cents (items in test phase are commonly offered at a low price) and features a sausage and scrambled egg folded into a waffle. A packet of syrup is properly included.
If you want to give the new breakfast item a try, head on over to 2246 S Grand Ave, Santa Ana, CA 92705 during breakfast hours (7am - 11am) while they still have it.

Originally written by Charisma Madarang on Foodbeast
Related