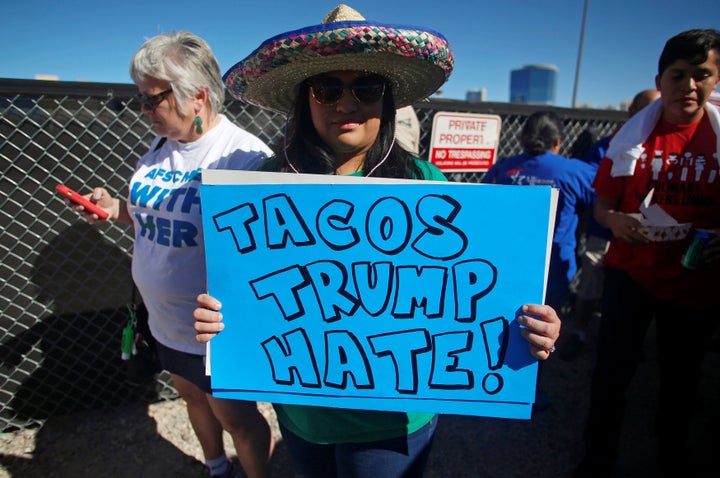 LAS VEGAS ― Republican presidential nominee Donald Trump wants a wall, and he got one on Wednesday, when protesters created a mock barrier outside his Las Vegas hotel ahead of the third and final presidential debate.
The "wall" included several food trucks ― including the taco trucks that a Trump supporter once warned could be "on every corner" if the GOP nominee loses in November.
Protesters and speakers at the rally said it's important to vote ― and maybe even ensure that the dire prediction comes true.
"I want a taco truck on every corner in my district," U.S. congressional candidate and Nevada state Sen. Ruben Kihuen, who was born in Mexico, told the crowd.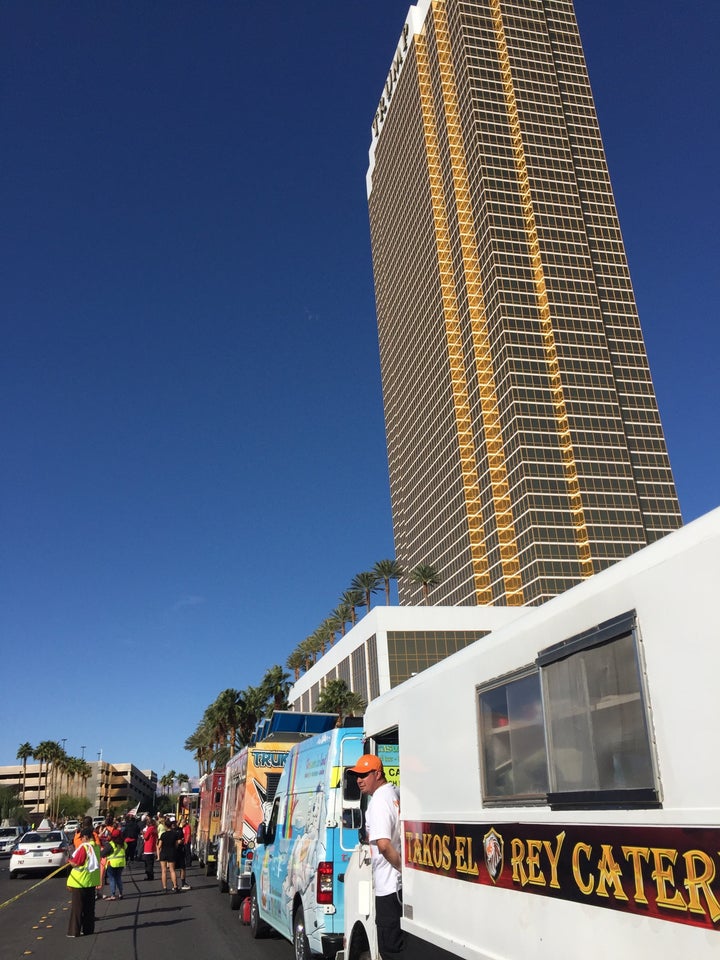 The rally was organized by the Culinary Union, along with Latino Victory Project, United Here, American Bridge, Center for Community Change Action, For Our Future, PLAN Action and the Coalition for Humane Immigrant Rights of Los Angeles Action Fund.
The groups also organized about 40 taco trucks to register voters in Las Vegas, where about a third of the population is Hispanic.
The Culinary Union has opposed Trump's campaign since workers at Trump International Hotel voted to unionize in December. Trump and hotel management tried and failed to challenge the election results, but they are still refusing to bargain with the union.
The dispute over the union vote results could be an omen of what's to come with the presidential election, as Trump continues to suggest that it may be rigged against him as part of a vast conspiracy, said D. Taylor, president of Unite Here, the union organizing pickets at Trump properties.
"When Donald Trump talks about elections being rigged, what the hell is he talking about? He lost. He's a loser and he doesn't want to respect democracy," Taylor said at the event Wednesday, starting a chant of "Loser."
"What an asshole," he added.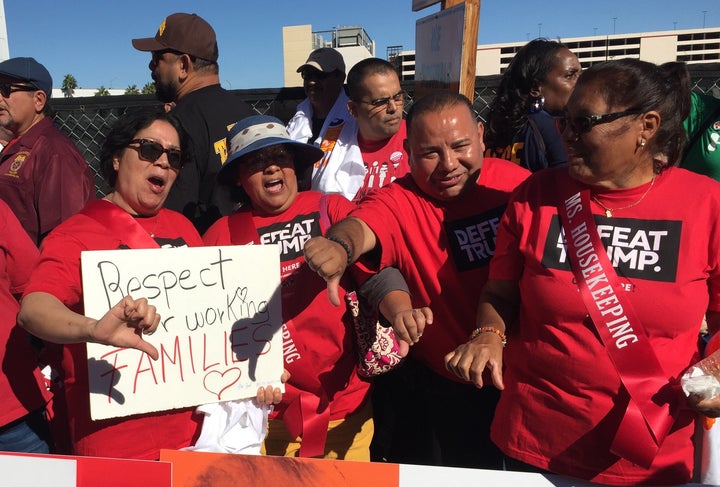 Margarita Montanez, 69, was one of the volunteers with Coalition for Humane Immigrant Rights of Los Angeles Action Fund who drove to Las Vegas for the protest. The women in her group wore red sashes that read "Miss Housekeeping" ― a reference to what Trump once called former Venezuelan-born Miss Universe Alicia Machado ― and red T-shirts with "DEFEAT TRUMP" written across them.
Montanez is originally from Mexico, but has lived in the U.S. since 1970. She opposes Trump and supports Democratic presidential nominee Hillary Clinton, in part because she would like to see her as the first woman president.
"This year it's really, really important to go out and vote," she said.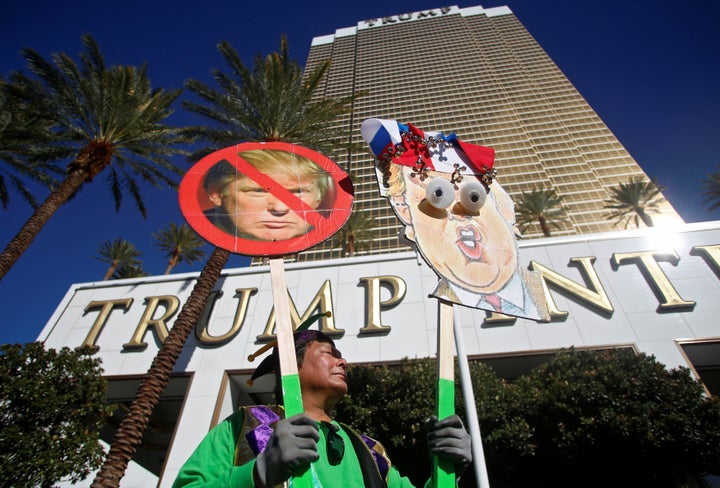 Ron Gladstone, a cook in Las Vegas, encouraged those in the crowd to take their friends, families and neighbors to early voting beginning on Oct. 22.
"If we don't get out and vote and do what we have to do, this clown can be our next president of the United States," he said, as the crowd booed.
The Trump campaign did not respond to a request for comment on the protest, but its Hispanic outreach director made light of it on Tuesday.
"I never, EVER turn down a chance to eat some good tacos so I say 'thanks' for setting up shop right outside!" Trump senior adviser A.J. Delgado told Buzzfeed.
And in case you don't recall how exactly taco trucks were dragged into the 2016 presidential race, here's a refresher: 
This story has been updated with news from the protest. 
Calling all HuffPost superfans!
Sign up for membership to become a founding member and help shape HuffPost's next chapter
BEFORE YOU GO
PHOTO GALLERY
31 Latinos Share Their Most Eloquent Thoughts On Donald Trump