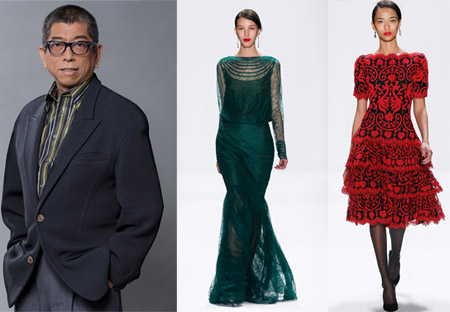 Tadashi Shoji scored major fashion points last awards season when The Help star Octavia Spencer walked the red carpets and received acting recognitions wearing the designer's fabulous creations. Known for his exquisite dresses, the Japanese-born designer, who has made Los Angeles his business and home base, has also dressed other Hollywood A-listers like Debra Messing, Emmy Rossum and Kate Walsh.
Below, Tadashi Shoji talks about finding a place for retirement, being in love and making women feel good.
When I wake up... I check my blood pressure.
Before I go to bed... I turn off the light.
A well-dressed woman... doesn't advertise a certain label.
Women should always... be in love.
Men should never... be without love.
The best thing that's been said about me... is that I have defeated jet lag.
The biggest misconception about me... is that I take myself seriously.
If I weren't doing what I'm doing today... I'd be dead.
My legacy... making women feel good.
A great idea... is in my dream, but vanished when I woke up.
My mother... went to a better place a long time ago.
The soundtrack of my life... is silence.
The future... is deciding which country is best for my retirement.
Happiness... is with my significant person.
There's a time and place for... living in the moment, which should be always!
There is too much... sickness of close friends.
In the end... my ashes in a cocktail glass.
Portrait and looks from fall 2012 courtesy of Tadashi Shoji.