Tadeusz Sudol is a renowned architect working with a prestigious Manhattan firm. He also presides over his local art gallery, RIVAA. Above and beyond that, he is an exceptionally talented artist. In the past, he has focused on drawing the human form. His latest project was capturing the multi-colored Roosevelt Island Tram in a show called "Past and Future," the exhibition of which opened this weekend.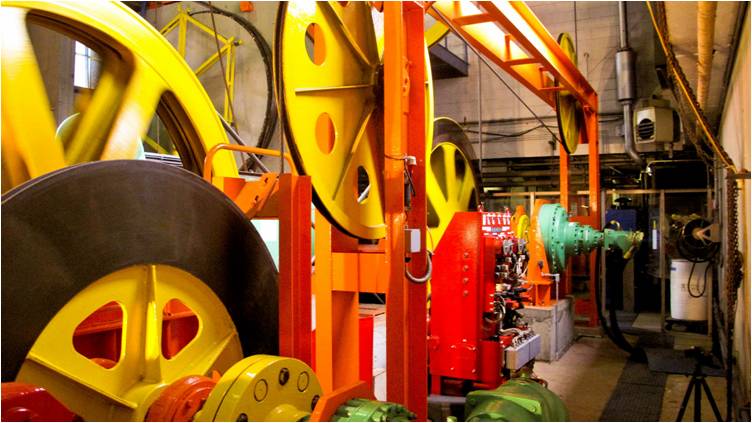 I asked Tad, who lives on Roosevelt Island, what had inspired him to capture the brilliant colors of the tram's mechanisms. He told me:
From the very beginning, the spinning wheels full of bright colors - outside and inside the Tram machine room - fascinated me. The deadline for the old Tram to be dismantled was last March. I had two photo sessions to capture the spirit of this place. It was breathtaking to see colors, movement, energy and precision emanating from the heart of the R. I. Tram. My new project for Roosevelt Island is to create a permanent installation with powerful in color and shape wheels at the Motorgate Atrium." (See last photo).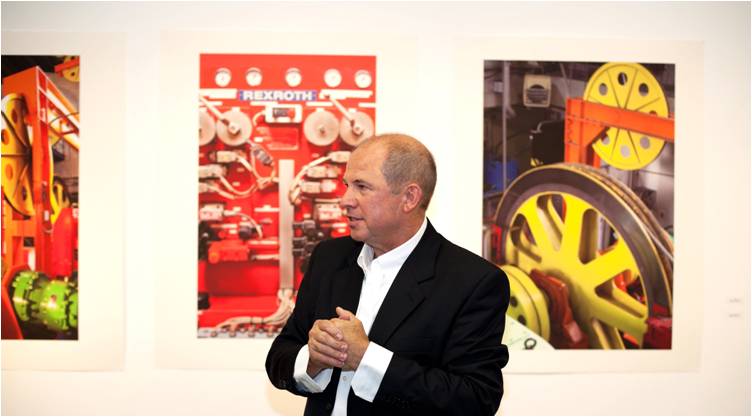 Architect, artist, photographer and RIVAA president Tad Sudol speaking about his work at the Opening of the show "Roosevelt Island Tram - Past and Future."
The Roosevelt Island Tram featured in the show closed in March for modernization. It originally connected the island to the Upper East Side in 1976. Its colorful mechanical parts, captured brilliantly by Tad, are responsible for having moved over 26 million passengers since inception. It makes 115 trips per day when in operation, carrying up to 125 people each time. Granted access to the trams mechanical rooms, before and during reconstruction, Tad was able to take photographs of settings never publicly available.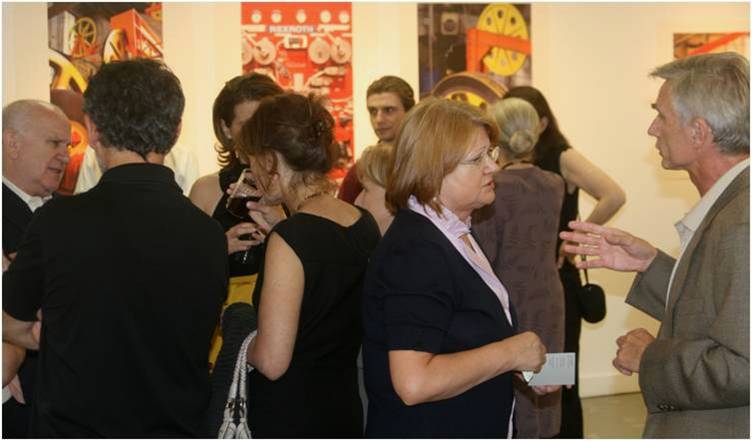 "After more than 30 years, the machine room was so well kept," he says. "Everything was still clean, almost like it just opened." His photographs faithfully reflect that observation. Brightly colored wheels with complex cables wrapped tautly through their grooves offer poetic images of simple mechanical workings that look ready to carry on into a 35th year. This show manages to uplift mechanics into art, as creative constructions that allows us to imagine an improving future.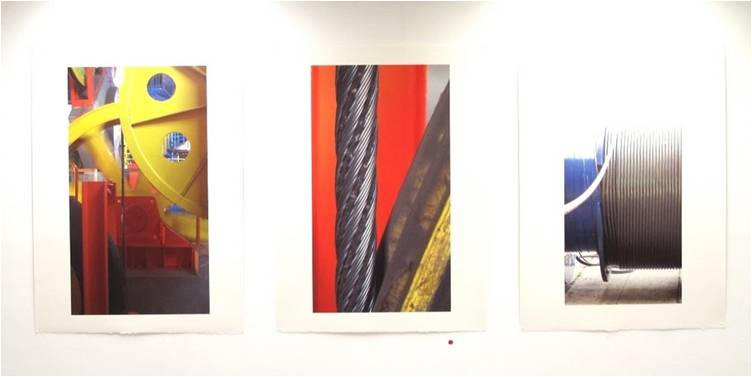 I also live on Roosevelt Island. I explain where I live in New York City, as I travel the world, in terms of the 2002 movie Spider-Man. Globally, people remember that our tram was featured prominently in the climactic battle in which the villain throws the heroine off the Queensboro Bridge, and Spider-Man must choose between saving her or passengers on the tramway.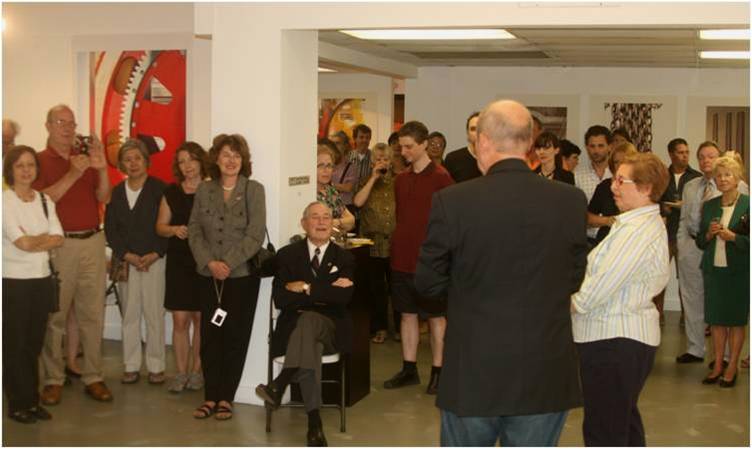 More than two hundred New Yorkers turned out on Sept. 11 to celebrate the city's arts.
Tad serves as president of the Roosevelt Island Visual Artists Association (RIVAA), following in the footsteps of Arline Jacoby. RIVAA established its ambitious gallery on Roosevelt Island as a gateway between Manhattan and Queens, P.S. 1 and the Noguchi and Socrates Park in 2002. RIVAA's original aim was to bring world class art to Roosevelt Island and revitalize the economic environment through the arts. Tad's show illustrates their success.
RIVAA today has several dozen active members and is open to all visual artists in the community. They are comprised of painters, sculptors, photographers, installation artists, computer imaging artists, graphic artists, and ceramists from the Island, but also from the outer boroughs, Manhattan, and even Westchester County. Shows are juried and curated by professional artists.

The Roosevelt Island Visual Art Association (RIVAA) which hosted the show is a non-profit organization comprised of an internationally diverse group of artists. RIVAA is dedicated to enhancing the quality of life in the community through art, community events and workshops. It is supported by private donations and artist contributions.
Since 2002, more artists each year became involved with Gallery RIVAA, showcasing over eighty different exhibitions including member and guest shows since its founding. Additional gallery space, called Octagon Gallery, is now located in a nearby historic landmark, The Octagon.
Living here, I have known and supported Tad and RIVAA since 2002. Every community should have a RIVAA. Indeed, every community needs a Tad. Of Polish descent, Tadeusz Sudol is a thought leader and global citizen in the fields of architecture and the arts. Roosevelt Island -- New York City -- is fortunate to have him as an Ambassador for Art and Culture, as I am to be his neighbor and friend.
Gallery RIVAA is located on Roosevelt Island at 527 Main Street, New York, N.Y. 10044.
Gallery Hours: Wed. & Fri. 6-9 pm, Sat. & Sun. 11-5 pm
Email for additional information to info@rivaa.com.
For more on Roosevelt Island, see the websites of the Roosevelt Island Historical Society (RIHS) and the Roosevelt Island Operating Corporation (RIOC). See also the R.I. Blog.
Photography by Tadeusz Sudol and Jeremi Sudol.
Related
Popular in the Community