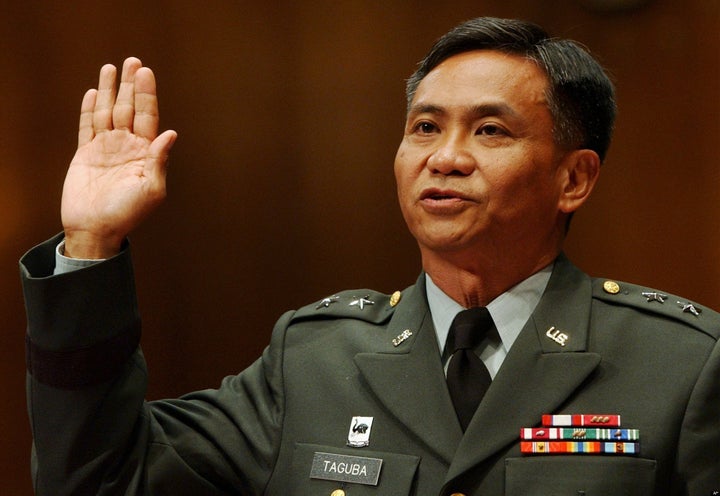 White House reporters received an unusual email on Saturday, with a subject line stating, "Important Please Read: From White House Press Secretary Robert Gibbs."
In the email body, Gibbs wrote:
A number of you have asked about or reported on a recent article in the Telegraph that inaccurately described photos which are the subject of an ongoing lawsuit. Both the Department of Defense and the White House have said the article was wrong, and now the individual who was purported to be the source of the article has said it's inaccurate. Given that this false report has been repeated around the world, and given the impact these negative reports have on our troops, I felt it was important for you to see this correction.

Gibbs included the full text of a story by Salon.com's Mark Benjamin, which features retired Army Maj. Gen. Antonio Taguba denying reports that he has seen the photos of prisoner abuse that the Obama administration is trying to keep secret.
Maj Gen Taguba, who retired in January 2007, said he supported the President's decision, adding: "These pictures show torture, abuse, rape and every indecency.

"I am not sure what purpose their release would serve other than a legal one and the consequence would be to imperil our troops, the only protectors of our foreign policy, when we most need them, and British troops who are trying to build security in Afghanistan.
But Taguba told Salon that his quotes were taken out of context, and were not about the photos that Obama does not want released.
"The photographs in that lawsuit, I have not seen," Taguba told Salon Friday night. The actual quote in the Telegraph was accurate, Taguba said -- but he was referring to the hundreds of images he reviewed as an investigator of the abuse at Abu Ghraib prison in Iraq -- not the photos of abuse that Obama is seeking to suppress.
"I want to speak generally about some reports I've witnessed over the past few years in the British media. And in some ways, I'm surprised it filtered down," Gibbs began. "Let's just say if I wanted to look up -- if I wanted to read a writeup today of how Manchester United fared last night in the Champion's League cup, I might open up a British newspaper. If I was looking for something that bordered on truthful news, I'm not entirely sure it'd be in the first pack of clips I'd pick up."

"You're not going to find very many of these newspapers and truth within 25 words of each other," Gibbs continued.
A Telegraph columnist, Nile Gardiner, responded with a diatribe calling Gibbs' "unwarranted rant against the British press" an "absolute disgrace, and the President should disown his views."
I cannot recall an instance like this where the President's official spokesman has blasted the press of a key ally - in this case America's closest friend, Great Britain. [...]

Can you imagine Gibbs making these remarks about The New York Times or The Washington Post, or NBC, ABC or CBS? This would never happen. The British press, especially the Telegraph, has been singled out because they frequently publish articles critical of the Obama administration and are not afraid to take on the status quo in Washington. Increasingly, millions of Americans are turning to online UK news websites for cutting edge reports on American politics and U.S. foreign policy that the mainstream media refuses to cover in the States, especially if it is unflattering to the Obama White House.
Popular in the Community