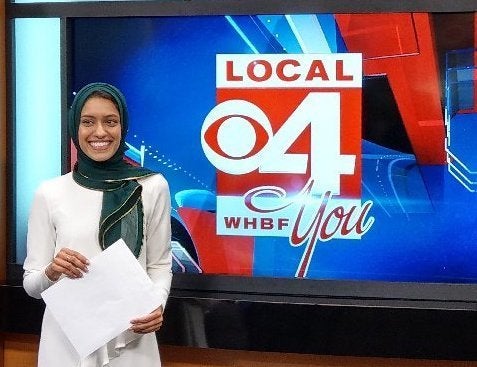 Last month, Tahera Rahman stood before the camera for CBS affiliate WHBF in Rock Island, Illinois, becoming America's first full-time reporter to wear a hijab.
Though other women have previously reported online while wearing a hijab, Rahman is the first full-time broadcast reporter to go live while wearing the garment, according to the station and the group Muslim American Women in Media. It is a deeply impactful accomplishment and one that has been years in the making.
Rahman, who comes from a small town in Illinois, spoke with HuffPost about navigating a stubborn journalism industry and reaching this moment of triumph.
How are you coping with the pressure of being a "first"? Is it a burden for you?
[Laughs] It's definitely weird, because in a lot of ways, I'm being reminded of it every day — in a good way. I'm getting messages of support, either by social media or even by snail mail, which is even more touching. So I'm being reminded of it almost on a daily basis, but at the same time, most of my day is spent not thinking about it at all. Most of my day is thinking about my own deadline: my four o'clock, what's going to be my story when I come in at nine o'clock in the morning, and then putting that together, and interviewing people, and then trying to go home and think about what I'm going to have for dinner [laughs].
So most of my day is spent not thinking about it. But, my dad has been reminding me to take a moment every single day, close my eyes, and think about where I am and what I'm doing, and just be grateful to God for the opportunity. He was just like, "You know, the enormity of this weight might make you feel stressed out — it might feel like a burden — but in the end, it's a big blessing." So I do make a conscious effort to be grateful for it every single day.
"The lack of Muslim-American women who wear a headscarf on camera was obvious — I was very aware of that fact — but I never considered this something that was impossible.""
From where did you draw influence when you grew up? Given the fact that you didn't see many Muslim women on camera, and certainly not many wearing hijabs, who did you look toward for guidance?
I'm a minority in a lot of different ways. It's not just my religious identity, it's also being a person of color, and it's also being a woman. So seeing other women particularly, regardless of race or ethnicity, that was always inspiring. People who are just good at their job who happened to be women; that's what I liked to see. And there were tons of journalists like that, whether they were on TV or not. And a lot of them gave me inspiration and mentorship throughout the years.
Radio journalist Miriam Sobh has been with NPR and WBBM radio in Chicago, and she was always there to give me advice about how to navigate the world of journalism in general. And then Rummana Hussain — she's a veteran writer for the Chicago Sun-Times — and I remember even seeing her name in print in high school, for me, was amazing. I was like, "Oh, my God, that's a Muslim name. That's a brown person's name."
And then there's Malika Bilal who's co-host of a show on Al Jazeera English called "The Stream." She also wears a headscarf and she's on international television, always killing it with in-depth conversations about world events and worldly news. All of those women, and many more, gave me hope to go forward. There's always got to be a first for something, and whether or not I was going to be a first, I definitely wanted to be among these women, so I think that's what carried me through.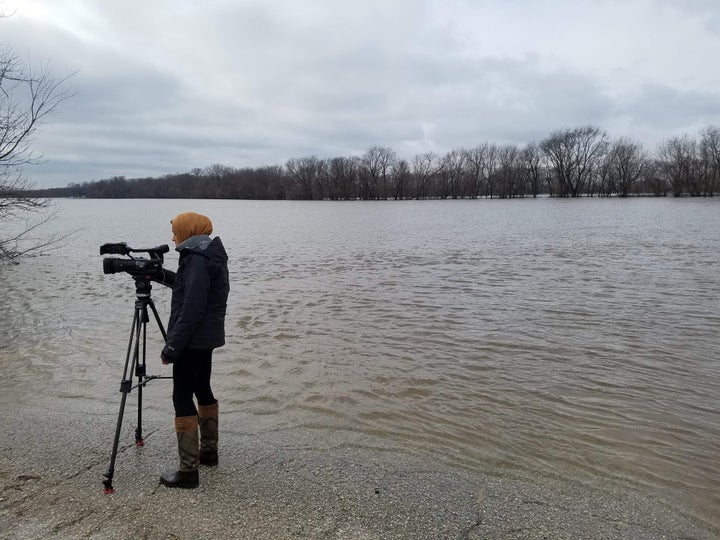 We live in a time when there are explicitly Islamophobic media with large followings. As a Muslim woman in this environment who doesn't wish to spend the totality of her time discussing her faith, how do you operate amid this constant barrage that stands to question your humanity and, consequently, your ability to do your job?
You're absolutely right. I have gotten messages from people — maybe out of the goodness of their own heart — thinking that they were going to change my mind, emailing me YouTube videos about why Islam is the religion of the devil. And I'm like, "Okay, delete." So there are definitely people who don't see me as a welcoming neighbor, and honestly, that stinks.
But I think that's just the reality: There will always be people who ― no matter what you tell them and no matter how nice you are — they're not going to change their minds. And I don't think that's your burden, either. I don't think you should feel like it's necessary to make everyone across the world think you're great, or awesome, or "normal." I have always operated under the belief that, if you are a good person, and if you try your best to do the right thing, then other people won't believe those who try to vilify you. For me, as a journalist, that meant focusing on my craft, because I knew that there would be people who didn't think I should be on air.
"There will always be people who — no matter what you tell them and no matter how nice you are — they're not going to change their minds.""
You spent the past two years producing at your station and I imagine you were able to look at the broadcasts in totality in a way others could not. Our industry is stubbornly non-diverse, and I wonder whether that inspired you to move from behind the scenes to the front of the camera.
In general, I know in a lot of newsrooms, the goal is for your newsroom to reflect the community you live in. And not having that representation in the newsroom isn't necessarily one person's fault. It's the effect of multiple things happening at once. I don't want to speak for all Muslims, but I think part of the lack of representation is because a lot of American Muslims are hesitant about getting into the media. Part of that stems from growing up in the post-9/11 era, when a lot of people from our community felt they were vilified in the news and haven't been able to trust journalists since then.
So I think that's part of the reason why there's not as much Muslim representation as people would like. But also, looking at it from the perspective of being Indian, and coming from a South Asian family, there's always a lot of focus on going into other fields. Most of my family are either doctors or engineers, and you can't blame a parent for wanting that, because they just want a stable job for their children. Journalism is very competitive, and if you're going into it for money you will be disappointed [laughs].
People — especially with broadcast — assume that if you're on TV, you're making so much money and you have all these nice clothes. But really, it's like, "Okay, Amazon, where you at? I need a six-dollar top" [laughs]. So I think those are both reasons why we don't see as much representation as we'd like. But still, at the time I made the transition, I was the only Muslim in the building, and I did think it was incumbent upon me to make sure I let people know what's going on in the Muslim community here and what's important. I think I'd been able to contribute behind the scenes in that way and I don't think that was necessarily the driving force behind me wanting to be an on-air reporter. The lack of Muslim-American women who wear a headscarf on camera was obvious — I was very aware of that fact — but I never considered this something that was impossible.
I've always considered our industry to be meritocratic only in some ways — there's a base level of skill needed to succeed. But there's also a human element, a less precise means by which your success is determined: who you know, what sources you can cultivate, etc. In a world like ours, where Islamophobia is so rampant and seemingly commonplace, do you find unique obstacles in sources that discriminate based on your religion?
Off the top of my head, I don't think so. Even going back to college and all the reporting I did there, through the last three weeks of my reporting on air, I haven't come across impediments in trying to get sources. Who knows, down the line, if people will feel more emboldened to be rude or deny me interviews. But for the most part, everyone has been extremely supportive. I mean, it's actually been so, so surreal and strange.
Most people that I set up an interview with, I talk to them on the phone first and when I get there for my interview, they already know who I am. They're like, "Oh, I saw you on the paper, I saw your story on TV, congratulations, we're really proud of you!" All that kind of stuff. I met with the local police chief the other day, and he knew me right when I walked through the door, so in a lot of ways, my identity has actually helped me get my interviews, so hopefully I still get those interviews once the novelty wears off.
What do you think it is about Rock Island, Illinois, that makes it hospitable to the first full-time reporter wearing a hijab? If people were to guess where that might occur for the first time in the U.S., I assume 99.99 percent wouldn't think it'd occur in Rock Island. Is there something you've observed that makes this area more accepting than others?
You know, I don't know. I think a lot of small towns in America are just like this — just like the Quad Cities. I'd like to believe that if I lived in any other small to midsize town, I would've gotten the same reception and same support. Because I do think overwhelmingly, we live in a country where people are good, and do believe in diversity, and do believe in getting to know each other. I think this would have happened wherever I ended up, but I think the Quad Cities are special because we're right on the border of Illinois and Iowa.
Our station covers both states. Iowa is a swing state, Illinois is always blue, and Iowa went red in the last election. So I think it's really interesting that there can be politics — you can swing very much conservative, or very much liberal, or somewhere in between— but I think it's very interesting to consider that most of us share the same world in the end. And I think that's really comforting. It gives me hope that I might be the first, but I won't be the last.
CORRECTION: A previous version of this story misstated the first name of reporter Rummana Hussain, as well as the name of the radio station for which Miriam Sobh works.
Popular in the Community