You can cut the anticipation with a machete as the pot lights dim under a canopy of southern stars. All eyes in the French Polynesian capital of Papeete's waterfront amphitheater are fixed on the stage. Tonight's audience is here to watch dozens of dancers, singers and musicians perform in Heiva Tahiti, a spectacular annual month-long celebration of traditional Polynesian culture.
Backstage, dancer Maire Teihotaata nervously adjusts her elaborate headdress. Her skirt is made of coconut bark and hibiscus flowers, with a wide belt decorated with mother of pearl, natural fibers, shells and colorful seeds slung low on her tall, lithe frame. Bathed in intoxicating tropical flower scents, jet-black hair flowing to her waist, this government communications specialist could have stepped out of a Gauguin painting.
Suddenly, slit and bass drums carved from hollowed out tree trunks begin fiercely pounding sensual rhythms -- the vocabulary of a timeless language. Floodlights bathe the stage in lavender, orange and emerald hues as Maire and dozens of other athletic young male and female dancers begin gyrating with astonishing speed, hips blurring as they acrobatically dance in unison to the frenetic beat. This is "otea," the ancient Polynesian dance that re-enacts a thousand stories, from inter-island warfare to the flight of a butterfly.
The Tahitian word for festival
Tonight's show features the most mesmerizing singing, dancing and drumming that this cluster of island archipelagos the size of Western Europe has to offer. French Polynesia -- and especially its crown jewel island of Bora Bora -- is best known as a dream honeymoon destination with sparkling aquamarine atoll waters and black sand beaches set against a towering backdrop of emerald-encased mountains. Now, this ancient culture, long suppressed by colonial masters, is undergoing a revival, reflected in spectacular events like Heiva, the Tahitian word for festival.
"Heiva is in my blood and not dancing is unimaginable," says Teihotaata. Her performing group, Temaeva, which means "welcome" in Tahitian, has won numerous international competitions since it was formed in 1962. "I've also taught my daughter to dance, sing and play traditional instruments so she won't forget where she came from."
Tahitian dance -- Ori Tahiti -- was a central part of Polynesian culture for centuries before European Protestant missionaries arrived. Finding such overtly "erotic" displays deeply offensive, they managed to convert King Pomare II to Christianity in 1807, and he promptly banned Ori Tahiti. So this ancient art form went underground, along with the knowledge of how to make dance costumes from vegetable fibers, shells and flowers.
Suppressed but not forgotten
The French colonizers occasionally allowed sanitized versions of Tahitian dance to be performed as part of annual July 14 Bastille Day celebrations. But it wasn't until 1956 that Madeleine Moua, a Papeete high school principal, spearheaded the true revival of Ori Tahiti by forming the dance troupe Heiva Tahiti. Renewed interest in costume design soon followed and dance eventually resumed its rightful place as a vibrant part of Tahitian culture.
Traditional culture also comes alive on the playing fields and in the harbors of many islands. Canoe racing is popular, as are traditional competitions such as javelin throwing, and heavy stone lifting, which originated on Rurutu, in the Austral Islands. Many communities also host an annual banana-bearers footrace, in which men sprint carrying large bunches of bananas tied to poles.
"Heiva of the Artisans" also runs concurrently with the main festival and features arts and crafts from French Polynesia's five archipelagos. Weavers and carvers use traditional materials such as pandanus, pearl shell and coral. Fantastic displays of the Polynesian art of tatau, or tattoo, as it became known among early European sailors, are also on display.
The original tattoo culture
Judging by the number of intricate motifs covering the muscular torsos of the male oteo dancers on this night of nights on Papeete's waterfront, the fine art of tattooing is doing booming business all over French Polynesia. As tonight's performance nears its ecstatic climax, dozens of dancers, their bodies drenched in perspiration, form a human daisy chain. Among them, Maire Teihotaata strikes yet another dramatic pose for the appreciative crowd, the cameras and most importantly, for the sake of her culture.
"Heiva is the most amazing show you'll ever see," Teihotaata says as she catches her breath backstage after the show. "Just as you would go to Rio to experience Carnival, you must come to Tahiti to see Heiva. It's unique, huge and marvelous."
When to go
The annual month-long Heiva Tahiti Festival takes place each July, coinciding with France's Bastille Day celebrations.
Getting there
Air Tahiti Nui flies non-stop daily from Los Angeles to Papeete. Air Tahiti services the islands of French Polynesia. Both offer flight and lodging packages in hotels and family pensions throughout the country.
Where to stay
Most hotels and resorts have only online booking forms, not toll-free phone numbers. It's best to make inquiries and book through Tahiti Tourism.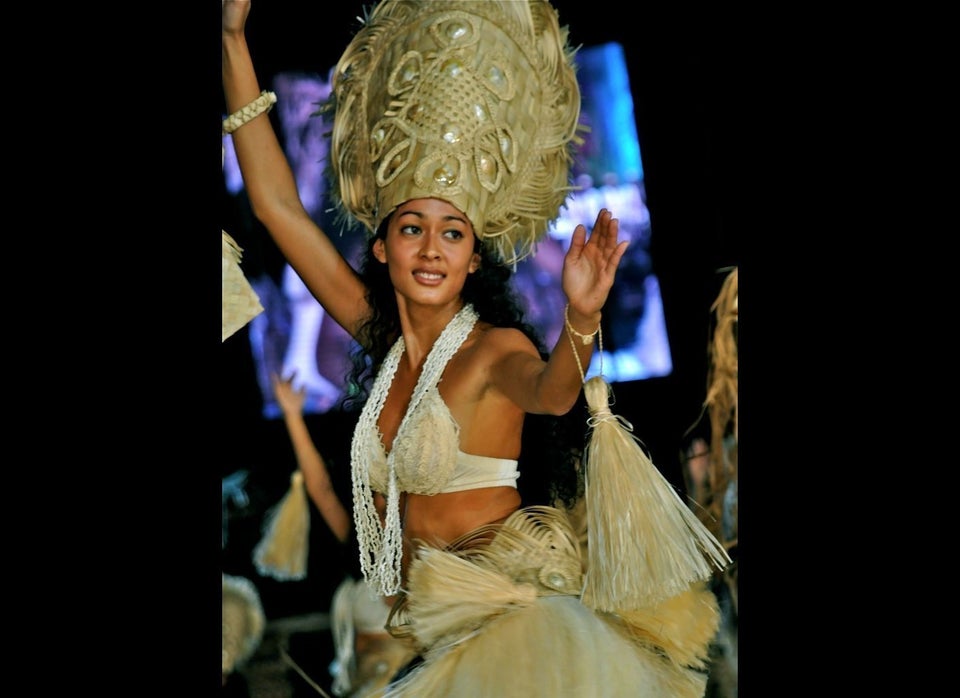 Tahiti's Heiva Festival of traditional Polynesian culture
Popular in the Community