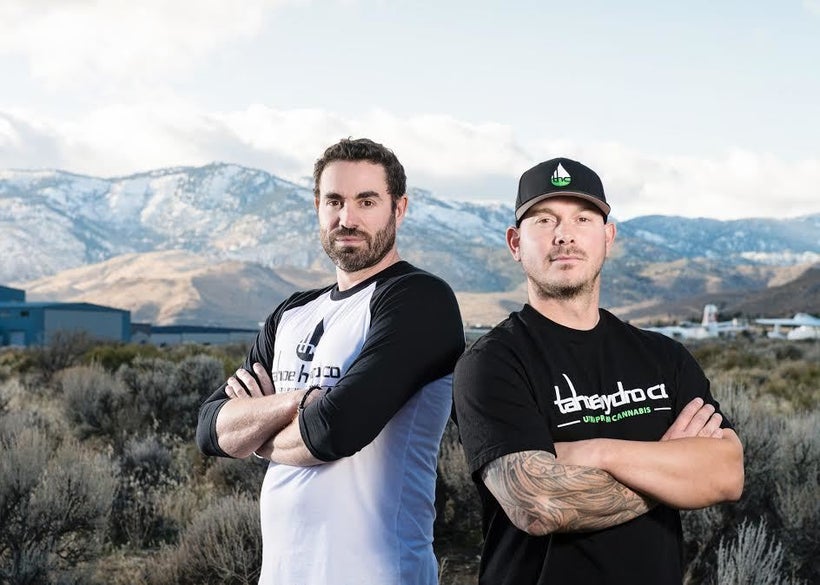 Mark Bruno, co-founder and Chief Operating Officer of Tahoe Hydroponics, is one of the best cannabis cultivators in Nevada. Recently at the 2016 Jack Herer Cup in Las Vegas, his team brought home first prize in all three indoor flower categories: Indica, Sativa, and Hybrid.
Yet, things for Bruno and Tahoe Hydroponics were not always so easy. Bruno got into the cannabis industry back in 2009 in Sacramento, California, as a dispensary owner. "The temperament was rough," he told us, "you would open under a pseudonym as far as business licenses were concerned, get in, and just start doing business. Deal with the fines after." With the possibility of the feds knocking down his door and the lack of regulations in the California MMJ scene, it was a tough time to be in business. But Bruno persisted. He had two retail stores in Sacramento based on where he thought he'd receive the most foot traffic, and he was bringing in a pretty penny.
However, much of the flower coming to his shops was off the black market, and that didn't sit right with him. Mainly because his father went to prison in the '90s for marijuana cultivation, and the threat never left him. "When I [got] into the retail world, I was trying to take a different direction from what my father did… But regardless of that, once we became interested in the production side of things and vertical integration… storefront led to cultivation... and I went to my father and said, 'Hey – I need you to teach me what you know, and then I need to bring it to the next level.'"
That's exactly what he did. By 2010, he started growing in California, but he was still haunted by the image of his dad being taken to prison when he was a teenager. "It was still very sketchy in '09-'10," Bruno recalled, and described always looking over his shoulder. "I tried to do things as by-the-book as California can be, [but] it was very grey and difficult to operate in California, things are just now starting to change."
Bruno, his colleagues, and his family, were fed up with the stress and uncertainty of the California medical marijuana market and in 2014-15, decided to move to a state with more transparency and regulations: Nevada. "Here in Nevada, it's very regimented, there's a detailed plan of how things need to be," Bruno said.
Around the same time, in 2014, Bruno was introduced to Ray Schiavone, now CEO of Tahoe Hydroponics. Schiavone told us, "When I heard about Nevada, I wanted to find the best person I could possibly find. When I asked around the industry, I eventually was introduced to Mark in Sacramento… He invited me to his facility which was 20,000 feet at the time, gave me a three hour tour, and at the end of that, I knew he really had something special going and that he was the one I wanted as a partner."
Now, Bruno's a licensed grower and resident of Nevada, and he "couldn't be happier." Bruno expanded, "[Now] I can talk confidently about what I do and I'm more confident in the product we're putting out, more so than I was in California – no more playing the 'duck and dodge' game."
Nevada legalized medical use marijuana back in 2000, but did not approve distribution and production until 2013. Between 2013 and 2015, there were virtually no legal dispensaries operating in the state, partly due to the strict regulations and testing that Bruno is so fond of. In Nevada, unlike California, cannabis products need to pass strict laboratory analysis, including testing for molds, fertilizers, pesticides, levels of THC, and bacteria like salmonella. This was frustrating for early days of some cultivators, but in the long run, testing will only benefit the consumer. Bruno noted, however, as far as testing for THC and THCA, state testing is not always consistent, sometimes strains are labeled with "damn near impossible" levels of THC. "It's not a perfect world by any means" Bruno admitted, "but still much more regimented than in California."
Now in Nevada, Tahoe Hydroponics is doing great, growing flower that they'd "want to smoke." They're also always trying to improve and make the best possible product. Bruno elaborated, "We're always trying to… create the very best new strains. To be validated in the market you definitely need to show change, and keep coming out with new product continually. We pride ourselves on hunting for those new phenos and breeding more." Schiavone added, "You have to be able to produce quality cannabis, but at the same time have quality genetics. Marijuana is like a technology; new strains are like the new iPhone. These strains are constantly becoming better, so we strive to come up with new flavors and new genetics. It keeps Mark on his toes and puts on display just how talented [Mark Bruno] really is."
It seems like as soon as Nevada finalized its medical testing standards, the state voted to legalize recreational use marijuana, and is now in the process of navigating another new set of regulations. "It's unclear if they're going to change testing requirements," Bruno said, "we're assuming they will be loosened if it's not medical grade." When asked if Tahoe Hydroponic products would be available to the recreational market Bruno commented, "We definitely want to engage in the recreational system… [but] the taxation will be different. We've been hearing estimated numbers from 25-28% by the time you hit the end consumer – more than double what the medical system taxes. So we need to look at all that as far as business is concerned."
When we asked Schiavone about the future of Tahoe Hydroponics, he had even bigger ideas: "It was never really just about Nevada. Expansion is the goal."
This piece was created by Michelle Janikian for BrainBuzz.
Calling all HuffPost superfans!
Sign up for membership to become a founding member and help shape HuffPost's next chapter
This post was published on the now-closed HuffPost Contributor platform. Contributors control their own work and posted freely to our site. If you need to flag this entry as abusive,
send us an email
.