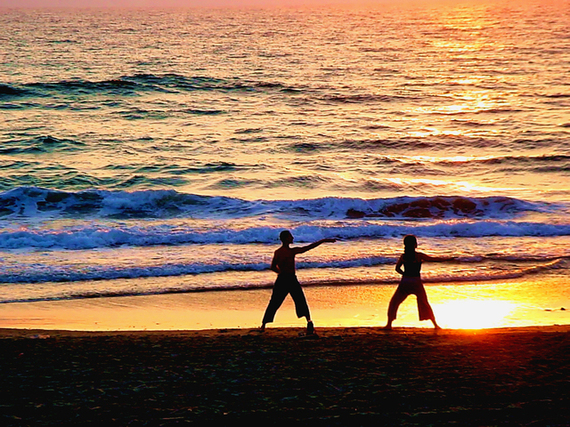 Inner wisdom. What is it really? How do we find it? How do we know? It is not so easy to answer these questions but it doesn't mean we should give up the quest. In my years of working with people as a therapist, I have been impressed that people "know" when something is right for them. They may try to convince themselves that something they "want" is the right thing but that is different from knowing what is right. Usually the "knowing" involves getting fear and anger out of the picture and listening to a deeper voice inside.
As a physician, I think a lot about this question with regards to our health, mental and physical. We know that if we don't get "buy in" from our patients we are unlikely to be effective. I have known for a long time that my most effective tool in helping people is what is known in the jargon as "the therapeutic alliance." What that really means is that there is an alliance between a person's inner wisdom and me that allows them to agree not to act out on some of their less healthy instincts.
When I was visiting Barcelona recently I got to test my inner wisdom. I shattered my wrist falling on some marble steps that were recently washed and very slippery. I was taken by ambulance to the local hospital in Figueres near the Dali Museum. My first major decision came when the doctor wanted to reduce the fracture by suspending my arm with metal finger traps and applying a counter-weight after injecting a numbing agent. I was terrified. Would this be a good decision? The doctor didn't speak English well, but was able to convey enough information that spoke to my inner wisdom. I had, she said, about a two-hour window to reduce the fracture before soft tissue swelling would make that more difficult. Thankfully, I said ok.
I was transported to an emergency room back in Barcelona and told I would need surgery. The doctors reviewed the x-rays and told me that the joint was too severely compromised to ever regain movement of the wrist and that the orthopedic surgeon recommended fusing it in an immobile position. He added, "No one can fix it any better. It is a very bad fracture." Was this true? I didn't really know but a small voice inside said "no." Still not clear what to do, I signed out against medical advice.
I reached out to friends and got a great suggestion to find out where the soccer players went for treatment. This was Barcelona after all. I found a wonderful surgeon and eventually regained full use of my wrist after a very successful rehab.
The whole thing was extremely scary. If I had given in to the fear and anger the outcome might have been very different. I do believe that my tai chi and qigong helped me through this ordeal. It helped me settle down and stay grounded. It led me to say "yes" and to say "no." A skeptic might say that as a physician I have more medical knowledge than most. While this is undoubtedly true, I would argue that it was not my medical knowledge that helped me make wise decisions in this crisis but my staying calm and listening to my inner voice. I think this is at the heart of the question, "Who Am I?"