Read more reports from Meathead's grill deck at AmazingRibs.com
Bratwurst (braht-vurst), better known as brats are great tailgate food. They are the official food of University of Wisconsin and Green Bay Packer fans. UW is based in Madison, which calls itself the "Brat Capital of the World" and is home of the giant annual "Brat Fest" over Memorial Day weekend. More than 200,000 brats are served. Only slightly more modest, Sheboygan, an hour south of Green Bay, calls itself the "Bratwurst Capital of America". Nearby, in Middleton, is the Mustard Museum (a must visit, pun intended).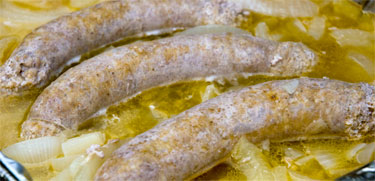 Brats are pinkish sausages made from coarsely ground pork and/or veal. Unlike hot dogs, brats are not precooked at the factory. They often contain eggs, pepper, savory, bay leaves, nutmeg, celery salt, chives, or parsley and they are usually stuffed into natural casings. Buy plain brats, not those cheese-filled abominations. If you can get them, buy Usinger's or Klement's, both from Milwaukee.
The Wisconsin brat tub combines two local faves: Brats & beer. In the typical brat tub the meat is simmered in beer, then grilled. But so much flavor is left behind in the beer, which is a solvent.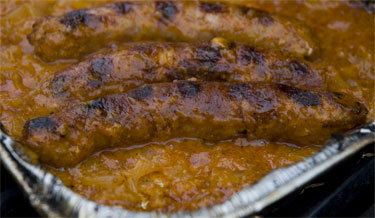 In this recipe we take the classic technique and riff on it. The brats are simmered then grilled, but then then the beer is made into a sauce, and the brats simmer in the sauce, so nothing is wasted. The beauty of this recipe is that you can cook the brats and onions in the beer and make the sauce at home, chill everything, and then heat the sauce and grill the brats at the game. Touchdown!
Although this recipe is designed for cooking on a grill, but you can do them indoors on a griddle, in a frying pan, or under the broiler. Dave Hoffman, a.k.a. Fritz Boygan, tells me in Sheboygan, in the days before smoke detectors, the German settlers liked to cook brats on the indoor stovetop in a frypan. So when they cooked in the backyard, it became a "fry out" or an "outdoor fry".
Brat Tub Recipe
Yield.
6 sandwiches
Preparation time. 1 hour
Ingredients
6 brats
6 nice buns (try for something better than pasty hot dog buns)
2 (12 ounce) bottles of regular American lager beer, like Old Milwaukee, nothing fancy
1 (12 ounce) bottle high quality German beer
2 medium onions, sliced in half rings
2 tablespoons butter
1/2 cup ketchup
1/4 cup Dijon-style mustard
1/4 teaspoon hot pepper sauce
About the buns. In Wisconsin they sell "sausage rolls" or "sausage buns" which are thicker, firmer, and have a more substantial crust than a hot dog bun. They make a difference.
About the ketchup. You can substitute Kansas City style barbecue sauce for the ketchup.
Optional. Try smoking the brats first or add 1/4 teaspoon of liquid smoke.
Caution. Wear your "Kiss the Chef" apron. Every time I make this dish I splatter myself with glop.
Do this
1) Set up the grill so there are two zones, one hot and the other medium hot. Read this about the concept of 2-zone cooking on a grill, it is an essential technique for barbecue lovers.
2) Open the high quality German beer and drink it while cooking. This is the way it is done in Wisconsin. Don't mess with the methodology.
2) Most brats come curved. Bend and flex them so they are close to straight. Poke each brat 2-4 times with a fork so excess fat will drain and so the beer can get in. Use a pot or pan (you can use a disposable aluminum pan) for the brat tub. Dump in the brats, butter, hot sauce, and 2 bottles of American lager. Put the hot tub on the hot side of the grill or if you have a fancy side burner you can use that. Simmer for 10 minutes, turn them over and simmer 10 minutes more. Be careful not to boil them or they may burst. Remove the brats and grill over medium heat until the skins darken and have grill marks. Be careful not to burn them. Roll them over so they are browned on all sides.
3) Leave the pan with the beer and onions over the high heat. Add the ketchup and mustard, and stir. Add the brats. Cook it down to a gloppy sauce. This will take 20-30 minutes.
4) While the sauce is thickening, open the buns and place them cut side down on the indirect side of the grill to warm and slightly toast. Go ahead, butter them first. When the buns are on, do not walk away. They can go from toasted to black in a minute. If a corner does burn, you can scrape it off easily.
5) Serve the brats on the buns with the onions and the sauce. Not too much sauce, you want to taste the brats. Serve World's Easiest Potato Salad or German Potato Salad on the side. Serve warm sauerkraut with caraway seeds on the side too. Or heap them on top of the brat. And don't forget the beer. Put extra brats back in the sauce on a warm part, but not hot part of the grill.
Optional. One of my readers, George Gates of Memphis wrote me to ssuggest that the third wisconsin food group can be incorporated in this recipe: "Yes, it's almost 2 in the morning, we've been drinking, and, as in all great discoveries, necessity is a mother! Take the leftovers from the Wisconsin Brat Tub, heat it up, and mix in about two cups (not exact measurments) of grated sharp cheddar cheese. Instant beer, cheese, onion dip! Ritz and Saltines worked well, as did some rosemary soda crackers." I haven't tried this personally, but it sounds like it should work fine.
All text and photos are Copyright (c) 2010 By Meathead, and all rights are reserved
For more of Meathead's writing, photos, and recipes, please visit his website AmazingRibs.com
Friend Meathead on Facebook


Calling all HuffPost superfans!

Sign up for membership to become a founding member and help shape HuffPost's next chapter