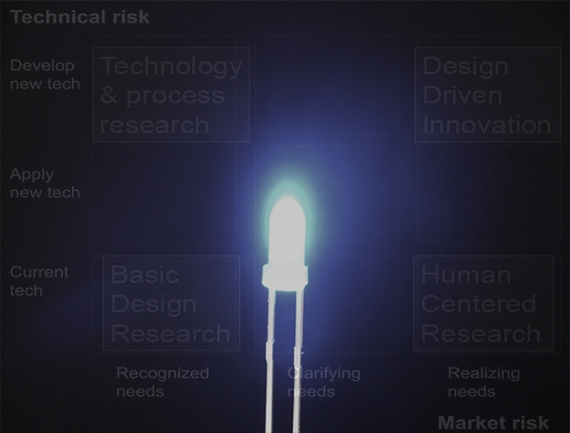 It is increasingly hard to find something genuinely novel that one actually needs or even wants. Most new products are just slight facelifts of last year's version that we can all easily live without.
This could be a potentially serious economic problem, since retail sales account for sixty percent of national growth in the US. Increasing investments in breakthrough innovation is only part of the answer; one also needs to build knowledge and experience in developing breakthrough innovation, which is very different from the incremental variety.
For example, Apple spends just two percent of its revenues on product development, while its competitors spend closer to five percent, and Apple is, by far, more innovative. Thus, the key is not necessarily massive investments but choosing the appropriate innovation method for one's innovation activities.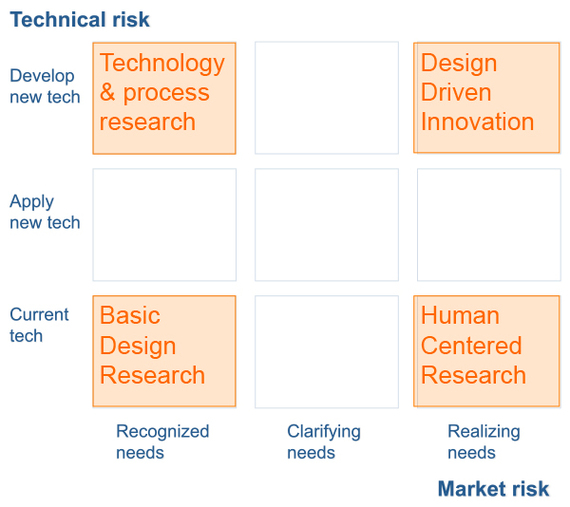 Depending on one's position in the Market - Technology Risk space, benefit can be had from applying one of four design methods:
Low market and technology risk: Basic Design Research
In this model, the design team peruses the organizations and competitors' offerings, online sites, user groups, blogs, magazines, as well as, visiting their brick and mortar stores. For inspiration, they may also look at technologies/products/service/experiences in other fields that have addressed similar challenges. They may explore visual images that capture the organization's brand values, user personas, users' lifestyle together with art, architecture, automotive product, fashion etc. From the collected material, designers then generate various themes to provide the context for concept exploration.
High market risk - low technology risk: Human Centered Design
Here, the design team, together with anthropologists (study of humanity), ethnographers (study of people and cultures), design and brand strategists, as well as, ergonomists, conduct user interviews and studies of users in the field to uncover unarticulated needs and/or clarifying existing needs. These insights then provide the context for concept exploration.
Low market risk - high technology risk: Technology and Process Research
In this instance, the design team, together with technologists, engineers and scientists conduct a technology search in the organization's business, as well as, adjacent businesses and completely different businesses/domains that may address recognized needs. Discovered technologies are then used to create a technology roadmap and the insights gained then provide the context for concept exploration.
High market - high technology risk; Design Driven Innovation
The design team combines the above described Technology and Process Research with Human Centered Design to generate insights that can provide the context for concept exploration. Since both market and technology is radically different, it is necessary for the design team to educate the users and this is done by curating a context in which the new offering can be understood, e.g. 'the home of the future,' or, the future of transportation'.'
Which of the four methods shown above are most appropriate depends on an organization's core capabilities, risk attitude, competitive advantage, environmental strategy and market and technology maturity.
Determining the best organization - new product development fit can be accomplished though the use of a Design Quality Scorecard that clarifies how the various elements are interrelated and measured. Starting off on the right path with one's innovation effort pays huge dividends for one's final outcomes, incorporating the old axiom of, 'Measure twice, and cut once.'
Calling all HuffPost superfans!
Sign up for membership to become a founding member and help shape HuffPost's next chapter