Taipei, Taiwan is a city better known for bustling streets than green space; but not on the week-ends. Located in what serves as a car park during the week, the Jianguo Week-end Flower Market is a welcome oasis in the city center. Each Saturday and Sunday, beneath the bleak cement overpass of Jianguo Road, a riot of flowers and trees bloom.
The market, fully a half mile long, has curtain walls made from specially-designed shades that are pulled down from the elevated highway on the week-ends. A cooling mist of water refreshes flowers and shoppers alike. The Jianguo Week-End Flower Market features professional growers and amateur enthusiasts putting on a gorgeous display of their prize specimens in two hundred booths that line the market.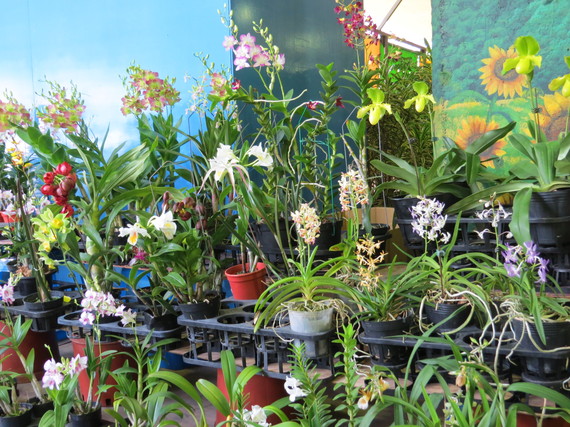 Photo Credit: Photo by Kim Dramer
In the central aisle, water lilies float in water-filled tubs. Bouquets of cut flowers fill buckets standing next to pots containing bougainvillea, cacti and succulents. The queen of market is the orchid, grown locally in Taiwan.
Common specimens of orchids can be bought for as little as 100 Taiwan dollars, about three U.S. dollars. More exotic specimens and larger arrangements go for many times more.
There is something for every pocketbook and taste at the market. This beauty, labeled as "Black Cat." Tacca Chantrieri, is known as Bat Flower or Devil Flower in English. It is native to the tropical forests of Yunnan Province, China. According to the vendor, it's an easy-to-care for specimen with long-lasting flowers.
The Jianguo Week-End Flower Market features garden furniture and accessories made from Taiwan's natural materials. Garden ornaments, tables and chairs are fashioned from white, black or green marble. The timber from Taiwan's camphor, cypress and juniper trees is extremely fragrant, as well as weather- and insect-resistant. It's favored by craftsmen for decorations that complement plants and flowers.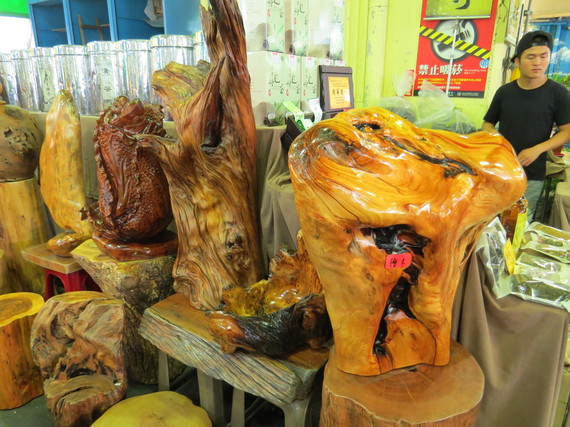 Photo Credit: Photo by Kim Dramer
Local residents crowd the market each week-end to shop for seeds, plants and trees. The Taipei municipal government encourages residents to grow rooftop gardens with the aim of cooling down the city and improving air quality. The market is especially busy during the holidays, when locals shop for seasonal flowers to celebrate traditional Chinese holidays. Plum blossoms and narcissus are used to decorate homes during Lunar New Year. Sweet flag and mugwort are hung during the Dragon Boat Festival each summer. Chrysanthemums are favored during the Mid-Autumn Moon Festival.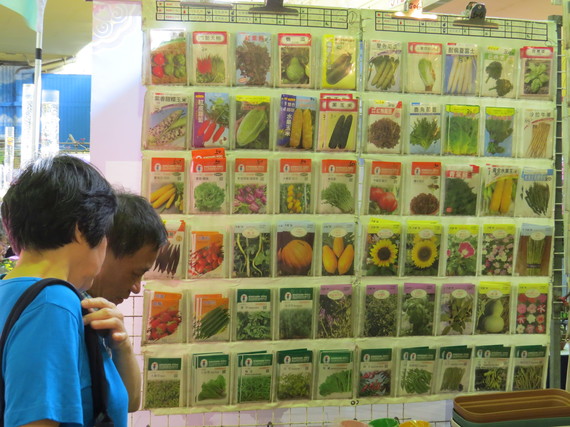 Photo Credit: Photo by Kim Dramer
The ancient Chinese art of penjing or "tray scenery" growing minature trees or plants in small containers, is a popular hobby. This art is known to Americans by the name bonsai, the Japanese pronunciation of the Chinese term penzi, literally "tray plant," which refers to an individual specimen in the arrangement
What is unique to this art is the use of skilled pruning to dwarf plants and form them into aesthetically pleasing shapes. Traditionally, these small landscapes might be displayed on a scholar's desk to bring the natural world into one's study. The idea was to bring refreshment and spiritual renewal to the viewer, an expression of Daoist (Taoist) ideas of the balance of man and the universe. Some plant specimens can be very old indeed, yet still confined to fit into a container measuring the width of a hand. Today, penjing are perfect for a small apartment in modern Taipei - or any city.
Seeds, plants and fruits from Taiwan cannot be imported to the United States. But garden accessories made of marble, wood, porcelain or terracotta are readily available. These make perfect souvenirs to take home from your visit to the Jianguo Week-End Flower Market in Taipei.
Popular in the Community