Taipei spreads before me, gray and drizzly, with a skyline pierced by glass and steel towers, including the most heralded: Taipei 101. And while this landmark pinnacle is a crowd magnet for all who may not crave the intimate experiences found by exploring city streets, I had something else in mind that would satisfy my need for the verdant.
Bucolic green spaces are sprinkled all over Taiwan. One -- Taroko Gorge National Park -- is so dramatic it looks like it was formed by a knife thrust into the earth, and other venues, though significantly less stirring, are still calming to the spirit, with the only sounds coming from the many species of cicadas or the tumbling of threads of water. I sought Taiwan's green spots to walk, jog, and bicycle.
Keelung River Bikeway -- Paralleling one of the city's major rivers, this paved path doesn't veer far from its urban origins. Highways and metro tracks crisscross overhead at points and, in the distance, cloud-draped Taipei 101 seems to hover over the scene. On a towering hill is set the pagoda-like Grand Hotel which, when it was built in 1952, was considered one of the top 10 hotels in the world. But none of these urban structures takes away from the path's serene potential. Visitors will find plenty of opportunities to picnic along the waterfront -- sometimes at marble picnic tables, bird watch for egrets and night herons, spy locals fishing for bream, or simply relax on a wooden bench under a strategically placed banyan tree. You're bound to notice women doing the slow, methodical choreography of tai chi. Even during the weekday, men decked out in the latest bicycle gear zoom past. And families regularly take their very young kids out for a short bike ride. Marshlands, landscaped gardens and a children's park with a 30-year-old carousel displaying colorful images of Taipei are just a few of the sights along Taipei's longest bike path.
Chiang Kai-shek Memorial Park -- Said to be the best place to enjoy the glorious plum blossoms, the national flower, the expansive gardens surround the eponymous hall built as a memorial to the Republic of China's first president. Plant species of all sorts, from ferns to conifers, are labeled with their scientific names, something that will surely satisfy the botanically inclined. False heather, golden trumpet bush and laurel wood are just a few of the many varieties of specimens found. Along a particularly enticing path shaded with towering hoop pine trees, I pass an older couple jogging and a young man holding a single note on his sax as if it were a mantra. Orchids, plants native to different parts of Taiwan, and fruit trees are all growing nearby. With its humid weather pattern, Taiwan makes for a perfect environment for ferns, such as lotus see and birds nest, which are well represented in a section devoted to them here.
Gardens of the National Palace Museum -- It may seem sacrilegious to visit this repository of hundreds of thousands of ancient Chinese artifacts dating back millennia only to spend most of my time in the surrounding Zhishan Garden, but that's just what I do. The 4.5-acre spread is a prototypical Chinese-style garden from the time of the Song Dynasty with winding paths and arch bridges set above tranquil water features, providing myriad views of the idyllic scene that seems to see few visitors. Silence reigns as black swans glide on a creek-fed pond, walkways zig-zag this way and that, and elaborately carved wooden pavilions provide much welcome shade. Walking to the garden's upper level provides a sweeping perspective of this idyllic arrangement.
Dongshan River Water Park -- Anything with the words "water park" are a turn-off to my nature-loving sensibility. But, though this attraction has its share of tourist entertainment, including outdoor concerts, it's the bicycle path lining both sides of the 15-mile river that's most appealing. Within the boundaries of the water park, tiny tiles embedded in the pavement as well as on columns scattered along the path display a curious wave-like pattern in shades of green and blue, as well as yellow and orange. I find out that these are meant to represent the two different dragons that are said to be the protectors of the river banks, where, beyond the confines of the water park, small, bow-like curved wooden boats are anchored and fishermen perch under umbrellas. Pedaling along, I'm tempted to stop at a contemporary river front pavilion for a picnic as well as climb the stairs ascending a wee hill where more tables and benches beckon. Defying my expectations, the National Center for Traditional Arts that gathers together a motley array of creative works, from crafts to folk art, is housed in an ultra contemporary building beside the trail that also wends past a fish farm stocking what's called sweet fish, a Japanese delicacy.
Qixingtan Bike Trail -- Fronting a pebbly, crescent moon-shaped beach that's popular for sunning among a largely older tourist crowd -- the current makes for dangerous swimming conditions, the paved bicycle path attracts locals and visitors of all ages. Vendors sell freshly-cut pineapples and coconuts as well as scoops of taro and red bean ice cream. A sea theme is ever present, including at the path's terminus where a striking observation platform displays a motley array of fish and shellfish images inset in the pavement and, nearby, a 3-D sculpture of the colossal bola bola fish -- a particularly tasty species. Farther down the path is another contemporary sculpture entitled "Myth of the Ocean," consisting of a series of stone slabs with one reflecting the evolution of a sea creature. I notice a young couple sprawled asleep on two of the stone works. The scenery soon changes to one displaying steep bluffs covered with coastal shrubbery, such as wild pineapple and the white blossoms of common spicebush, referred to as spicy girl. I become intrigued by a set of violet-hued steps that lead up to Imari, a restaurant and bed and breakfast where purple accents are abundant. Here is the perfect spot to enjoy a glass of white wine beside one of several windows looking out to the Pacific Ocean. After this point, the trail becomes more foliage-dense with an increased grade -- including several wooden ramps that require pushing the bike up -- that perhaps explains why I encounter fewer cyclists. But it's this short, pine-lined section that provides a much welcome sense of isolation.
Shilin Official Residence -- The crowds flooding to the gardens surrounding the home of former President Chiang Kai-shek swarm the main paths, including the one leading from the entrance lined with mango and broad leaf paper bark trees. But, even on the busiest weekend afternoons there are plenty of other serene options found by veering away from this thoroughfare. This includes taking one of several steep, stone staircases up the slopes just steps away. The network of paths that navigate to, among the many sections, the rose and Western-style gardens are also peaceful alternatives as is the boardwalk nature trail where climbing fig, gardenia, and Queensland umbrella tree are growing in the pervasive shade.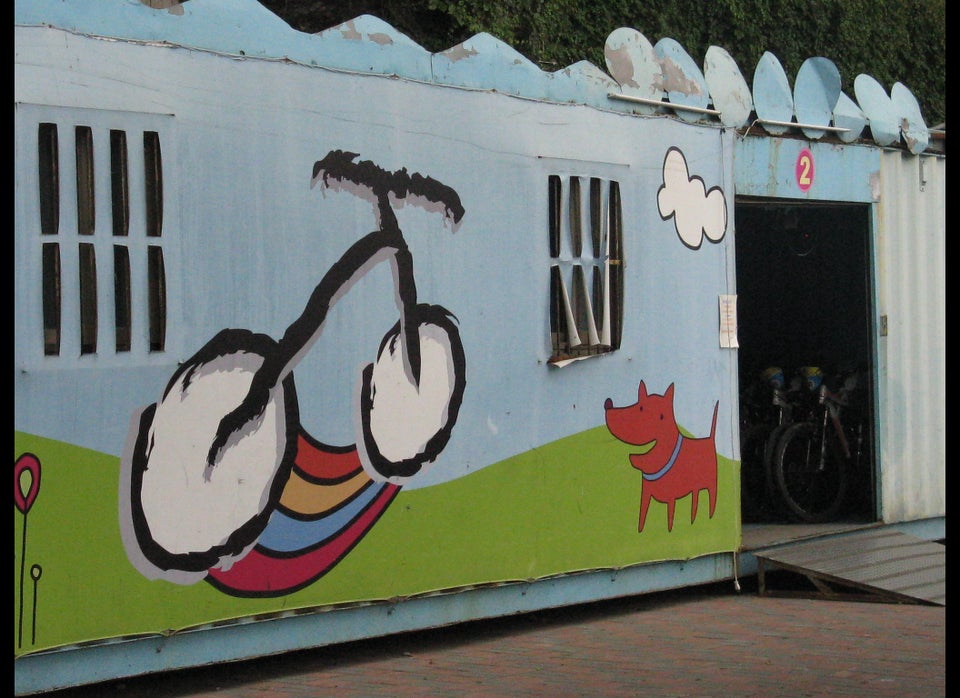 Taiwan's Natural Side
Related