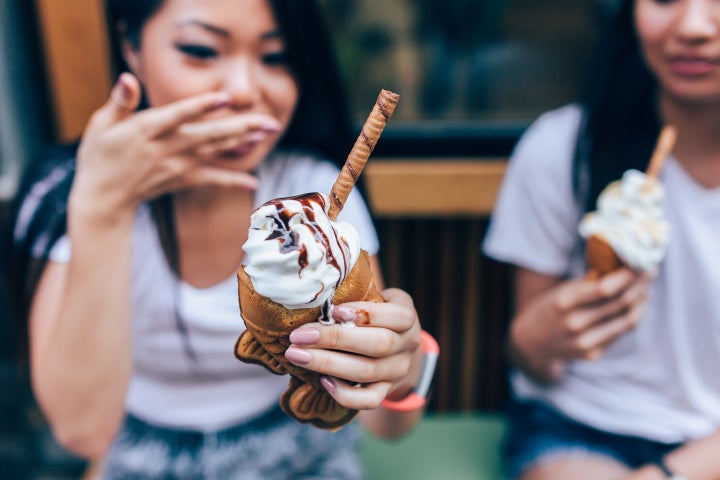 Get 'em while they're hot!
On Monday, I tried one of the ice creams from Taiyaki NYC, a dessert shop that opened in September and has become a staple of food-porny Instagram feeds.
Nestled between Manhattan's Chinatown and Little Italy neighborhoods, Taiyaki NYC serves up traditional Japanese fish-shaped cakes stuffed with soft serve. They're so adorable, you can't resist taking photos and showing them off ― before gobbling them up.
But the best part about these treats isn't their cuteness. None of the beautiful photos I saw online captured their most surprising and delightful characteristic: The cone is still warm when they serve it to you.
Cold ice cream, warm cone. That, right there, is autumn bliss. Taiyaki NYC is peddling the perfect fall dessert.
Even if there's a line out the door ― and there often is, thanks to the shop's embrace of social media and the coverage it received when it opened its doors a few weeks ago ― you can expect to get a freshly made cone.
There was no line when I showed up, around 2 p.m. Since it was my first time, the friendly staff at the counter recommended I try the "Straight Outta Japan," a popular $7 cone with a swirl of matcha and sesame ice cream, red bean paste and a short stack of teeny pastel-colored mochi sticking out the top (see above).
There are a handful of other $7 combos on the menu, and you can also build your own creation from the list of ice cream flavors, fillings and toppings.
(There are options for those who just want the ice cream. Do yourself a favor, though, and get the fish cone.)
But wait, doesn't the warm cone make the ice cream melt too fast?
Actually, it wasn't an issue for me ― and that's partly thanks to the bean paste inside the cone. The paste is a common filling for Japanese taiyaki cakes, and in this case, when paired with ice cream, it keeps the drippings from pooling in the tip of the cone. My treat didn't get soggy or leak onto my hand.
OK, I'll admit it's possible I didn't end up with a melty mess because I scarfed that thing so fast it didn't have much of a chance to liquefy. (I've never been a genteel eater of snacks.) Either way, the bean paste is a nice addition.
Overall, this dessert was so picture-perfect that I almost felt bad eating it. Almost.
Before You Go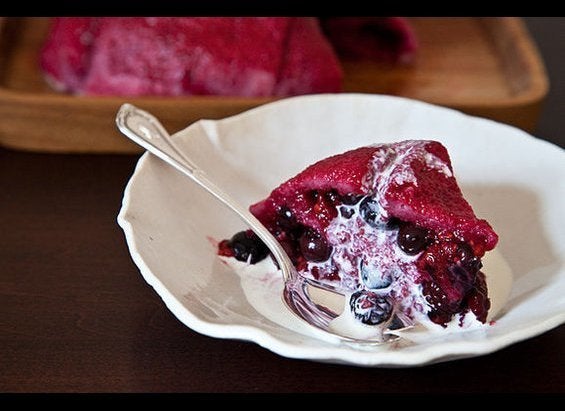 8 No-Bake Desserts