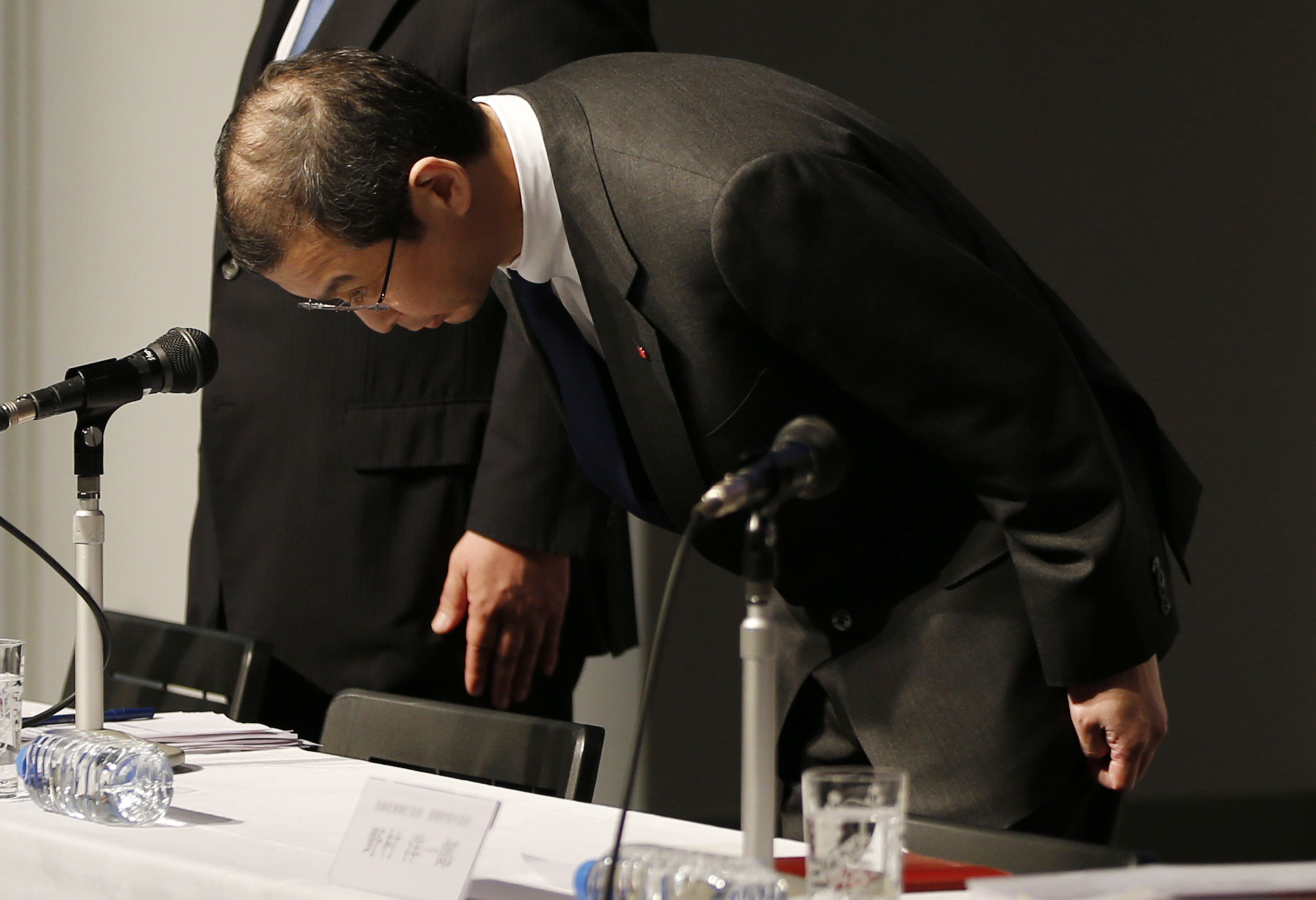 Takata chairman and CEO Shigehisa Takada bowing deeply in remorse at a press conference Thursday. (AP Photo/Shuji Kajiyama)
Women may say sorry too much, as The New York Times recently noted, but there's another group of people who suffer from the opposite problem.
They are called CEOs, and they have a hard time apologizing.
On Thursday, the chief executive of Takata, the Japanese airbag manufacturer, finally offered a public apology for problems that have led to at least eight deaths, more than 100 injuries and the largest safety recall ever in the automotive industry.
"I apologize from my heart to those who have died or been injured," CEO Shigehisa Takada said at a news conference in Tokyo. "I feel a heavy responsibility." To show his remorse, Takada bowed deeply.
Though his company had offered public apologies in print advertisements, and an executive had apologized to Congress for problems with the company's airbags in November 2014, this was the first time Takada himself publicly expressed remorse. Yet the recalls started as far back as 2008, when Takada was president, and got worse last year when he was appointed CEO and chairman, the Wall Street Journal noted.
"His apology was definitely overdue," Sydney Finkelstein, a professor at Tuck School of Business at Dartmouth, told The Huffington Post. "This has been going on for a while and he was nowhere to be found."
Still, many executives never apologize. Most of the banking executives who were at the helm during the heady days leading up the the financial crisis in 2008 have not expressed remorse, or even regret.
The former chief executive of Massey Energy never issued a public apology for an explosion in 2010 that killed 29 miners, instead insisting that it was an accident that couldn't have been prevented.
"Apologizing means you're admitting you've done something wrong. It's difficult for CEOs or any manager," said Finkelstein, who teaches classes of executives at Tuck. "This topic comes up and you hear people expressing resistance or fear, even though it's the right thing to do."
Some CEOs, under advisement by a legal team, may fear making their situation worse by admitting wrongdoing.
Doctors have been notoriously unwilling to say sorry for fear of being targeted by malpractice suits, but recent experiments and research have shown that when doctors and hospitals say sorry, they're less likely to face litigation.
Indeed, a sincere apology can actually be good for business. "Genuine apologies, delivered sincerely, can be liberating, and powerful signals of renewed trustworthiness. Many would also see them as an impressive and competent PR response, too," according to a report from the Insitute of Business Ethics cited in The Guardian earlier this year
Nearly 34 million Takata air bags have so far been recalled in the U.S., where they're used in vehicles made by Honda, Toyota and other automakers. Late last week Honda confirmed another death linked to Takata airbags.
The grandson of the company's founder, 49-year-old Takada had been criticized for his silence for more than a year as the safety issues have been under the spotlight. He has been described as "reclusive."
On Thursday, he also said sorry for not apologizing sooner. "I felt that the priority of my job is to ensure our products are safe," he reportedly said. "I regret that I haven't offered enough explanations."
An effective CEO apology not only is sincere, it also comes with a clear plan of action. Takata -- and Takada -- still have a ways to go on that. The company is still not clear on the cause of the airbag defects. And on Thursday, Takata said the company was considering a victims' compensation fund, but didn't know how it would work.
He also said he would not step down. Sorry.
Related