[EDITOR'S NOTE: PLEASE MAKE THIS THE THUMBNAIL]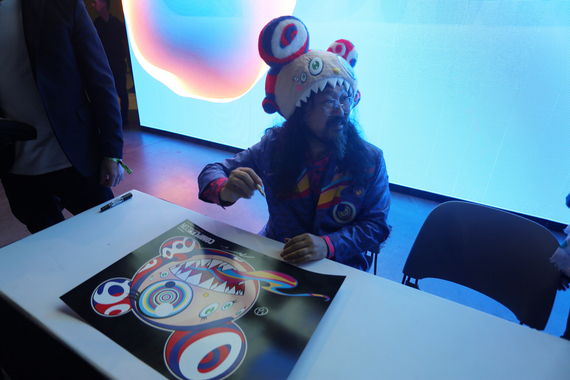 Murakami signs a bunch of swag for the fans. Photo by EMS.
ComplexCon rolled out for its first ever weekend expo on November 5-6 in the Long Beach Convention Center's 200,000+ square feet hall. I luckily experienced the opportunity to be inspired by its innovative high-impact and design that was quite unique form most of the fairs I attend. ComplexCon prided itself in bringing together fashion, pop culture, music and activism into one experience. They call it a culture festival. Think of the coolest rappers, skaters, surfers, and street artists putting together a weekend show, and ComplexCon is what you get.
Snarkitecture, co-founded by artist Daniel Arsham and designer/architect Alex Mustonen, designed an exclusive installation. "We're excited to create an unexpected and memorable experience for visitors to ComplexCon," the artists said. "One of the goals of Snarkitecture is to transform aspects of the everyday into the extraordinary, and we look forward to inviting people to a transformative moment within the fair."
On top of that, music played a key role if the fair. Two days of music lineups played on stage inside the hall. Travis Scott joined Skrillex, Kid Cudi and Virgil Abloh on the ComplexCon mainstage. Pharrell became Cultural Director and took on Host Committee Chair duties, while Takashi Murakami designed the festival's visual identity and shaped the overall aesthetic. On top of that, Ron English was recruited to bring #POPAGANDA to ComplexCon.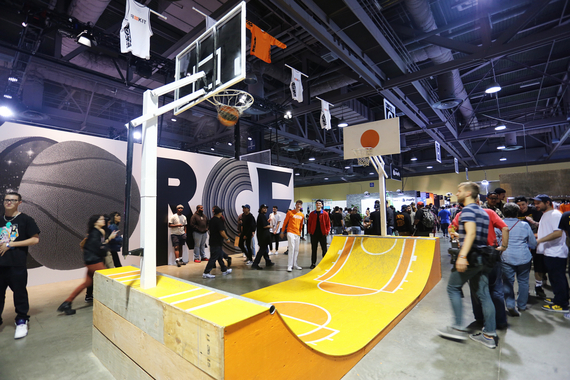 Then there was the shopping. Swag and apparel was everywhere. It was so LA. Many brands made the show that debuted collaborations and launched new products. Jason Markk collaborated with J-Dilla, Stance, while Undefeated Modernica (the furniture company) collaborated with photographer Van Styles, Dabs Myla and Cleon Peterson. Rokit created an installation with Cali DeWitt. The all-white Nike SF Air Force 1 debuted at ComplexCon, including adding Snoop Dog to the music lineup.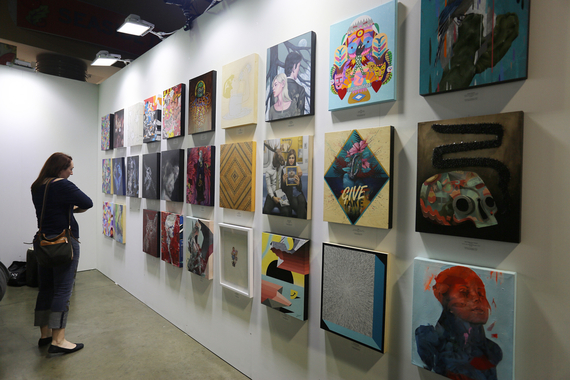 Ultimately, ComplexCon provided a more sophisticated environment then ComicCon with not enough pop surrealism to spare. the vast amount of brands, retailers, art, food and activations made a ride worth taking. If there's room to top this inaugural event, then the weekend fair is definitely worth waiting for next year.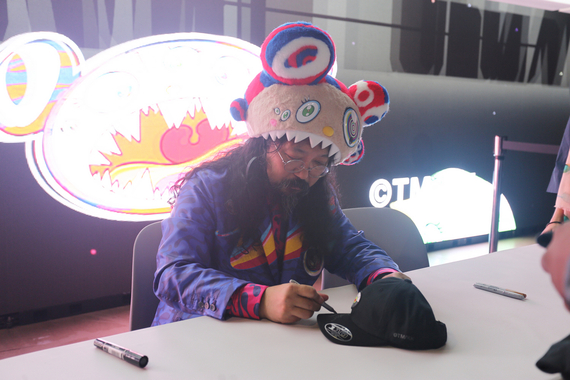 This article is part of an ongoing photojournalism survey of art exhibition openings titled EMS N(art)rative. Through my lens I document a photographic essay or visual "N(art)rative" that captures the happenings, personalities, collectors, gallerists, artists and the art itself; all elements that form the richly varied and textured fabric of the SoCal art world. This reconnaissance offers a unique view for serious art world players to obtain news and information on the current pulse of what's in the now, yet capturing timeless indelible images for posterity and legacy. Here is EMS N(art)rative Forty-Two.
Related