Who would have thought otaku culture would make it to the Middle East?
Takashi Murakami's latest exhibition, aptly titled "Ego," opens today in Doha, Qatar. The artist is a self-described "otaku," or anime fanatic, and his colorful artwork is imbued with references to Japanese cartoons and cute pop culture iconography.
From square-headed, blue-eyed boys with tiny mouths to multicolored animals with big ears and long eyelashes, Murakami has the lock down on "kawaii" art. But what happens when the artist encounters a 7,500 sf space? He fills it with gigantic blow up versions of himself, spiraling statues, and seemingly endless murals as a tribute to what happens when "cute" goes awry.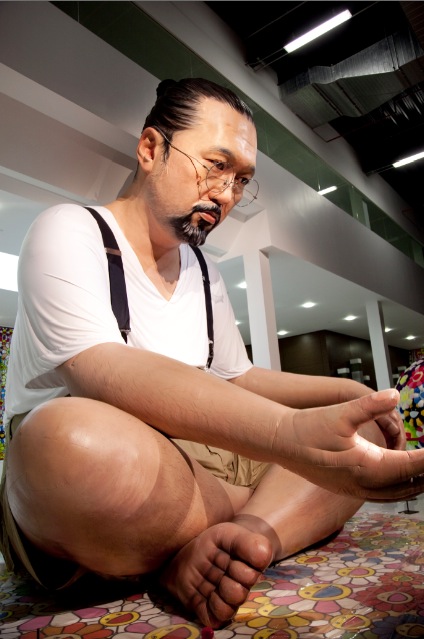 Welcome to Murakami - Ego (2012) Inflatable Structure.
Courtesy Takashi Murakami / Kaikai Kiki Co., Ltd. Photo by Chika Okazumi.
His company, Kaikai Kiki Co., employs about 70 staff members and artists who execute the reclusive Japanese artist's vision. If we're being generous, this practice could be considered a part of "Monozukuri," the Japanese art of manufacturing, or it could just be that Murakami has created an international brand for himself that simply has to be outsourced in order to fill the orders. Murakami's team creates adorable products that are both highly manufactured and individualized, and, to continue this paradox, they are playful but also somewhat menacing. His drive is seemingly endless; in a previous interview with Jonathan Wingfield in The Independent, the artist says, "I have to produce work that will be able to survive and have relevance in 100 or 200 years time; like the stuff in the Louvre."
Perhaps because of this vision, Murakami frequently goes back to referencing the work of Japanese masters in his more serious pieces. For instance, his largest painting to date is over 300 feet long, and wraps three sides of the main gallery in a vision of "wind, forest, fire and mountain."
In the past two years, Murakami has had major retrospectives in LA and in France at the Chateau de Versailles. The press release boasts that the Doha exhibition is "the final chapter in the worldwide trilogy of exhibitions that have established Takashi Murakami as one of the most fascinating artists working today."
So what do you think, readers? Will Murakami's work stand the test of time?
"Murakami - Ego" will be on view from February 9 to June 24 in the Al Riwaq Exhibition Hall in Doha, Qatar.
PHOTO GALLERY
TAKASHI MURAKAMI
Calling all HuffPost superfans!
Sign up for membership to become a founding member and help shape HuffPost's next chapter
BEFORE YOU GO