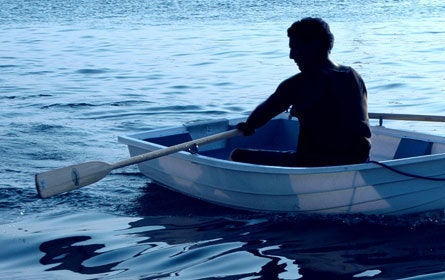 So by now you know that Arianna's first Huffington Post Book Club pick is Carl Honoré's In Praise of Slowness. First published in 2004, it's an engaging exploration of the Slow Movement, and it encourages readers to take some time instead of speeding and multi-tasking through one stressful project to the next. A journalist, Honoré offers a detailed report of the Slow Movement's role in every aspect of life, from food to sex to relationships to work. The idea of slowing down isn't new, either. Great thinkers and writers have been talking about how important it is to take time for yourself and for reflection for a long time.
The Huffington Post has gathered some information about the book and the Slow Movement for you to enjoy while you read along this month. Below, you'll find a collection of quotations about slowing down from philosophers, musicians, writers, and Carl Honoré himself. We're also providing some reviews of Honoré's book as well as a list of related books. We hope you enjoy them, and please send us your own suggestions for Slow-related books and quotations using the Participate button below.
Inspirational quotations on themes of slowness:
"Most men pursue pleasure with such breathless haste that they hurry past it." -- Soren Kierkegaard

"The time has come to challenge our obsession with doing everything more quickly." -- Carl Honoré

"Slow down, you move too fast." -- Simon and Garfunkel's 59th Street Bridge Song

"the mass of men lead lives of quiet desperation." -- Henry David Thoreau

"Death is nature's way of telling you to slow down." -- A.E. Newman

"I always lived under the mantra that the fast will beat the big ... but the slow will beat the fast." -- Geir Berthelsen, the founder of the World Institute of Slowness

"Fast isn't turning us into Masters of the Universe, It's turning us into Cheech and Chong." -- Carl Honoré

"In this media-drenched, data-rich, channel-surfing, computer-gaming age, we have lost the art of doing nothing, of shutting out the background noise and distractions, of slowing down and simply being alone with our thoughts." -- Carl Honoré

"There are three things I take slowly: slow food, slow burn and my slow husband." -- Heather Miller Podesta

"The pace of life feels morally dangerous to me."-- Richard Ford, novelist

"The first principle of all action is leisure." -- Aristotle

"To do two things at once is to do neither." -- Publilius Syrus

"I went to the woods because I wished to live deliberately, to front only the essential facts of life... and not when I came to die, discover that I had not lived." -- Henry David Thoreau

"Time is on my side." -- The Rolling Stones
Book Reviews for In Praise of Slowness:
In brisk, cleanly written chapters, Honoré traces his personal encounters with advocates of slow living. In Praise of Slow shows us various methods to release ourselves from what Baudelaire denounced as 'the horrible burden of time,' to break free of the 'Matrix'-like illusion that we have no choice.
In his well-researched and often amusing book, Honoré presents an eloquent case for a thorough re-examination of priorities and shows how even subtle shifts in the way we live can have a very real effect on our well-being.
Engagingly written and filled with interesting detail, (this) book is a timely manifesto for a more civilized world.
In his appealing first-person approach, Honoré offers a you-are-there view of global efforts to challenge the "false god" of speed. Engaging and persuasive.
Honoré makes an eloquent and convincing case for slowing down. His book challenges the conventional view that faster is better. Readers would be wise to savour it slowly.
Other Books About the Slow Movement:
The Circle of Simplicity: Return to the Good Life, by Cecile Andrews

Blur: The Speed of Change in the Connected Economy, by Stan Davis

Faster: The Acceleration of Just About Everything, by James Gleick

Take Back Your Time: Fighting Overwork and Time Poverty in America, by John de Graaf

How to be Idle, by Tom Hodgkinson

The Play Ethic, by Pat Kane

Soft Power, by Joseph Nye

The Paradox of American Power: Why the World's Superpower Can't Go it Alone, by Joseph Nye

Breathe, You Are Alive, by Thich Nhat Hanh

Chop Wood, Carry Water, by Rick Fields

REAL LIFE. REAL NEWS. REAL VOICES.
Help us tell more of the stories that matter from voices that too often remain unheard.