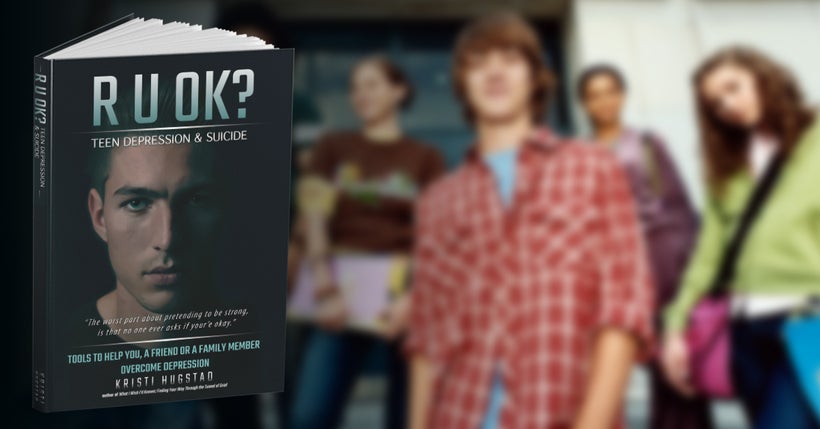 Every year, more than 44,000 Americans die by suicide, making it the 10th leading cause of death in the United States. And even with an average of 121 suicides a day, suicide remains the topic no one wants to talk about. This week marks the National Suicide Prevention Week, and there's no better time to think – and talk – about the epidemic that's plaguing our nation. Teens specifically need our help today, as suicide is now the second cause of death for ages 10 to 24 (according to the CDC). As parents, educators and people who love teens, we can make important contributions this week – and in weeks, months and years to come – to a cause we all care about: preventing suicide.
Take a minute
Thanks to a generous donation (from an angel!), I'll be providing 100,000 copies of my book, R U OK: Teen Depression and Suicide to various schools and youth organizations. I need help making sure these books get into the hands of those people who need them most – our teens. All it takes for me to succeed in saving a life – or many – is your help. Take a minute to sign up your school or organization to receive free books, or volunteer to donate your time shipping these materials out to those who need them most. Visit my website or email Kristi@thegriefgirl.com for more information.
Talk to your kids
Parenting requires tough conversations, as any parent who's broached the birds and the bees can attest. Today, our teens are getting educated on suicide – and you likely won't like what they're learning. Today, social media, TV shows and even news stories glamorize suicide without offering hope or resources to which teens can turn. That means it's up to you to make sure your kids have the information they need. If you're not sure where to start, pick up a copy of "R U OK? Teen Depression and Suicide," which serves as a tactical guide for talking about suicide.
Know the warning signs
My work continually puts me in front of teens, educators and parents. One of the most important things I can communicate is how to recognize the warning signs for suicide. When my husband completed suicide four years ago, I failed to recognize the signs. Knowing what to look for can literally save a life. For a comprehensive list of suicide warning signs, check out "R U OK?" Some of the more common signs include:
· disinterest in favorite extracurricular activities
· withdrawing from family and friends
· changes in sleep patterns: sleeping too much or too little
· changes in eating habits: overeating, binging, not eating
· neglecting personal appearance: not showering or messy appearance
· preoccupation with death
· risk-taking or self-destructive behavior
· frequent complaints of boredom
· does not respond as before to praise
The less we talk about it, the more power suicide has over our lives – and the lives of our teens. National Suicide Prevention Week is all about generating awareness, and that's something I've dedicated my life to doing. The American Foundation for Suicide Prevention lists several ways you can promote awareness, from joining a walk to taking a selfie. Want to really make a difference? Sign up your school or organization to receive free copies of "R U OK? Teen Depression and Suicide."
Suicide is all about hopelessness. Sometimes, all it takes is a caring, listening ear to help someone feel hopeful again. This week, lend your ear – and your time – to someone who seems like they need to talk. For helpful ways on how to have that conversation, check out my tips.
Calling all HuffPost superfans!
Sign up for membership to become a founding member and help shape HuffPost's next chapter
This post was published on the now-closed HuffPost Contributor platform. Contributors control their own work and posted freely to our site. If you need to flag this entry as abusive,
send us an email
.