Brian Allen Carr' short fiction has appeared or is forthcoming in Granta, Ninth Letter, Hobart and other publications. He is the recipient of a Wonderland Book Award and a Texas Observer Story Prize.  SIP is his debut novel about addiction, friendship, and the struggle for survival.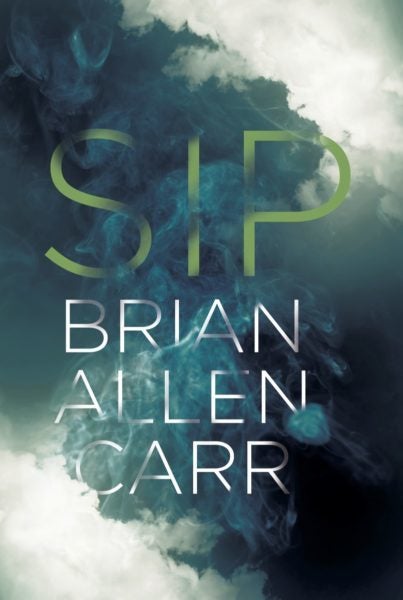 Loren Kleinman (LK): Can you talk about the inspiration behind SIP? Discuss the intro paragraphs to the collection and how it relates to the title.
Brian Allen Carr (BAC): The primary inspiration for Sip is addiction. Well, addiction and perception. The two things are pretty connected, depending on how you think about it.
Ostensibly, there are two types of addiction.
You have physical dependence--which to my mind is a kind of poisoning in reverse, where your body calibrates to a state of compromised existence and begins to feel toxic when the toxins purge--and psychological dependence where the senses have calibrated to an altered state and therefore non-altered states feel wonky to the senses.
Sip is a look at an epidemic of addiction.
In it, humankind has become capable of ingesting the sun-made shadows of sentient beings. This ingestion brings intoxication. This intoxication brings depravity. This depravity leads to a bleak future.
It is essentially a meditation on how humanity might behave if there were no buffers to intoxication.
The opening paragraphs quickly run through the woe of the world and position Sip as a fable. It is not a systemized universe I've set to create. I'm not a fan of books that info dump a false reality into existence. Sip says: this world can't happen.
But, there again, it's a meditation on addiction. If you've never been addicted, then you have no idea how bizarre a thing it is. To say to yourself: just don't do this thing. To know how much, you hate it. And to do it anyway.
LK: How does the theme of 'death' and 'sickness' trace through your book?
BAC: Well, death and sickness are the way of addiction, so I'd say they're stamped on about every page.
It's a funny book, though.
I mean, addicts laugh a lot. They cry, too. Sometimes, they poop their pants.
But one of the side effects of this shadow-addict society is limb piracy. That is to say, people steal the arms and legs of men, women, and children in order to enhance their abilities to get high.
It sounds bizarre, but Americans are addicts of pleasure and vice of every ilk, and I can't even imagine how many foreign-born people's lives were burdened so that I could type this sentence into this computer and send it across the internet to you. How many Native Americans were murdered so I could sit in this heated house in Indiana on this cold November day.
Just so I could feel good, and shit.
LK: Which character do you relate to most: Mira or Drummond? Why or why not?
BAC: Drummond. But for obvious reasons.
Or, no, Mira. Because she feels like so much of an outsider that sometimes she wants to kill herself.
Or, no, Drummond. Because he feels so trapped that he gets high to escape.
Or, no, Mira. Because she'll do anything to make her family happy.
Or, no, Drummond. Again, for obvious reasons.
LK: How do you use dialogue to show most of the story?
BAC: Dialogue is my favorite thing, because it is the most natural use of language. You can't learn it from watching plays though. Or TV. Or from reading. You have to go out and talk to people.
They're like these weird animals who pay rent and like to bitch about their jobs. They drink from plastic bottles and shit almost exclusively into water.
Once a year they have birthdays, and they can get diseases that only affect their genitals.
With Sip, I tried to have a book rich in dialogue, because I thought the most important part of this book was how the characters responded to each other. Sometimes, in books like these, book sets in the future, authors try to make the primary function of the book be an explanation of how the future is different than now. I don't really get that. Who would be narrating that, exactly? What culture has ever collected their stories to send them back into the past?
LK: What's after SIP? Can you share the first line of that next project with us?
BAC: I'm working on a book about shame and mental illness and gun control and magical lemons.
It will be the most important book about white people ever written.
REAL LIFE. REAL NEWS. REAL VOICES.
Help us tell more of the stories that matter from voices that too often remain unheard.
This post was published on the now-closed HuffPost Contributor platform. Contributors control their own work and posted freely to our site. If you need to flag this entry as abusive,
send us an email
.