World Refugee Day (June 20) is a call to action to help millions of innocent civilians displaced by war. The UN Refugee Agency says 59.5 million people have been forcibly displaced by conflict and persecution. We have not seen these numbers of refugees since World War II.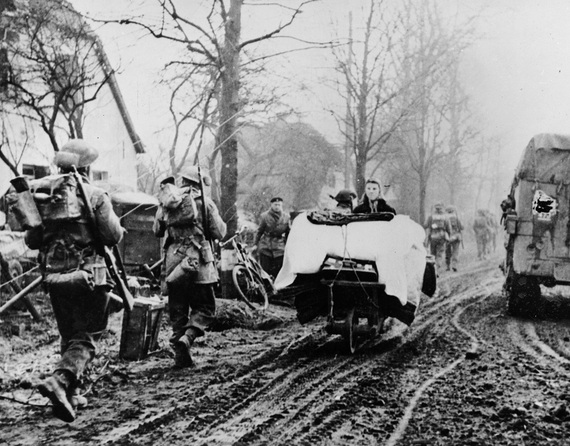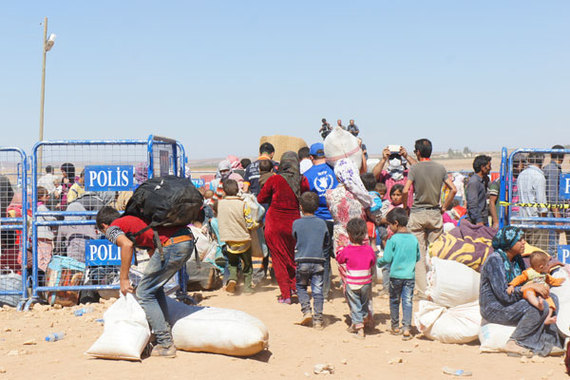 We are making history with levels of conflict displacement reaching the highest levels since World War II. (top photo courtesy of National Archives) Turkey is now the largest host of Syrian refugees with nearly two million. (bottom photo courtesy of the World Food Programme)
We see daily news about the wars in Iraq, Syria, Yemen, the Ukraine and elsewhere. What you don't often see or hear is the silent suffering of the refugees uprooted by these conflicts.
These are families who have to suddenly pack up their belongings, if they have time, and flee their homes to find safety. These are the farmers, the shopkeepers, teachers and others who, in an instant, lose their livelihoods.
The civil war in Yemen is one of these ongoing tragedies. The war has forced Yemenis to flee their homes and villages, many escaping by boat to the African nation of Djibouti.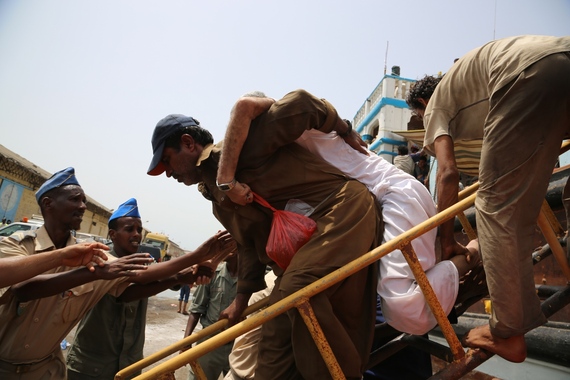 Dina El-Kassaby of the UN World Food Programme describes the frantic scene she witnessed of Yemen's civil war victims arriving in Djibouti by boat.
Women were throwing their bags overboard, people were scrambling to climb down the ladder, children were screaming for help. Before the ambulance arrived, a Djibouti Coast Guard hunched over climbing down the ladder with an old man suffering from liver failure draped over his back.

Under the scorching hot sun, people were running back and forth in a race to offload the passengers so the ship could go back to collect more people. There I saw it before me. The horrendous journey, the desperation and the uncertainty that millions of Yemenis now face as they are displaced in their country or across borders.
Even when refugees do manage to find safety, they still face a daily struggle to find food and obtain other basics of life. Children suffer the most and are at risk of deadly malnutrition.
A peanut paste called Plumpy'Nut saves the lives of small refugee children who become malnourished. One of the factories that produces this vitamin enriched food is Rhode Island based Edesia. There are employees at Edesia there who were once refugees themselves. Plumpy'Nut and its variations (Plumpy'Sup and Plumpy'Doz) are distributed by humanitarian agencies in war zones every day.
At this very moment, there are civilians fleeing the assault by ISIS, which has displaced close to three million Iraqis since last year. Over in Syria, a four year civil war has uprooted over 11 million from their homes and towns.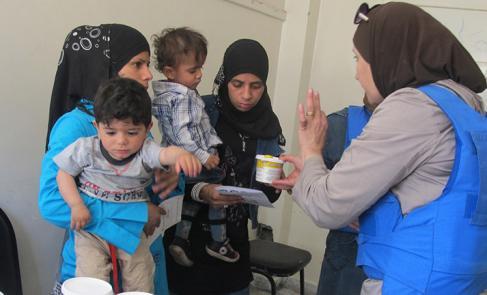 Plumpy'Doz is being fed to children displaced from Yarmouk, Syria because of civil war and recent attacks by ISIS. WFP and the UN Relief and Works Agency distribute this food to stop child malnutrition (UNRWA photo).
Syrian refugees have fled to Turkey, Lebanon, Jordan, Egypt and Iraq. What we have to remember is that these nations are under enormous strain to provide for the refugees. They cannot do so without the help of the World Food Programme (WFP).
The WFP is the largest hunger relief organization. This UN food agency depends on voluntary donations to feed refugees globally. Right now, they are facing shortages in funding which has led to ration cuts in some of their refugee feeding programs.
Funding cuts has a negative impact on refugee children. In Jordan and Lebanon, Syrian refugee families are withdrawing their children from school. They are sending the children to work to help put food on the table. The children, forced into difficult labor out of desperation, lose out on education and hope for a future.
One thing we could do on World Refugee Day and every day is voice support for feeding refugees. The Food for Peace program is a United States initiative for feeding war and disaster victims globally. Food for Peace is the largest single donor to WFP.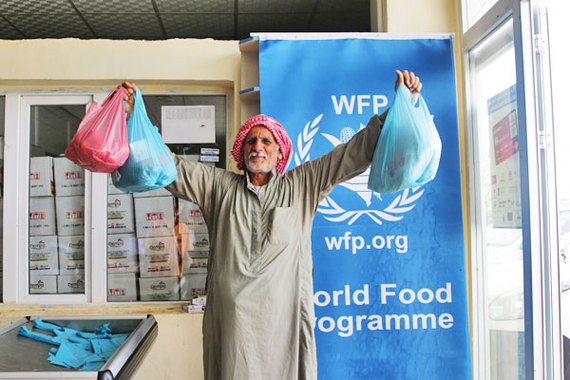 Food is hope for refugees. WFP needs funding to provide this life-saving aid to war victims (World Food Programme photo).
Congress should increase funding for Food for Peace. With so many conflicts ongoing the level of hunger among displaced persons is dramatically rising.
In Yemen, a recent escalation of fighting has afflicted an already impoverished population. Yemenis have nothing to fall back on. South Sudan, Central African Republic and many other nations are also experiencing high levels of displaced civilians because of war and disasters.
Displacement and hunger can lead to long term instability. We have to ask ourselves what kind of peace we hope to build if millions of people are struggling to find food and shelter. We can't just ignore their plight and let entire generations become malnourished and miss out on an education.
World Refugee Day should call us to action in time of conflict and displacement levels not seen since World War II. Every refugee is a life that matters. We can and should do more to help them in their time of need.
Popular in the Community