The number of children dying from vehicle-induced heatstroke is heartbreaking. We are barely into the hot summer months of 2014, and have already lost the lives of at least 15 children.
The stories of these deaths often follow the same trend: parents falling out of their usual routines, or forgetting/leaving their children in the hands of others who are not normally involved in caretaking. While most don't occupy national headlines like the Georgia father charged with the death of his toddler, the end result is the same. A life ending too soon.
Take the recent case of heatstroke death, when the mother of two-year-old twins was playing outside with her children. Before heading inside to change a diaper, she asked a family member to watch the other child. About an hour later, after the adults realized one of the toddlers had gone missing, the little girl was found unresponsive in the car -- where it seems she had trapped herself after climbing inside on her own.
After a distressed call for help, police and firefighters rushed to the scene and began administering CPR. But it was too late. Another child had been lost.
Though temperatures were in the upper 80s that day, these tragedies don't just occur on the hottest days, in the hottest states. They can -- and do -- occur everywhere. Just a month later, a 15-month-old girl lost her life on a 73-degree day in upstate New York. The father of this young girl spent the morning dropping his other children off at school, and made his way to their grandfather's home where he changed vehicles and left. The girl was found in the car more than six hours later, completely lifeless.
These devastating stories could happen to anyone, from a novice, first-time parent to a veteran grandparent. Nobody ever thinks something like this could happen to them, until it does.
The fact is that children are at a greater risk of heatstroke because their systems are not as efficient in regulating body temperature -- their bodies can heat up at a rate three to five times faster than adults. Even in 70-degree weather, a vehicle can reach a life-threatening temperature in just minutes.
Put an End to Needless Tragedy
In 2010, a record number of 49 children died from heatstroke in cars.* That's one record we don't want to break. To combat this trend, the National Safety Council and organizations like Safe Kids Worldwide and KidsAndCars.org are calling on all parents and caregivers to take an extra look and pay close attention to their children -- especially with temperatures on the rise. Incidents of children dying in hot cars are extremely sad, but the good news is that they are completely preventable with the proper education and action.
Follow these simple steps to ensure that your family doesn't suffer a tragic loss: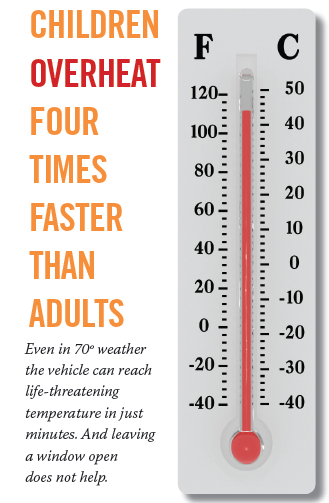 Never leave your child unattended in a car
Use reminders during car rides, such as leaving something you need in the back seat (like your purse, briefcase or phone), or placing a stuffed animal in the passenger's seat to spark your memory of a child in the back
Always lock the doors of your car after you have exited -- children may get into cars on their own and become trapped inside
If you spot a child alone in a car, don't hesitate - call 9-1-1 immediately
The moment you realize a child is missing, check vehicles and trunks first
Pay especially close attention during schedule changes or holidays, when you're more distracted
Make a plan with your daycare provider to have them call you within a few minutes if your child is late showing up
Use drive‐thru services when running errands
Educate your family and other caretakers as well before you leave your child in their hands
Keep your car keys out of sight and reach from your children
No family should ever fall victim to the pain of losing a child. This summer, let's put an end to these needless deaths and pay attention to our most precious cargo. Make sure you always look before you lock your vehicle.
*According to Golden Gate Weather Services
REAL LIFE. REAL NEWS. REAL VOICES.
Help us tell more of the stories that matter from voices that too often remain unheard.