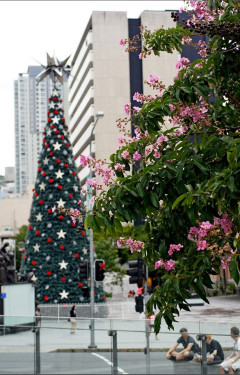 Flickr Photo by Tatiana Gerus
The question of when to take down Christmas decorations can be a tricky one -- at least when it comes to the outdoor ones. It's a little easier to gauge when to take down your indoor decorations based on, well, how sick you are of them (in a few cases, this can mean the day after Christmas) or if you observe the religious custom of the Twelve Days of Christmas. But, outdoor decorations are trickier because everyone sees them...and to some degree, judges you for it.
Our Editor Brie Dyas has a neighbor that puts a fresh green wreath above the transom of their front door every November 26th...and then lets it languish until November 25th of next year.
"It's absolutely none of my business, but it's a little thing that irks me," she says. "It's depressing to see a dried-out wreath, red bow still attached, hanging there in July. And it's a huge wreath, it really is noticeable. I've occasionally thought about going to the house at night and taking it down, but would prefer not to get a citation for trespassing."
Though sometimes, you can't help but leave the decorations out. Let me explain: My parents decorate our front yard with light-up reindeer every year -- these are basically Christmas lights wrapped around wire frames that are held in place with stakes you push into the ground. Well, we live in New York, and on one particularly cold year with multiple snowstorms, our reindeer were frozen in place until the middle of March! Needless to say, our neighbors were less than thrilled to have Christmas lights shining through their windows for more than three months...
Moral of the story? Taking down decorations at the right time is important. But, when is the right time? To help you figure it out we put together these general guidelines:
-- If you are really attached to your decor, you could let the red, white and silver decorations do double-duty for Valentine's Day. However, this is really for indoor decorations where it's not as easy to tell that you just left everything up. Outdoors, your neighbors will know that a flocked-white wreath has been up since December. Check out Red And White Christmas Decorations and Christmas Decorating In Red And White
So, what's your plan this year? To see what others are saying around the country, check out this poll from The Today Show. And let us know your thoughts in the comments!
Related