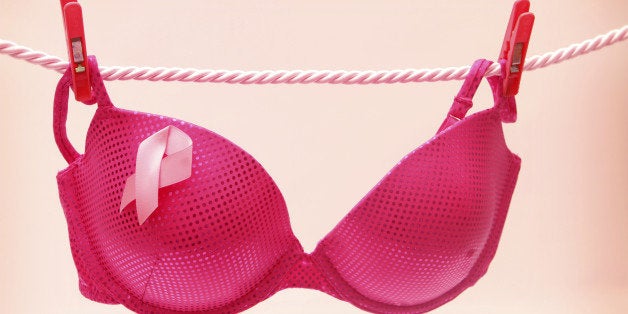 Breast cancer? We're well-acquainted. In 2002, I was diagnosed with breast cancer. From there, it was six months of very aggressive chemotherapy, three big and a bunch of little surgeries followed by years of some chemo-related side effects. I also lead writing workshops for people living with cancer and other serious illnesses, and I've witnessed powerfully tender, humorous, heartbreaking and resilient stories of survivors, whether their cancer is long behind them or overtaking their lives.
Yet every October when Breast Cancer Awareness Month takes hold, I see a massive disconnect from what breast cancer can do to a life, and the public campaigns of everything hot pink from scarves to cars, along with the new trend of stringing bras across large expanses. The pink doesn't bother me too much, although as a color so associated with girls in our culture, I worry that it tends to obscure the reality of men with breast cancer at the same time it conjures images of little girls in frilly dresses rather than women fighting for their lives.
What drives me crazy is seeing bras everywhere: spanning across a bridge in my town of Lawrence, KS, as well as across bridges in many cities: Grand Rapids, MI; Moss Point, MS; and Pensacola, FL. Bras are in window displays of department stores and candy shops, and worn as head dresses for fundraisers. I just read about 10,000 bras strung across a highway in Minnesota, and a giant hot pink bra on display on Michigan Avenue in Chicago -- all tied to raising breast cancer awareness, particularly the importance of regular mammograms. I'm a big fan of the mammogram (and other technology to detect early signs of any cancer) because a mammogram, when I was 42, saved my life, but I find both the focus so much on early detection campaigns and the thousands of bras involved misguided for these reasons:
1. Bras Symbolize Boobs, Not Cancer: Bras don't symbolize cancer awareness to most of us. We're part of culture seasoned with plenty of sexism and misogyny in which most women are encouraged to show a little or a lot of cleavage, get boob jobs if they're going to be actresses or singers or others in the public entertainment eye, and festoon their breasts in enticing bras. Bodacious tatas, as one of my friends used to call them, are highly valued as symbols of beauty, attractiveness, and the feminine form. We are trained through impossible standards of beauty air-brushed on magazine covers and body-doubled in movies to prize a great pair of breasts. The bra speaks more to that symbolism than it does to mammograms and breast health.
2. Save the Woman (and Man), Not the Breasts: Bra displays focus on saving breasts, not the person involved. By focusing so much on bras, we're ignoring the biggest danger of breast cancer: death. So much effort goes into early detection, which is essential for us to know about, but far less campaigns -- taking over magazine spreads, store front windows, and fundraising concerts -- focus on metastatic breast cancer, the kind that returns, and sadly enough, often doesn't leave. Many of us know family and friends who have died from breast cancer after years of trying this chemotherapy treatment or that clinical trial. I think of a dear friend, only in her early 50s, who died last February as well as a 30-year-old woman in my writing workshop, ripped apart in her last days because she was leaving behind three young children. None of these women or their families cared about breasts at this point, only life.
3. Put Time, Energy and Money into Tracking and Treating Metastatic Cancer: A few months before she died, L.A. Times reporter Laurie Becklund wrote, in an op-ed, "I'm proof that early detection doesn't cure cancer," explaining how her diagnosis of early-stage breast cancer in 1996 didn't prevent her from being diagnosed, 13 years later, with metastases in her bones, brain, liver and lungs. She described how metastatic breast cancer is severely under-reported as a cause of death while, at the same time, the Susan G. Komen organization, "the most powerful organization in the breast cancer universe," only funneled a fraction of the $2.5 billion it raised over the last two decades into research and treatment for people with late-stage cancer. According to the Metastatic Breast Cancer Network, 6-10 percent of all breast cancer cases are initially diagnosed as metastatic, and 20-30 percent of all breast cancer cases go metastatic. Becklund's message is that most of us are well aware of breast cancer. What we really need is statistics about who is sick, why, and how, plus funding for research into treating and preventing metastatic breast cancer.

4. Go to the Root of Cancer to Prevent It in the First Place: It's no surprise that cancer is on the rise. Pancreatic cancer, once considered a rare form of cancer, took my father, step-father, uncle, and others I know as well as unprecedented numbers. According to a recent study by the National Institute of Health, National Cancer Institute, and National Institute of Environmental Health Sciences, "It is estimated that as many as two-thirds of all cancer cases are linked to environmental causes," including everything from pesticides to our diets. An oncologist once told me that if you moved a woman from rural Japan to a major American city, her risk of breast cancer would increase dramatically. Given that so many of these environmental factors are in our air, water, and dirt, isn't it time for us to devote a whole lot more research and dissemination of research already done to dealing with the root of cancer?
5. What a Waste of a Good Bra: Anyone who has worked with women in prison, low-income housing, and other situations in which poverty reigns knows that one of the biggest needs of many low-income women is a good bra. Bras tend to be expensive, especially if a woman needs something more substantial. According to the New York Times, the average cost of a bra is $65 although you can find cheap, more flimsy models for an average of $13.90 at discount stores. A local physician who provided women's healthcare in an area prison once told me that finding and being able to afford decent bras for her patients leaving prison was her biggest challenges. For starters, without a decent bra, a woman is at a distinct disadvantage in many cases when applying for jobs. Letting the girls hang loose can also put a woman at greater risk of being harassed. Whenever I see dozens, hundreds or thousands of bras tattering in the wind and rain this month, my heart sinks. Why can't those bras be instead donated to half-way houses, community service agencies, prisons, job-training centers, and other places where they can make their way to appreciative new owners?
What's the alternative? How about running campaigns that highlighted real breast cancer awareness with photos of real people, story displays (in writing and recordings), and any other way to talk about cancer prevention, treatment, and resilience as it speaks to our real lives, not our pumped up (literally in some cases) boobs? How about raising funds to treat, and even more so, prevent metastatic breast cancer so that we're not just saving breasts but saving lives?
(For anyone buying pink stuff to support breast cancer awareness, you might want to read up first on questions to ask about where the funding really goes by reading this piece on pinkwashing from Breast Cancer Action.)
Related
Popular in the Community