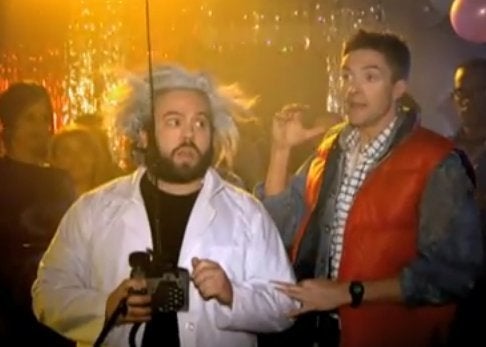 Haven't seen many 80's films? Here's a quick education.
Topher Grace conceived of "Take Me Home Tonight" as the first movie set in the 80's that doesn't spoof the '80s -- no ironic comments about brick phones or shoulder pads allowed -- but, well, a funny cast just had to scratch an itch.
And now it's going viral.
Grace, along with a cast that includes Anna Faris, Dan Fogel, Teresa Palmer, Dimitri Martin and many more, takes on an Atomic Tom cover of the Human League's "Don't You Want Me" in a party that's like IMDB at a rave.
Recalling films such as "Back To The Future," "Karate Kid," "Say Anything," "Ghostbusters" and more, they re-enact -- and, in the process, live out dreams -- some of the most iconic scenes from the 80's.
"We thought, we have this great cast -- Anna is probably the greatest for spoofs alive -- we should do this to get this out of our system," Grace told The Huffington Post.
Of course, the whole thing is done with love.
"We do have a great affection for all those movies," he said. "We're not even spoofing them that much."
And about that "Back to the Future" scene stealer? It just came naturally -- after a night of on-set partying.
"There was a DeLorean on set, and in our free time on set, we'd go do that Michael J. Fox Doc Brown thing, and I said, someone give me a mic, we may actually take some sound here," Grace explained.
WATCH
:
Popular in the Community