Are poets the new journalists?
We could do worse as a society than to see that happen, to see poetry in reporting.
We are already doing worse because too many journalists are getting through their days with one eye on the precision of names and titles, details about a three-person fatality, or often some god-awful excuse-for-a-story while the other eye watches for the next list of newsroom layoffs.
Journalists today are often stressed rather than inspired. Too many people in American newsrooms and magazine offices are polishing their resumes in hopes of being saved from shrinking news holes.
Tell us something that matters with words that tell us about the world, about the human condition.
Universities have been pondering the intersection of poetry and journalism.
The second part looked at the poet as journalist and the journalist as poet to examine what poets and journalists can learn from each other. The premise of the session: "Increasingly, poets are writing documentary poems that 'report' on an event. Many journalists also turn to poetic prose in order to convey a perspective that cannot otherwise be presented." Symposium planners anticipate both poetic trends will grow.
Meanwhile, another scholar traced the history of poet-journalists.
W. Dale Nelson, a poet-journalist himself, published a book in 2007 ( Syracuse University Press ) with this subtitled: The Dilemma of the Poet in the Newsroom. He profiles several writers of both poetry and journalism and quotes the late American poet Archibald MacLeish : ". . . young poets are advised by their elders to avoid the practice of journalism as they would wet socks and gin before breakfast."
Gin Before Breakfast is the title of Nelson's book which argues there is common ground between poetry and journalism. He reminisces that newspapers were once a place that showcased poetry. Some saved space on their editorial pages or a corner on their back pages for poems.
"Readers enjoyed it. They would clip verses, stick them in their diaries, enclose them in letters. They even took time to memorize some of the poems they discovered," according to Ted Kooser, the 2004-2006 Library of Congress Poet Laureate.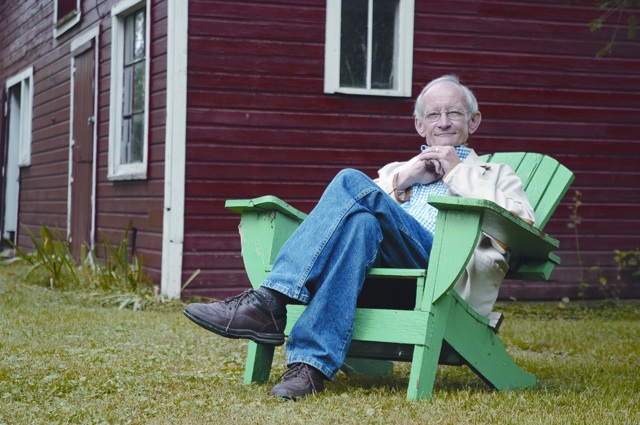 UNL Publications and Photography
Newspapers matter to Kooser, who is considered a national treasure by his readers.
One of those readers is Chicago journalist Richard Longworth. Longworth wrote the 2008 book, Caught in the Middle, America's Heartland in the Age of Globalism. "To see into the region's heart, I needed a poet," he said.
He sought out Iowa native Kooser. They met and talked about the global role of the Midwest over cups of coffee in Lincoln, Nebraska. Midwesterners are not adept at change or revolution, Kooser observed.
"I suspect that one thing some people have against reading poems is that they are so often so serious, so devoid of joy, as if we poets spend all our time brooding about mutability and death and never having any fun," writes Kooser introducing Column 197.
It's "a poem of pure pleasure" he's introducing, called "A Small Moment," by Cornelius Eady, who lives and teaches in Indiana.
Calling all HuffPost superfans!
Sign up for membership to become a founding member and help shape HuffPost's next chapter