When Carl Reiner raves you up, your work obviously contains wit and wisdom. Spake the veteran funnyman of Dani Klein Modisett's new book, Take My Spouse, Please: How to Keep Your Marriage Happy, Healthy, and Thriving by Following the Rules of Comedy:
"My wife Estelle and I had the good fortune of being married for 65 years. When anyone asked her about making a marriage last she always replied, 'Marry someone who can stand being with you.' A wonderful, humorous read for anyone in a marriage or thinking of being in one."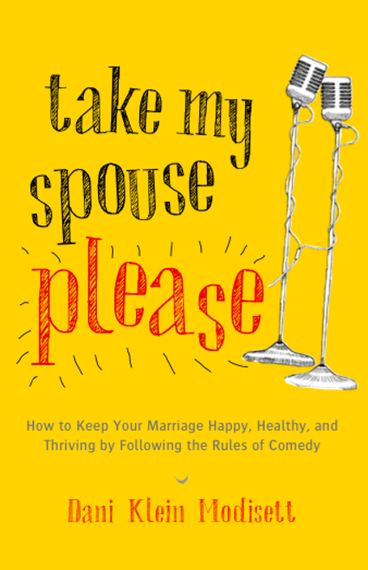 Hello, the Carl Reiner! Must be something here. Raves pour in for Mrs. Klein Modisett's book, from Jim Gaffigan, Patricia Heaton, Jill Soloway, Ben Stiller -- professionals like Dani herself who are not required to be fawning, just honest and insightful: terms which also describe her second book (following Afterbirth: Stories You Won't Read in a Parenting Magazine -- itself born of a storytelling show). Dani has toured extensively, contributed to various outlets including the Huffington Post, and is provably married. Stuffed with smart observations and case studies, Take My Spouse, Please is by turns funny, moving, and practical, and our interview proves quite lively.
What the hey, I decide to open on a seeming incongruity, via a popular quote from someone who has built a strong and lengthy career out of being not hilarious -- Joan Baez:
"The easiest kind of relationship for me is with ten thousand people. The hardest is with one."
Does that notion apply to your work?
I think that applies to the impetus for doing this study. I think that speaks to me exactly, and it speaks to a lot of my comedian friends. I still feel this way. I was just at an event in New York, with 400 people, and it was such a high -- and then I left and had to deal with my mother who is not well, and managing that with my sister, and managing family life back in LA with my husband. That's frankly a lot more stressful for me, because it's a lot more intimate. I talk in the book about having this "greatest hits" idea -- which I first heard the comedian Janeane Garofalo mention in her act -- how much I love to perform: I love to come in there and wow people, and exit stage right! I think that 's what is most challenging for me, being married and staying married is not just exiting stage right -- no way out when it feels really hard.
I mean, there is a way out. I know that divorce exists. But for me, and given the fact that we had small children when I started writing this book, and my husband and I are both very stubborn people, and it would have been the shittiest custody battle, that neither one of us wanted to walk into -- we became committed to finding a way through. And because I was so familiar with what people always said to me: 'Stand-up [comedy] is the hardest thing to do!' -- I was like, I don't think so, actually! I think for me staying married is the hardest thing to do.
At the hardest, you're going to be onstage for two hours -- but usually it's going to be 30 minutes.
Exactly! And then you leave and go sleep with a waiter. You lick your wounds, and whatever. But I was just finding that I needed to find more laughter, and more levity, in this primary relationship in my life, or it was just going to be miserable. And neither one of us wanted to be miserable.
So that's when I thought, 'Oh wait, stand-up is the hardest thing to do? I'm finding marriage to be the hardest thing.' Literally on a whim, I was like, let me just see what I used to talk about, when I did stand-up. I taught stand-up for ten years at UCLA, and I was like, wait a minute, there's got to be some cross-over. I'll bet there is some hint there. And of course, once I went through my syllabus, I got chills. I thought, 'This is crazy: every single one of these things is helpful!'
Timing is a big, big theme throughout the book. You reference a variety of comedians, though, who do timing completely differently -- from Steven Wright to Sarah Silverman. What are the secrets of finding timing in a marriage?
Listening! The chapters are ordered very specifically. You can't know the timing unless you're listening, and paying attention. And showing up. And being present. Number one is showing up, and then once you're there, you've got to be listening. And listening isn't always just what the person is saying. Listening is being fully present, in the room, to who the person is. That's how you can begin to do the dance that timing is. I believe that timing is musical: it's music, it's rhythm, and it's being present to the other person.
And we're not perfect! Of course, that's the bigger message. The happiest couples I know are not expecting perfection! They're just expecting to be responsive to each other, and laugh once in a while, and have sex. That's a good life -- if you have that as a couple.
Well, hear-hear. I think a lot of people will be very happy to read that, and probably show it to someone.
Alysia Reiner (Orange is the New Black) and David Basche (The Exes) are among the couples interviewed in Dani Klein Modisett's Take My Spouse, Please. Here they discuss how they've kept their marriage thriving by using the rules of comedy.


You've got a connection going on with Carl Reiner -- whose wife, Estelle, obviously was also a performer. And they are titans! They're the big heavyweights: 65 years of working it out!
You see that the shared sense of humor, time and again -- even for non-comedians I saw -- is the ticket that nobody was writing about. I could not find that book! I went to look for that book, and I couldn't find it.
Yayyy! Dani Klein Modisett: Void Filler.

You have my consent to put that on your next business card -- if you wish.
Oh, I will, believe me! I don't know what it might be an invitation for, but I like it.
You were given a caveat when you began writing this book, that [your husband] Tod said, 'Go for it. Just make it entertaining.' Was there ever any editorializing? Like, 'Let's see, let's work on that a little bit, before you put it in the book.' Did that happen?
Okay. No. There was one thing. He's very hands-off. I mean, he met me when I was a comedian, and he used to come to my sets, so unlike most men, he really didn't care what I said. He really was like, 'I don't care what you say about me, but it has to be funny. Don't embarrass me by not being funny.' He's an editor for television: he's all about story. So he would rather push it, make people uncomfortable, make yourself uncomfortable, make me look bad. As long as it's compelling. So I'm very, very lucky that way.
Yeah. I mean, so many people would be so vulnerable and sensitive and worried about it that they'd probably say, 'Please, don't write the book!' So, perfect. You may have chosen the right guy.
He came up against it when I wrote an article for the Los Angeles Times: We were going for fertility treatments, to have the second baby, and I wrote an article about driving sperm from our house in East L.A. to Beverly Hills, in under an hour, the morning of the Oscars. It was really funny. I don't know if you remember the movie, The Out of Towners? It was like The Out of Towners with sperm -- like, everything went wrong that could go wrong. And his friends from college called him, and were like, 'I can't believe you let your wife talk about your sperm!' And he just thought it was funny. (cracks up) So he's cool, he's totally cool.
Well, sounds like it, definitely. Congratulations.
Another pair of titans: Jerry Stiller and Anne Meara -- since we've just lost Anne, is there anything that you'd like to say?
They were just one of the greats.
[Note reference to a couple as "one"! Sure beats mentioning an individual as two!]
We were just at her service in New York. They were a beautiful team, and she was never any less of who she was, with him. They brought the best of who they are to each other. Beautiful to witness. As a female comedian, it was completely inspiring. The different disciplines she worked in, how her voice was never muted, and being the fullest of who she was, was completely embraced by him, and celebrated by him. They're a totally inspirational couple. I grieve for her, and I grieve for him. It's sad. As he said, she lived 85 years, and she lived a great life. But it's a void for him, so I really send them my love, completely.
Thank you. Afterbirth started as a live show. It must have been extremely different for this book. Was there ever any consideration -- or is there still? -- of bringing this book to the stage?
Oh, yeah, it was a very different process. But I'm going to be doing a show in Los Angeles on July 16th, that will be comedians who are featured in the book, and it'll be marriage-themed. Actually, after Afterbirth, I did another show specifically for marriage, that was called "Not What I Signed Up For." That show was marriage stories. It was: a moment that you wanted out of your marriage, and you found a way to stay. Because again, for me, it's all about inspiration. Let someone else do the divorce show, God bless 'em, I'm not there, because I don't want to be there. I want to be inspired, and I want my audience to be inspired. That's really important to me. I think if you're paying a babysitter, you're leaving your house, you're managing to get dinner, I want you to walk out feeling better than when you walked in. That's always my goal. And I think that's true for the book, too.
Photos and video courtesy of Dani Klein Modisett
On July 16th at the Hollywood Improv, 8162 Melrose Avenue, Hollywood, MOM.me presents the one-night-only special event, "Keeping Your Marriage Happy and Thriving by Following the Rules of Comedy." Patricia Heaton hosts the evening celebrating Dani's new book, featuring stand-up and funny stories from Lew Schneider, Dan Bucatinsky, Wendy Liebman, Joan Rater, and John Riggi.
Then Dani's off to New York City to celebrate the book on July 22nd at the Triad, 158 W. 72nd St. New York, NY. Doors open at 7:00pm, show starts 7:30pm. Featuring comedian Judy Gold.
As of this writing, Take My Spouse, Please is hereby released upon a world of perhaps unsuspecting but probably soon-to-be-grateful married people.
Take My Spouse, Please on Amazon