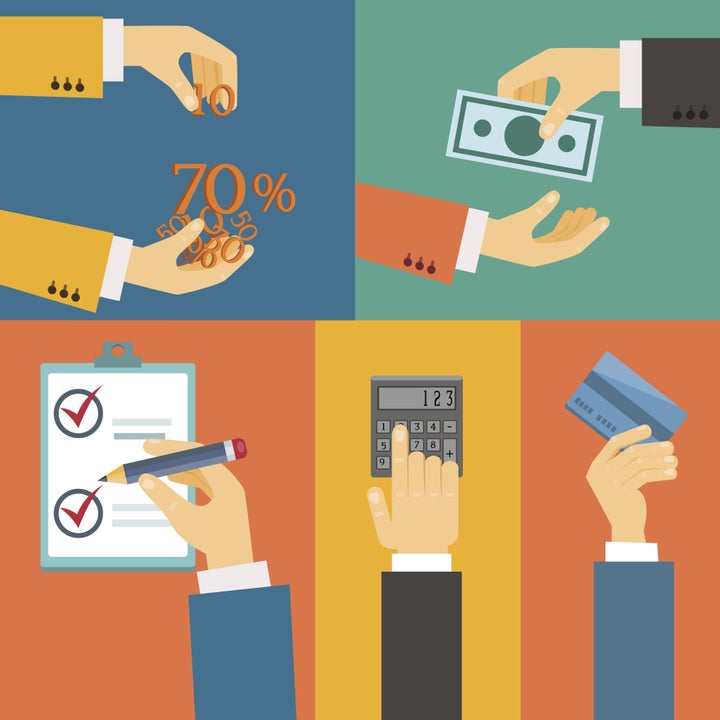 In 2016, HuffPost Lifestyle is challenging you to up your game and develop healthy habits you can stick with all year long. Every month, we're asking you to examine a different part of your life and make small tweaks that add up to big change. This month, we're teaming up with HuffPost Business to help you improve your relationship with money.
For many of us, looking at our bank statements and thinking about money are a source of constant stress. Even the smallest things, like getting groceries or paying a phone bill, can make us feel anxious about our wallets. But it doesn't have to be that way. We're here to demystify your financial life and break down everything you need to know, all month long.
Every day, we'll send you hacks, tips and advice so you can tackle a different aspect of your finances — whether that's facing your credit score, learning about your flex spending accounts, or dealing gracefully with your wealthier friends. Because money is something you can't avoid — and we want to empower you to make smart decisions about everything from your job to your latte splurges.
Sign up and dive in, even if you join us after the challenge gets rolling on April 1.
What is the More Money, Less Stress challenge?
We're here to help change your life, one small step at a time. Each day, we'll deliver content related to having a healthier, wealthier life in the form of tips, spending habits info, real estate advice and savings hacks, right to your inbox.
How do I sign up?
Where can I see previous challenges?
Check out our interactive calendar below, which lists our previous challenges and gives you a sneak peek at what's ahead. You can also use the calendar to add daily tasks in your phone as a reminder.
How else can I follow along?
Follow us on SnapChat (username: HuffPost) and keep up with HuffPost Business on Facebook for regular updates. We'll be taking the challenge along with you, too — and we'll be blogging about it along the way.
How time consuming are the challenges?
They're easy! We want you to feel better about your finances, not add to the anxiety you might already be feeling. The challenges are small, like looking through your 401k or being smarter about the way you shop for everyday items. The goal is to give you simple tools to help you face the fear that may come with thinking about your finances and get you closer to a healthy lifestyle.
Why should I do this?
Because we've all had those moments when we feel overwhelmed by our finances, but aren't sure how to begin sorting through it. And since money shouldn't be a source of stress, this challenge can benefit everyone.
Do I have to do it alone?
Absolutely not! We encourage you to sign up for the challenge with a friend, family member or coworker.
Are you ready to face your finances and become a healthier, wealthier and wiser version of yourself? Let's get started!
REAL LIFE. REAL NEWS. REAL VOICES.
Help us tell more of the stories that matter from voices that too often remain unheard.
BEFORE YOU GO
PHOTO GALLERY
Money Saving Kitchen Gadgets