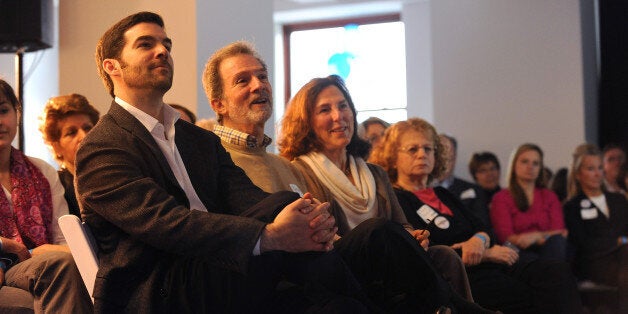 NEW YORK -- More than 60 LinkedIn employees gathered in the company's offices here Thursday to listen to presentations from major executives, including CEO Jeff Weiner.
Twentysomething workers lounged comfortably on bean bags with their moms and dads. One LinkedIn employee looked on without a cringe as her mother used the public forum portion of the day to explain that the site wasn't doing much for her "as a person in a creative field." Parents greeted their kids' colleagues with the kind of open-armed hug you give someone you know everything about, even if you haven't met.
Later, children and their parents shared lunch, mingled and searched for the best company logo to use as a backdrop for photos. One young LinkedIn-er approached someone standing in the office's lobby with an official-looking camera. "Are you guys taking pictures of people with their parents? Would you take one of me and my parents?"
LinkedIn is one of several companies catering to a generation of young workers eager for their parents' approval. That means meeting their parents' needs, too.
"Companies are now realizing that it's really hard to maintain loyalty and retention, and one of the things that they found is that millennials listen to their parents," explained Lindsey Pollack, a best-selling author of several books on young people in the workplace. "I used to joke that one day we would have Take Your Parents To Work Day and people used to laugh. It was inevitable."
The programs also help parents get a sense of what their kids spend hours doing every day at companies that didn't exist 10 years ago. More than one-third of parents don't know what their child does for a living, according to survey data from LinkedIn.
Hector Hernandez, a 31-year-old LinkedIn employee, brought his dad to Thursday's event in the hope that it would make talking about work a bit easier. Hernandez chose a job unfamiliar with to his parents, who wanted him to go into a more traditional field like law, medicine or engineering. "I took a career path where I never really felt they could give me advice," Hernandez said.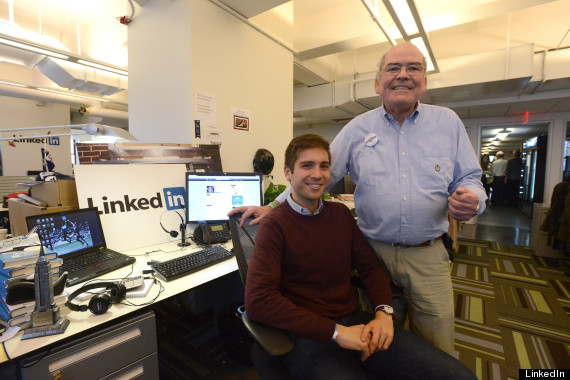 Hector and Gaston Hernandez at Hector's desk.
After several hours at LinkedIn, the elder Hernandez, who is 62, said he still doesn't fully understand what Hector's small business relationship manager job entails. But he has a slightly better spiel to give his friends when they ask about his son's job.
"I'm so happy," Gaston said, beaming as a he sat at a conference table with Hector. "I just wanted to know what he does."
That's the point, according to Danielle Restivo, a LinkedIn executive who helped spearhead the event. She came up with the idea after getting an email from her mom saying, "I keep trying to explain to my friends what it is you do and I can't explain it, so if you could please draft a paragraph for me that would be great."
While the idea of adult children bringing their parents to work may seem over-the-top, it's probably a good move, according Pollack. Today's young adults have grown up with parents who were more involved than in past generations -- after all, 3 percent of millenials have taken mom or dad to a job interview. By appealing to that attachment, companies can breed loyalty among workers.
"They're the children of the baby boomers who were very involved in their parenting, very involved with their children," she said. "As much as people are probably going to roll their eyes and as much as people laugh about it, I think everyone wants their families to see where they work."
For Mel and Robin Kohn, getting the chance to see their daughter Gaby, 26, in her element -- sitting at her desk and talking with co-workers in her open-plan office -- gave them some affirmation that they'd raised her well.
The two said they'd grown used to being an "active part" of Gaby's life, helping her with schoolwork and coaching her when she applied to college. But when she entered the workforce a few years ago, all that changed -- by force. "All of the sudden when they're out in the workplace on their own, it's like your job is done," said Robin, 54.
Getting a glimpse of "Work Gaby," helped Mel, 68, feel more comfortable letting go. "We did our job to set her all up and now she's on her own -- and she's going to follow through and just do it," he said.
For Gaby, the day provided similar benefits. "Even though they may not say it, I think they were slightly apprehensive about my career choice," she said. "As silly as this may sound, I feel like it gives me validation."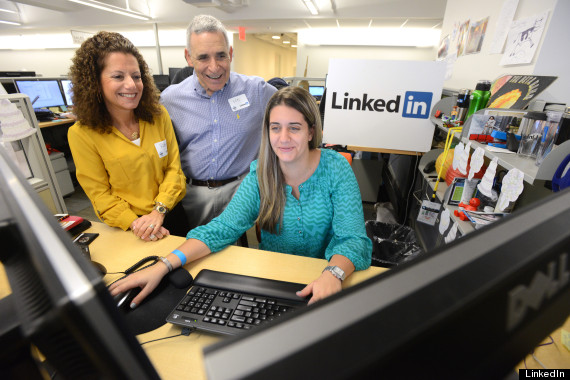 Robin and Mel Kohn join their daughter Gaby at her desk.
Related
Popular in the Community