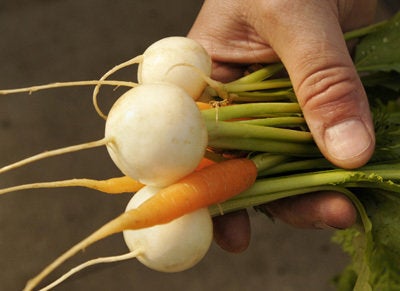 In the Northeast especially, eating local is practically irresistible from, say, May through October. Farmers' markets and, increasingly, supermarkets, are laden with seasonal delicacies, from pea shoots to kabocha. Mid-summer, is nearly impossible to walk through Union Square in New York City without snagging at least a couple heirloom tomatoes. In the winter, however, eating locally is an entirely different beast. It takes a good measure of creativity to subsist happily off of root vegetables and greenhouse leaves for months on end - and a decent bit of discipline to resist tucking into your nearest Whole Foods for an organic imported pineapple or a pristine bundle of Chilean asparagus.

Winter Delicacies
Strolling through my local farmers' market on a recent Saturday, I was struck but the utter variety of root vegetables and hardy greens for sale. Beyond untold varieties of potatoes, and old-school favorites rutabaga, turnip and parsnip, there was burdock root, salsify, and, most intriguingly, wild lily bulb. Greens-wise, the tatsoi was still going strong, as were the collard greens, mustard greens, and several varieties of kale, the most exciting being lacinato i.e. dinosaur kale. Local fish are also plentiful in the winter, as are local meat and eggs. So although farmers' markets shrink - or in some cases - shutter for the cold season, with a bit of effort, you can cobble together a delicious meal, no problem. Just the other night, I sliced and sauteed said lily bulbs in olive oil, and served them alongside local carrots tossed with local butter and parsley, and delicate fillets of local Boston mackerel. Am I virtuous or what? And the thing about going local in the winter is that the limited options make composing a meal all the easier - you just buy whatever looks fresh and interesting, because not all that many things do.
Local Eater:Locavore as Flexeterian:Vegetarian
Of course, you could be a hard-core locavore and opt to adhere strictly to the 100-mile diet, but these constructionist interpretations of eating locally feel a bit fad-ish, and are unlikely to be truly sustainable, if only because they require so much planning (freezing and putting up fruit in the summer for winter consumption) and sacrifice (eschewing staples like coffee and olive oil and lemons). Making an effort to be simply locally-disposed is like being a flexetarian rather than a full-on vegetarian, and might be for most of us a happy medium.
Tejal Rao of Star Chefs recently asked local food guru Dan Barber (chef and co-owner of Blue Hill at Stone Barns and the creative director of the Stone Barns Center for Food and Agriculture) how he coped with the tricky growing climate in the Northeast to uphold the farm-to-table promise of his restaurants in Westchester Country and New York City. Barber conceded:

Greenhouse Greens
Farming in the Northeast is very difficult, and Westchester County is particularly hard. We have a great 5 month growing season but then the rest of the year the land is dormant. If you run something through the greenhouse at least you can break even in January/February/March and, partly, provide food for the restaurant. Jack [Jack Algiere, who heads up the greenhouse at Stone Barn] doesn't grow, for example, tomatoes, in the middle of winter just because I want them on the menu. He picks winter vegetables that require the least amount of fossil fuel possible - like salad greens and cold winter vegetables - that thrive in cold weather. Also, they've got to grow quickly - 6-8 weeks - because fast turnover means fast revenue and it's truly driven by economics and flavor [and ecology]. I think you can't have great flavor and bad ecology. They're inextricably connected.
Take a stab at a couple of Barber's winter recipes, as featured in New York Magazine, ideally executed with farmer's market produce. These are sure to tide you over till the asparagus pokes through, mid-May.
Local Cauliflower Soup

Ingredients
1 large head organic cauliflower, cored and chopped into 1⁄2-inch pieces (about 7 cups)
1 tablespoon vegetable oil
1⁄2 medium onion, finely chopped
2 shallots, finely chopped
Fine sea salt and freshly ground white pepper
1 1⁄2 quarts rich vegetable stock (preferably homemade; it should be clear, not opaque)
2 teaspoons freshly grated horseradish
1⁄2 green apple, peeled, cored, and finely chopped
1-2 teaspoons sherry vinegar
Instructions

Preheat oven to 400 degrees.

Put the cauliflower in a large pot of boiling salted water, and blanch for 2 to 3 minutes, or until just tender when pierced. Drain the cauliflower, and set on a baking sheet. Roast in the oven for 20 minutes. Do not allow it to color.

Heat the oil in a large pot or sauté pan, add the onion and shallots, and sweat over very low heat until they start to break down, at least 20 minutes. Again, do not allow them to color. Add the roasted cauliflower to the pan, and season with salt and pepper. Sauté for 3 minutes, again making sure the vegetables don't color. Add 2 cups of vegetable stock, and cook until all the liquid has evaporated. Stir in the grated horseradish and apple, and remove from the heat.

Heat the remaining vegetable stock in a saucepan. Put the cauliflower mixture into a blender along with a little hot stock, and purée, adding the remaining stock.

Return the soup to the pot, and place over low heat. Whisk in 1 teaspoon of the sherry vinegar, or more to taste. Season with salt and pepper. Serve immediately.

Sweet-Potato-And-Apple Gratin
Ingredients
7 tablespoons butter
1 1⁄2 pounds Granny Smith apples, peeled, cored, quartered, and sliced
1⁄4-inch thick
1⁄2 cup heavy cream
1⁄2 cup whole milk
2 teaspoons salt
1 teaspoon white pepper
1⁄2 teaspoon cinnamon
Big pinch ground nutmeg
21⁄2 pounds sweet potatoes, peeled, cut into 1⁄4-inch-thick rounds
1 clove garlic, crushed
1⁄2 cup panko or fresh bread crumbs
Instructions

Preheat oven to 350 degrees.

In a 12-inch nonstick pan, lightly brown 4 tablespoons of butter over medium heat. Add the apples, and sauté in batches until just colored, making sure they stay firm. Set the apples aside on a plate. In a large bowl, stir the cream, milk, salt, pepper, cinnamon, and nutmeg until the salt has dissolved. Toss the potatoes in the cream to coat.

Generously butter an 8-by-8-by-2-inch ovenproof dish, and rub with the crushed garlic. Line the bottom of the dish with a layer of overlapping potatoes, followed by overlapping apples. Repeat, finishing with a layer of potatoes. Pour in remaining spice-cream mixture.

Cover with aluminum foil, and bake for about 11⁄2 hours, or until the potatoes are cooked. Heat the broiler. Sprinkle panko over the gratin, dot with 1⁄2-inch cubes of the remaining butter, and broil until the bread crumbs are golden brown.
Warm and Stewy
According to Peter Hoffman, chef-owner of Savoy and Back Forty, early spring, rather midwinter is the most frustrating season to serve fresh local produce. He explains to Mindy Pennybacker of the Green Guide: "January and February is a time when we're cold and want stewy things, rich things, and root vegetables are in season: turnips, rutabagas, celery, celery root, squash, leeks, carrots. I cook them with onions and garlic, herbs and peppercorn..." Hoffman extols the virtues of local pumpkins in New York Magazine. "They go back to the Native Americans," he said. His delicious - and rather baroque - take on deep-dish pumpkin pie is topped with walnut crunch and incorporates local cranberries.

Deep-Dish Pumpkin Pie

For the crust:
1 1/4 cups all-purpose flour
4 1/2 teaspoons sugar
1/4 teaspoon salt
1 stick butter, cut into 1/2-inch pieces
1 egg yolk

Combine flour, sugar, and salt in the bowl of a food mixer fitted with a paddle. Add butter and beat until it forms pea-size pieces. Whisk together yolk and 2 tablespoons water and add to flour; mix until dough is just combined. Wrap in plastic and refrigerate for 1 hour.

Preheat oven to 400 degrees.

On a floured surface, roll the dough to form a 12-inch circle. Line a 9-inch springform pan with dough (allow it to come two-thirds of the way up the sides). Prick the dough with a fork, line with parchment paper, and weigh down with dried beans. Bake for 15 minutes, remove paper and beans, and bake until the crust is slightly brown, 3 to 4 minutes.

Pumpkin FIlling:
1 small cheese pumpkin
1/4 cup granulated sugar
2 tablespoons dark brown sugar
1/2 teaspoon cinnamon
1/8 teaspoon ginger
1/8 teaspoon cloves
1/4 teaspoon salt
2 eggs
1/2 teaspoon vanilla
6 ounces evaporated milk

Walnut Crunch:
2 tablespoons all-purpose flour
1 cup walnuts
1 cup light brown sugar
1 teaspoon cinnamon
1/4 cup cold butter, cut into pieces
1/2 cup almond paste, diced

Filling: Preheat oven to 350 degrees.

Split pumpkin in half, remove seeds, and place halves on a baking sheet. Roast until tender, about 2 hours. When cool, scoop out flesh and purée in a food processor. Measure 8 ounces of pumpkin purée.

In a bowl, whisk together the sugars, cinnamon, ginger, cloves, and salt. Beat in eggs, vanilla, milk, and then the purée. Pour into the precooked shell and bake at 350 degrees for 35 minutes or until the custard is slightly jiggly in the center.

Crunch: Put flour, walnuts, sugar, and cinnamon in the bowl of a food processor. Add butter and almond paste and pulse until crumbly. Spread walnut crunch over the top of the pumpkin filling and bake for 15 minutes, until crisp. Remove and allow the pie to come to room temperature.

Cranberry and Whipped-cream-cheese Topping
11/2 cups cranberries
1/2 cup sugar plus 2 teaspoons
8 ounces cream cheese
1/3 cup heavy cream

Cook cranberries and 1/2 cup sugar gently in a saucepan until they form a jammy consistency. Remove from heat and allow to cool.

Whisk cream cheese, cream, and 2 teaspoons sugar in bowl of a food mixer until medium peaks form.

Spread cranberry mixture over the top of the walnut crunch, finish with whipped cream cheese.