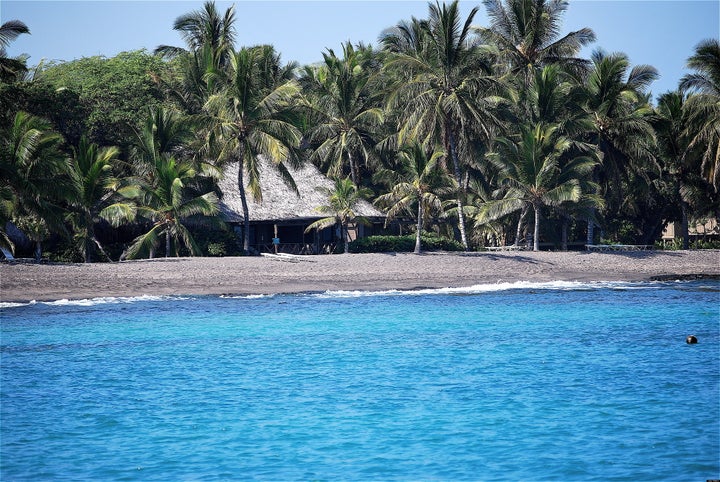 Many years ago when I was still banging my life against the unhealthy routine of multi-tasking as both the Editor in Chief of a national news magazine and the Editorial Director of two other magazines and a book company-- I went to Hawaii. My entire life changed in the most unforeseen way possible. All at once I could envision my future as a person who didn't have to do, do, do, do. Ever since I was a child playing in piano recitals and later as a teenager touring Los Angeles in a classical trio, I was raised to be somebody, to stand out, perform well, and accomplish a lot.
There's nothing wrong with these goals, of course--unless, that is, you forget to program in balance. It wasn't that I didn't take vacations, I did. But until I went to Hawaii (and I'm not talking about Waikiki here, anymore than someone going to Tijuana should say they've gone to Mexico; I'm talking about authentic Hawaii), I hadn't faced that part of myself that really DID want to belong to something outside of me, something natural, earthy, native, and spiritual. Suddenly, I could see my future, a time when I would no longer "be in charge of everything all the time." I believe the reason why so many capable people continue pushing themselves in unbalanced, unhealthy ways, is because we simply can't see what will become of us if we stop. Well, even if we all keep working past our retirements in some fashion, this is a nation of youth worshipers, so sooner or later we will be forced to slow down. And what my many trips to the magic islands between Japan and the United States have shown me is that when the time comes I can be more soulful and content like all the inspiring people I keep meeting on the six "visitable" islands of Hawaii. (There are two we're are not allowed on.)
One day at least 8 years ago, while shopping for a gift to bring back to the mainland (what Hawaiians call the rest of the United States), I was drawn to a small box of chocolate covered macadamia nuts, a specialty of Hawaii. It wasn't the contents of the box that caught my attention, but the packaging: a painting of a small village of thatched-roof hale (houses), evoking another time, perhaps the plantations of Hilo, Hawaii, where macadamia nut orchards flourished. Long after I ate those nuts, I always kept the box someplace nearby where I could glance at it easily. For me, something about the picture sparked a fantasy, a dream. Simply put: I wanted to be there.
Over the years I've read many books about the history of Hawaii. The breathtaking beauty of the land hides a very harsh story, indeed. No one can delve into what has happened to the Hawaiian people without a lot of mixed feelings about the actions of the United States. In many ways you find yourself revisiting the history of the American Indians. And yet I know that in and amongst my own complex feelings, my heart is pure. I love what the Hawaiians love about their land and culture.
Several years ago my wife, Suzanne, and I were sitting early one morning on the shores of Kona (the "dry" side of the Big Island), outside a beautiful hotel. We were utterly transfixed watching a Hawaiian fisherman throw his nets into the sea, waiting, pulling, and catching. After the sun had slowly moved to the center of the sky, he walked out of the ocean and headed off with his catch. Without a word to each other, we followed him down a long beach which eventually led to another, very different hotel. When I looked around, I caught my breath. I couldn't believe what was in front of me. Could this be my dream coming to life? The fisherman disappeared into what looked like a tall, thatched-roof dining room.
We had arrived at Kona Village Resort. Dirt roads led to other individual thatched-roof, primitive, 19th century hale cottages. Some were nestled right on the shoreline with their own private black-sand beaches; others were hidden along tropical lagoons, 125 in all within 82-acres of lava that formed an ancient Hawaiian fishing village. Some of the Polynesian hale (no "s" for plural) were modeled after authentic Fijian homes, others were Tahitian, Maori, Samoan, Palau, Maluhia, New Caledonian, Marquesan, and, of course, Hawaiian.
I felt light headed, and not just from the warm trade winds that blew through the village like breaths of ecstasy. I had finally found it! After searching all parts of Maui, Moloka'i, Lana'i, O'ahu, Kaua'i, and the Big Island for over a dozen years, here it was waiting for me all this time. The hotel's suggestive and carefully executed architecture harkened back to my own romantic infatuation with an earlier Hawaiian way of life, a bygone era from which all their great values still resonate.
I soon learned that Kona Village had no televisions, no phones, no radios, and no air conditioning. It's very interesting to note, that when we finally came to stay at Kona Village this past September, while we noted and quickly dismissed most of the modern crutches we normally used in hotels, the last missing item we noticed was: clocks. We just didn't need them. The sun comes up; you get up. The sun goes down; you wind down. Have a surfing date? Trust the ocean to tell you when. Just like snorkeling, if you want to see fish or ride waves, early morning or late afternoon is best. You don't need a clock to know this. Watch the wind whip up the sea and you'll catch on quick. By removing and unplugging all your modern gadgets, by leaving you on your own with "nothing" but the sense of belonging to something bigger and more nurturing than anything else you've ever known, something magnificent begins to happen to your mind: peace.
I've read books about it, meditated regularly to achieve it, chanted for it, talked about it, but in Kona Village, after one full day of just letting myself go, I found peace. Why? Is it the ancient Mana (powerful spirit) of the area? Guests have been coming back here since the early 60s when the hotel was established, so I'm clearly not alone:
Many hundreds of years ago, when people first came to this area known as Ka'upulehu, it was a real functioning village. Then the lava flows poured down on it when Mount Hualalai blew in 1801. Everyone understandably left. But when the land settled, the lava had formed terrific inlets for fishing ponds, so everyone came back and reestablished the town as a fishing village. You can still see the blueprints for these fishing ponds when you walk around Kona Village today. Then in the late 50s a "gentleman" named Johnno Jackson became a frequent visitor to the islands and he fell in love with Ka'upulehu. In 1965 he opened with 47 hale and his guests flew in aboard a tiny Royal Hawaiian 402 Cessna on a little runway Johnno built. Considering that flights from the mainland to Honolulu were still a big deal back then, you must have really wanted to be in Kona Village to then proceed to risk a small, inter-island flight from Honolulu to Kona! (Of course, knowing what I now know, I'd do it in a heartbeat.)
Are you wondering what one does at Kona Village that winds up contributing to this amazing sense of peace of mind and well-being? You mean besides counting the giant turtles that crawl up to you on your private beach or watching the whales spout offshore or swimming or sitting in your private outdoor hot tub or surfing or paddle boarding or snorkeling or deep sea diving or reading or sleeping or horse back riding or eating or talking to each other or kayaking or walking or listening to birds chattering or indulging in the spa or "talking story" at the bar or hiking or taking pictures or meditating or dreaming? Nothing much. And in the evening, you can listen to Hawaiian musicians playing outdoors while hula dancers dance the many stories of their cultures. If you don't feel like reading your own books or if you aren't ready to fall asleep, every night the Village staff brings you something called "Storytelling at Ka'upulehu." It's a booklet of local folklore with a glossary on the back, amusing, haunting, and always educational; reading one every night before you drift off helps to pull you deeper under the spell of Kona Village.
Is there any downside to Kona Village, some may wonder? It's not cheap. But there are deals. Some include extra nights or "meals included;" you'd have to go online (www.konavillage.com) to find out. But even if you wind up paying a lot, what you take back with you is hard to find anywhere at any price. Anything else? Well, the great part is that you're in Hawaii. So is the risky part. One morning we left our hale at 9:45 am and found a note on our door left at 9:20 am. Here's what it said in part: "Aloha Kona Village Guests: We have been notified by the Civil Defense Agency that the State of Hawaii is on tsunami watch. We will keep you notified as additional information is received..." By 10:00 am Suzanne and I had our Jeep completely packed. We then stopped by the main office only to discover that the tsunami watch had been cancelled. Let's just say it was a good dress rehearsal. There's no getting around it. You're on an island and islands are vulnerable. Everything is different, the air, the smells, the tastes, the climate changes, the ocean, everything. But that's also the whole point.
And at Kona Village, like anywhere on any Hawaiian island, if you wake in the middle of the night, listening to the waves breathing their soft (or loud) dialogues with the moon, do get up and stand outside your hale. The same staggeringly starlit sky that guided early Polynesian navigators from Tahiti to Hawai'i in large canoes centuries ago, can be an inspiration for you to discover a permanent channel to yourself and your own happiness. It's not just poetry or wishful thinking. It works. They found Hawaii by following the stars. You can find your own Hawaii and with it balance, peace of mind, and a taste of real happiness.
Related