Across from the Austin Convention Center, a crowd of curious onlookers stood transfixed as NBC & USA's Talk Stoop host Cat Greenleaf sat down on the white steps at The Ipsos Girls' Lounge and leaned in close to speak with Lizzie Velasquez.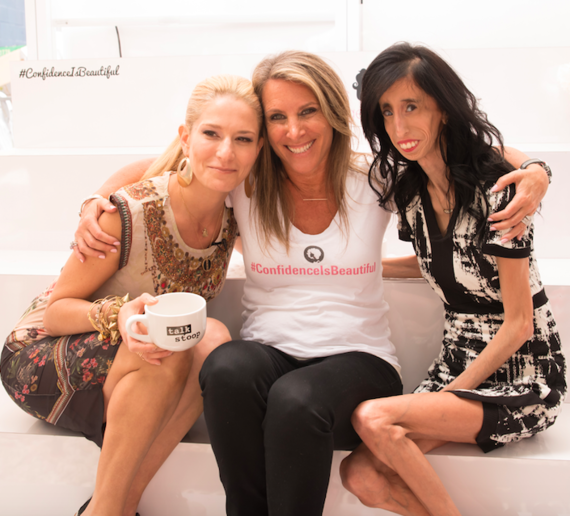 Lizzie's face may look familiar to you or perhaps you know her story, that of a teenaged girl devastated when she discovered a stranger had posted an online video of her, infamously dubbing her "the world's ugliest woman." The comments were even crueler, suggesting the world would be a better place if she took herself out of it, and questioning why her parents hadn't aborted her.
Born with a disease that made it impossible for her to gain weight, Lizzie has never weighed more than 63 pounds. Until recently, her condition had been undiagnosed and there were only two other known people in the world documented with the same affliction.
Eight years later, with a TedxAustinWomen talk that boosted her story and three books under her belt, it's Lizzie's turn to share her courage with the whole world. Her documentary, A Brave Heart: The Lizzie Velasquez Story debuted in the native Texan's backyard at the SXSW Film Festival where she won the SXSW Audience Award.
In December 2013, Sara Hirsh Bordo and her company, Women Rising, produced the TEDxAustinWomen event where Lizzie gave her talk, which has amassed over 10 million views (in English and Spanish) to date. Shortly after, Sara asked Lizzie's family for permission to tell their story on screen. In May 2014, Women Rising launched a 30-day Kickstarter campaign to raise funds for the documentary, which ultimately became one of the company's most successful campaigns of all time. Two weeks later, Sara began a journey as a first time filmmaker and quickly shot the movie with Lizzie over the summer -- across six cities and three countries.
Lizzie says if she ever met the guy who posted the original video -- she would hug him, and thank him for giving her a platform to speak up and lift others.
"Wow, you're a much better person than me," exclaimed Cat and I instantly felt the same. To take all that cyber-bullying and hate and spin it into a positive force to help others who suffer the same, is admirable and emotionally evolved.
"People who bully other people -- you can't be mad at them... you don't know what's going on in their life... that's their outlet," said Lizzie.
Lizzie had no idea she was different until her first day of kindergarten, when the other children looked at her like she was a monster. "It sent my inner world reeling, and I asked my parents, 'What's wrong with me?'"
At five years old, she had to start to deal with these feelings of deep insecurity. Her parents' strong response shaped her life: "Absolutely nothing. You're brave, you're smart."
When Cat asked which is worse -- bullying at school or cyber-bullying, Lizzie said both were equally hurtful, noting cyber-bullies are especially cruel, hiding behind fake online personas.
Cat dug in and asked, "Have you ever bullied anyone?"
"I have never fought back... with bullying," answered Lizzie. She has hit back with published books and a documentary spreading a very personal message about self-confidence. But, would she trade it all for a normal life? "Not in a million years, this was my purpose. This is how I serve people."
Encouraged by emails she receives from around the world, Lizzie can sense the sadness in many, but also the happiness when other people who once felt isolated discover a common connection. If she can tell her story, she wants others to also be able to tell theirs.
After her interview with Talk Stoop, the girls from The Ipsos Girls' Lounge presented Lizzie with a special App to do exactly that. Inspired by her bravery and to give a voice to those she will continue to inspire, we presented her with an anti-bullying "Take the High Road" App. Created by girls in STEAM (Science, Technology, Education, Arts and Math) at Two Bit Circus, the App transforms negative messages into positive ones with the goal to reverse bullying and create broader awareness of bullying so no one ever feels alone again.
"This is like Christmas, thank you so much!" Lizzie exclaimed, her enthusiasm contagious...but also not leaving a dry eye in the room.
As I stood up to address the group, including Lizzie's parents and brother, I had trouble putting together a sentence. And I'm never speechless. Actions do speak louder than words, and when I first learned about what Lizzie was doing for women and anyone who's been bullied, I was struck by her courage. It takes a brave person to raise their hand and use their voice.
We've all been bullied in our lifetime for different reasons, and during SXSW, over 200 women contributed content to the App to dare to be the change we want to see in the world. The Ipsos Girls' Lounge will be going on a college tour sharing this App, spreading Lizzie's message of bravery and asking "If you don't stand up, who will?"
Lizzie is one of the most beautiful woman I have ever met...and she is going to continue to share her story and make the world a better place. We need to "speak beautiful," because one mean word can hurt for a lifetime.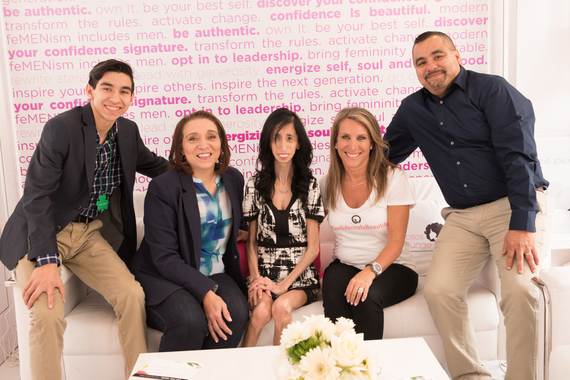 "Everyone has good in them... and I will help them find it," Lizzie clearly stated and I encourage everyone to follow her lead.
Calling all HuffPost superfans!
Sign up for membership to become a founding member and help shape HuffPost's next chapter