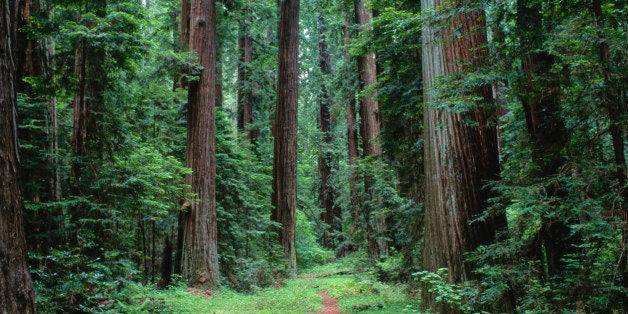 Walking in the woods or in a park is a great way to unplug and connect with nature. Find a nice path or field, or visit a park in your city. Leave the phones and devices at home. Being present in nature gives kids a chance to calm the nervous system and reduce the impact from being in front of a computer screen.
Being mindful on your walk means hearing, seeing, and feeling the things around you. Pointing out the beautiful trees, bright blue sky, or happy singing birds will help kids notice them more. Stay in the moment; don't let your mind start telling you what else you should be doing. There is tremendous value in this walk for both you and your child. Take a basket or a bag with you to fill up with leaves, twigs and stones that you can use for your gratitude journal or nature table when you get home.
When my children were younger, I would spend hours in the woods with them in Connecticut. Even when we lived in New York City, I would pick them up from school and walk over to the boat pond through Central Park. They would play on the statue of Alice and Wonderland and Hans Christian Anderson for hours. On our walks, I would often thank the trees for their beauty and the shade they provide. I would point out the birds singing or the sound of the water flowing down a brook. I would often say, "Aren't we so grateful that nature provides such beauty?"
After we returned home, we would take our collection of items and put them on a Nature Table. The table would be a small table in a hall or living area usually with a cloth covering it, a candle, a poem or some picture that the girls made and beautiful crystals. This table brought the outdoors in and was a reminder of our connection to the beautiful energy of nature.
Sometimes we would glue or paste flowers or twigs in a gratitude journal where they would write, "I am grateful for my walk today."
As they laid down to go to sleep, I would lead them in a short meditation imagining walking in the woods. Counting down from ten to one, we would go on a mindful journey deeper and deeper into the forest, recounting the trees, birds and beauty on the walk.
Now that they are older and I have moved to the Southwest, we never miss an opportunity to go on magical hikes together. It has become a part of what we do when we are together. Sometimes we chat and sometimes we are very quiet but we are always connected.
Taking a mindful walk will help both you and your child feel calm, centered and connected to the beauty, energy and rejuvenation that nature can provide.