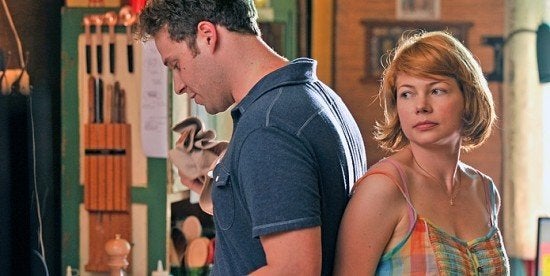 Remember, just last winter, when Michelle Williams starred in a serious indie drama about a married couple whose relationship began crumbling? Well, she's at it again.
Williams, who netted an Oscar nomination for "Blue Valentine" with Ryan Gosling, now stars in "Take This Waltz," with her on-screen spouse this time portrayed by a slimmed down Seth Rogen. The story of a married couple whose relationship is tested by an attractive new neighbor, the film co-stars Luke Kirby as the potential love interest, and, surprisingly, Sarah Silverman as Rogen's sister.
Set in Toronto, we first find the couple happily in love and ready to celebrate their anniversary. A rickshaw ride and stolen glances later, things get a little spicier.
For Rogen, it's another turn toward the dramatic; at the end of September, he'll feature in "50/50," a dramedy with Joseph Gordon-Levitt about a young man diagnosed with cancer and the way he and his friend deal with the life-altering news. Williams, meanwhile, will soon premiere "My Week With Marilyn," in which she plays Marilyn Monroe.
The film will premiere at the upcoming Toronto International Film Festival; check out three new clips (via /Film) below the synopsis:
When Margot, 28, meets Daniel, their chemistry is intense and immediate. But Margot suppresses her sudden attraction: she is happily married to Lou, a celebrated cookbook writer. When Margot learns that Daniel lives across the street from them, the certainty about her domestic life shatters. She and Daniel steal moments throughout the steaming Toronto summer, their eroticism heightened by their restraint. Margot finally gives in to desire and in doing so, discovers some unsettling truths about herself. Swelteringly hot, bright and colorful like a bowl of fruit, "Take This Waltz" leads us, laughing, through the familiar but uncharted question of what long-term relationships do to love, sex, and our images of ourselves.
Calling all HuffPost superfans!
Sign up for membership to become a founding member and help shape HuffPost's next chapter