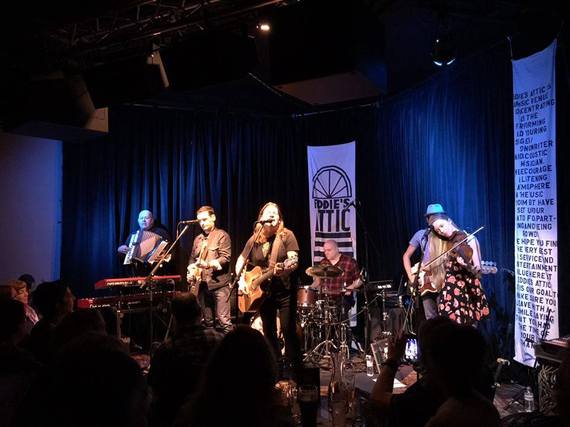 Alan Doyle and the Beautiful Gypsies onstage at Eddie's Attic. Left to right: Paul Kinsman, Cory Tetford, Alan Doyle, Kris Macfarlane, Shehab Illyas, Kendel Carson. (Photo credit: Kim Henry)
"You couldn't help but be moved by the music. From the moment they walked onstage it brought a smile to your face."
And thus my mother, a newcomer to iconic musician Alan Doyle and his band The Beautiful Gypsies, describes their infectious energy. Last weekend's concert at Eddie's Attic in Decatur, Georgia, proved to be especially full of firsts: The first sold-out show on the group's Southern US tour, the first time most of the Gypsies had ever been to Georgia period, probably the first time that a Newfoundland folk song ("Lukey's Boat") has been played in Decatur, and one particularly awesome first for me - definitely not a newcomer - was getting to share the band's magic with my parents in the place where I grew up.
Intimate from the word "go," the evening kicked off with Alan standing solo on a tiny stage to welcome the enthusiastic crowd crammed in among tables, bar, and bleachers. Eddie's quirky layout doesn't allow for much personal space (if you want guaranteed seating, you have to reserve a table), but what it lacks in room it makes up for in warmth and a hardworking, congenial staff. Proclaiming it "the coolest little music venue I've been to in some time," Alan sang the acapella tune "Dream of Home," causing everyone present to tear up at his raw emotion, and then stirred the assembly into raucous laughter by riffing on his mispronunciation of Decatur ("Deh-kat-terre"). Few artists can administer mood whiplash as superbly as Alan Doyle.
If the spell was cast in those opening moments, the next moves ensured its impact would last. Joined onstage by Kendel Carson, Shehab Illyas, Kris Macfarlane, Cory Tetford, and the aptly-named Paul Kinsman, Alan launched into a selection of upbeat songs that got the entire room moving and cheering. Whether from his first solo album Boy on Bridge, his latest entitled So Let's Go (nominated for a 2016 Juno Award), or old favorites from Great Big Sea (Alan's "mothership" band for the first twenty years of his career), he and the Gypsies breathed exquisite life into each piece.
I've always experienced a kind of spiritualism in the midst of Alan's performances, but the Eddie's Attic setlist brought that ethereal beauty into focus like never before. From "Dream of Home," which my mother called a prayer, to the catchy bluegrass parody "Hit the Ground and Run", the darkly humorous "Testify" (both co-written by Russell Crowe), and the radiantly energetic "Ordinary Day" to name a few, the show was woven on tales of saints and sinners, infused with divine intervention. In another first, I could fully appreciate the extensive influence of Alan's degree in English and Religious Studies upon on his music. Nothing preachy or exclusive exists in his work; but listen to those thoughtful lyrics, inviting voice and the Gypsies' reinvigorating instrumentals, and suddenly you're cleansed, open, grateful for the world's blessings. When they played "Where the Nightingales Sing," Kendel and Cory breathing raptly to recreate a modern waltz, I felt as if they'd given us all a deep, lingering soul kiss.
Speaking of soul, Cory's rendition of "Georgia on My Mind" was the undisputed standout of the night. Guitar in hand, the born-and-bred Newfoundlander delivered the Southern classic with such otherworldly mastery of R&B you'd swear he was secretly a good ol' boy (or possibly possessed by the ghost of Ray Charles). The force of his performance absolutely brought the house down, capped off by Alan pretending to look aghast and quipping, "I've made a terrible mistake [giving Cory the reins]!" which sent the audience into fits of hilarity.
But memorable moments always abound when you're dealing with the Beautiful Gypsies. Kendel Carson charmed the throng as usual, shaking her curtain of luxurious Rapunzel hair as she wielded her fiddle like an enchantress with a wand. Between firing off impressive violin solos ("When I'm Up"), incorporating a little fancy footwork ("My Day"), and letting loose a gorgeous singing voice ("Shine On"), it seems there's nothing this lady can't do. Shehab Illyas, comically stoic on bass, provided the essential fulcrum at the center of the group's swirling energy; even caught up in Alan's celebrations over a pint of Guinness, he kept everyone together with pulsating rhythm, never missing a beat or a chance to pour his heart into glorious sounds. No drummer ever matches Kris Macfarlane's levels of percussive poetry, but I caught a new glimpse into his abilities when he accompanied Alan on "Laying Down to Perish" via accordion. The haunting melodies he coaxed out perfectly illustrated the tragic elegy about mariners preparing to meet their icy deaths. And Paul Kinsman - who has never toured outside Newfoundland before, another first! - managed astonishing switches between keyboard and piano accordion from number to number, including an heroic solo on the love anthem "Sea of No Cares." Watching the Gypsies operate separately and in tandem, navigating the small space with constantly changing equipment and dancing in effervescent harmony, it was clear that we were in the presence not just of consummate professionals, but of a loving and multitalented family.
And for those few hours, it seemed that all inside Eddie's Attic truly were family, or at least a connected congregation. Throughout the night as the Gypsies shared stories from their travels - including how Alan and Cory met decades ago on a barroom floor while the latter played guitar lying on his back - the crowd was drawn into every bit of banter. A man named Chuck, seated at the table nearest the stage, became part of the show when Alan repeatedly handed him drink after drink, even receiving his own round of applause.
Awed by Alan, my mother whispered, "He genuinely wants everyone here to have a good time."
It's true. That commitment to spreading happiness isn't unique to the Eddie's Attic gig; it's intrinsic to Alan and the Gypsies wherever they go, a quality so legendary that fans trek from all areas of the globe to bask in it. (Several at the Decatur show had traveled over 1000 miles from Canada or the Northeastern US just for the single night of music.) You can see it in the Gypsies' chemistry onstage, in Alan's exhortations for audiences to clap and sing along, and in the way they play encore after encore, even when an eight-hour bus ride lurks immediately ahead. This will always be their gift.
But what was unique to Eddie's Attic, at least to me, was the glow from my parents' faces that night, and the calm that pervaded the room despite the constant action. Following the Gypsies' incantations, I realized why it means so much for Alan and his frequent collaborators like Scott Grimes to play their hometowns. In a few happy instants your child and adult selves merge; you can introduce joyful new melodies to those who shaped you, and everybody grows closer than they ever thought possible. This is why I'm so grateful that I could share the evening with my parents. That night in Decatur, thanks to Alan and the Beautiful Gypsies, I could truly say I was home.
And if you're still wondering whether newcomers to this merry band really feel so euphoric the first time out, I give you my mother's final words on the subject: "I didn't have to know Alan's songs; I knew his heart. And that made all the difference."
--
For more about Alan's adventures with the Beautiful Gypsies, visit alandoyle.ca.
REAL LIFE. REAL NEWS. REAL VOICES.
Help us tell more of the stories that matter from voices that too often remain unheard.