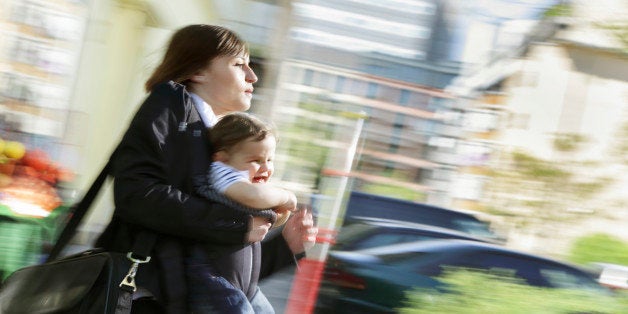 This week, lots of companies will host "Take Your Child To Work" days in their offices. Interestingly, many of these same companies allow dogs in their offices every day of the year, but feel the need to have one special day dedicated to bringing one's offspring to work. I do say this somewhat in jest, since the origins of "Take Your Child to Work" stem from the objective of exposing children to various careers versus being born out of parental convenience or necessity.
That said, at various times in my career -- as a parent of a 3-month old working on Google's IPO, for example -- I've had a few perfect storms where I didn't have the luxury of waiting for the annual invitation. Fortunately, Google made it comfortable and accepted to have children in the office occasionally, with a huge hat tip to @Susan Wojcicki. With support of the founders, Susan, then a new mom, was able to and did indeed set that tone of acceptance from Google's early days.
When I arrived at Urban Engines, it was important to me to continue this tradition, making it as natural as possible for kids to visit, while also being careful not to alienate or frustrate team members without children. Understandably, parents, including me, tend to be apprehensive about bring their children into the office, even with the most tolerant of environments. So here are a few tips:
1. Bring Your Kids to Work
Yes, this seems obvious, but company leadership -- both men and women -- should bring their children to work occasionally and naturally, without fanfare, demonstrating that it's not controversial for employees to do this, too, if done respectfully. It's a huge benefit for parents to feel comfortable having their kids in the office, either in a pinch or to capitalize on a serendipitous school holiday and a rare free lunch hour.
2. Don't Wait Until It's Mission Critical or Girl Scout Cookie Season
Just like fire drills, having a plan and limiting surprises will help you be ready in case of a real emergency. So have your kids visit the office when it's not needed and when you're not soliciting your fellow employees, which you shouldn't do anyway, but that's a whole other topic.
Pick a day with light meetings for you, no big clients visiting, etc. Come prepared with items to keep your child well-fed and entertained. If you can book a dedicated conference room, do it. Give your kids a chance to have a positive experience with you at work when you're not in panic mode. And have an exit strategy just in case it doesn't work out.
Here are some more specific things to think about depending on the age of your child:
Infants - Bring extra clothes for you and your child (and plenty of extra diapers for your child). Make sure you have a place for them to hang out, whether it's in their car seat, in pack 'n play or on a clean blanket on the floor. Don't try to get your child down for a nap in the office unless you're exceptionally good at it (not me!) or it's absolutely necessary. And if your child starts to cry, and he will, don't worry about it -- we tend to think our children sound louder than everyone else thinks they are -- although booking that conference room for your own peace of mind isn't a bad idea....
Toddlers - Again, it's good to have extra clothes on hand and a conference room reserved. Also with a more mobile child, do a quick child-proofing of the area, picking up any stray staples, locking down surrounding adjustable chairs so little hands can't get stuck, and even bringing in some of those outlet covers from home. Bring a selection of favorite toys, comfort items and foods for your little one.
Preschool and grade school - Once they are a little older, the office can be an adventure if you set the ground rules for everyone. Letting kids write on whiteboards, choose their own snacks from the breakroom, and, of course, entertain themselves with a movie in that conference room you've booked is a huge win for most kids. For kids who have homework, each or all of these things can be the perfect carrot to bring assignments to completion. And the office is a perfect opportunity for children to practice their good manners with willing co-workers.
I recognize that it's not appropriate for every job or every company to have children in the workplace, either scheduled or unexpectedly. But if you're fortunate enough to be in an environment where it works and people are supportive, count your blessings and seize the opportunity. And if you are fortunately enough to be in a position where it works and you can create that support, count your blessings and make it happen.