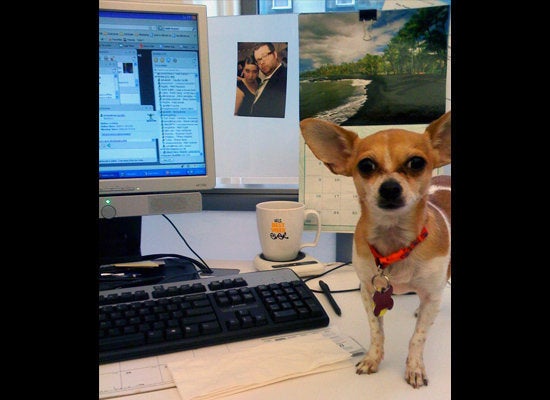 UPDATE: We received hundreds of submissions from dog owners and their coworkers. Check out the hardest working pets here.
It's a little-known tradition, but Take Your Dog To Work Day can be a momentous occasion for some. Instead of saying goodbye to a sad puppy in the morning, today, dog owners have carte blanche to bring their dogs with them.
While this might sound like a Friday devoted to dog owners, I can testify that it's also a service to non-dog owners. Those of us whose circumstances prohibit a canine companion get the opportunity to shower pent up affection on dogs that our co-workers bring to the office.
Pet Sitters International, who founded TYDTWD in 1996 in the UK, hoped that bringing dogs to the workplace would inspire dog-less co-workers to adopt one of the many foster animals that need a home.
In the spirit of TYDTWD, we're asking readers to send in photographs of today's office dogs -- ideally in a markedly work like environment, such as on a desk or a copy machine.
Send your pictures to photos@huffingtonpost.com with your dog's name in the subject line, a caption for each picture and your name in the body of the email.
Popular in the Community