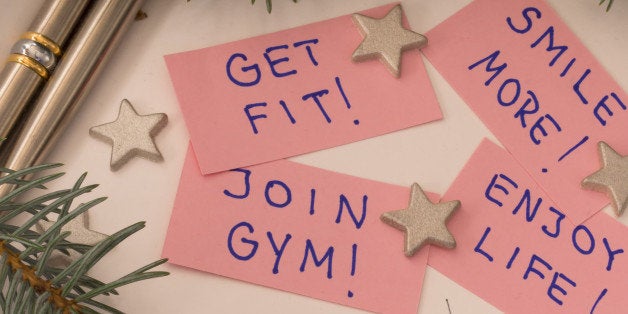 I am always so happy to have a reason to think about starting anew, to wipe the slate clean and build up again with a whole fresh perspective. Boy, that's appealing!
And so it is that I enter 2015 with a whole spate of resolutions, borne out of the wisdom of my two boys.
1. Take your own good advice.
"Breathe, count to 10," Oscar told me on the afternoon recently when I was hyperventilating because guests were about to arrive for a holiday get-together and nothing was ready, including me.
"You told me that, remember? When I couldn't find my baseball game?" he said. "You have really good advice, Mom, you just need to take it."
2. Chill.
This is the constant refrain of my 13-year-old, Eli, the one-word teenager tactic to de-claw a tiger mother intent on controlling him. Even though it is enraging, stretched long into about four syllables and joined by a hand up in the universal sign of "Stop," he is often dead-on.
3. Know you're fine.
If the boys have a bruise, a cut or a slight cough, my imagination runs wild, and I am on high alert.
"Are you okay?" I ask, fear and concern surely showing in my eyes.
I am not one to easily mask anything. The responses, usually, are rolled eyes and a very emphatic, "I'm fine, Mom." And, of course, they most often are.
4. Don't be afraid to be the "bad" parent.
A friend told me recently that there was concern about me a while back because "you let your kids' hair grow long," and "apparently you weren't going to the grocery store." It upset me to think people were judging, but then I realized that people -- including me -- do judge, and I cannot worry about appearing perfect. In fact, if I fail to cook elaborate home-cooked meals heavy on kale and order out Chinese or pizza (no organic ingredients in sight) instead, if I let the children (long-haired or short, it is up to them) skip a day or two between showers, "It's not a big deal, Mom," they say. And they're right.
5. Smile.
Life is too short to be so serious. Yes, racism is rampant. Sure, plenty of terrorists want to take us down. But I never watch the news or read all too much about the details of the terrible tragedies because if I do, I get paralyzed. I do my part, I try not to ignore the harsh realities right around me, but I attempt to take in Eli's "It's all good," mantra. Because even if it is not currently "all good," belief that it can be is way more than half the battle toward making it so.
6. Believe.
Yes, Eli's loyalty to the Giants despite their difficulties has inspired me. Sometimes I have to be reminded of the idea that belief beyond a doubt is a powerful tool, that the power of the mind to overcome adversity is strong if there is some compelling person, place or thing pulling you through in your thoughts.
7. Slow down
On days off from school, my boys often want nothing more than to stay in pajamas all day and do whatever they want. Screw my agenda to hit the top exhibits at local museums and catch a show. Despite living in one of the most culturally rich, exciting cities in the world, they want to sit and do nothing. And they're right. Despite what's going on outside our windows, we just need to check back in with our own compass without crossing paths with anyone else. Here's to lazy days.
8. Never underestimate the power of a hug.
Sometimes, miraculously, my growing boys will ask me to snuggle. Maybe they can't sleep, or maybe they're cold, but whatever the reason, they need me to wrap them in my arms. And I am always more than happy to oblige. Touch is a crucial savior, and I will never stop attempting to crush my boys in the warmest of hugs so long as we all shall live.
9. Let it go.
Even if you're right, even if you're so sure someone else is wrong, do as the Frozen song famously says and "Let it Go!" With family or friends or strangers on the street, letting altercations fester too long is not good for anyone, especially you.
10. Try.
I used to give out gold stars to people just for trying. I need to find some good puffy glittery stars and start again. Because in whatever circumstances, against whatever constraints, there are always people who inspire me because of the energy they expend toward achieving their goals. My sons inspire me all the time. This year, Oscar worked hard to put in contact lenses and bravely began drama classes, and Eli went willingly to Social Studies Regents after school, barely registering a complaint with all he had to do in the high school application process. I am proud and motivated by my kids to keep on trying in my many endeavors.
Good luck with your own lists, and with making 2015 the best ever for you and yours!
Read Fearless Parenting every other Thursday on BrooklynPaper.com.
Related