"Real business success is not only surplus that you've created for your own core constituency but the broader surplus. After all, what is capitalism? Being able to get productivity gains that actually help the broader economy in society."
Microsoft CEO Satya Nadella (in Fortune)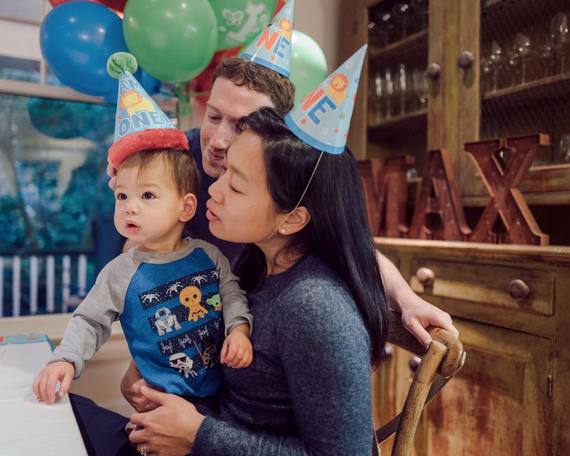 (Photo: Mark Zuckerberg family, credit: Mark Zuckerberg Facebook page)
Fortune magazine's 2016 edition of its annual Businessperson(s) of the Year present an interesting portrait of leadership in 2016. Fortune's list was developed based on their own analysis of 12-36 month's profits, revenues and stock performance, return on capital and debt, and "the intangibles: Is the CEO influencing business? Taking bold, visionary steps?"
Their list of "star executives" has, in their view, "wildly varying styles and approaches." They also have similarities in that reflect superior leadership in 2016 - reinforced in my interviews on Green Connections Radio™ with top-level leaders:
1. "Think for the ages while knowing when to go deep": That's how one of Zuckerberg's former lieutenants, Mike Vernal, described the Facebook leader. It's taking a "very, very long view," such as over eras of "Civilization" (MZ's "favorite video game," according to Vernal), while also "plotting their next move."
2. Hire for talent - and listen to them: Hire people who know more than you do, who you can be inspired by.
3. Collaborate: Leverage this talented team as an "ecosystem," including brainstorming new ideas with them in a way that births better new ideas and solutions. Don't underestimate people when collaborating or negotiating either.
4. Consistent messaging matters - especially from the top: Words and actions matter, and people are watching and listening, especially during times of uncertainty, change and stress. If you don't do public speaking well, get coaching and just do it. Practice, practice, practice.
5. Be generous: Profitability, while necessary, is not only measured in dollars and stock prices. Generosity with customers, employees and your community is hugely important. Mary Barra gave generous settlements and offers to GM car buyers during the various recalls and emergence from bankruptcy, United's Oscar Munoz negotiated surprisingly generous packages with their unions ("happy employees make happy customers"), Facebook instituted four months of parental leave (Zuckerberg took two when his daughter was born), and then there are the donations to non-profits and to help kids in developing countries gain the skills they need to succeed in the 21st century.
6. Pivot: Read the market and your stakeholders, and turn crisis into opportunity. Many companies are doing this vis á vis climate change mitigation and energy efficiency, for example, whether being pressured by activist investors or not. They experience the extreme weather events and read the science and know that their first priority is to protect their business operations from predictable, potentially harmful externalities. Companies like Seventh Generation, also featured in this Fortune edition, are making a nice profit being green too; it was reportedly just acquired by Unilever for $600-$700 million in cash.
7. Be humble, contemplative: Whether it's hiring people better than you, or practicing a quieter-than-normal leadership style, or taking the time to listen to customers and employees directly, humility, sharing the credit and taking time to just think alone seem to be a trend among these leaders. Ross CEO Barbara Rentler wouldn't even provide Fortune with a photo for the Fortune article.
8. Make deals: Mary Dillon has become known for her deal-making skills, and United's Oscar Munoz made deals with the airline's unions that were out of sync with industry practice at the time, which improved morale and performance (and on the heels of his heart transplant is even more impressive). Free works too, like Didi Chuxing CEO Cheng Wie did to gain marketshare over Uber in China (Uber eventually gave up the war and sold its China unit to Didi).
9. Manage every minute: Sure, these CEOs have a coterie of folks to do things for them, which perhaps makes their time management a lot easier, but they do have much greater non-stop demands on their time too. Yet, they all assiduously guard their time, deliberately choosing how to spend every minute.
10. Innovate, from the inside out: An innovative culture goes without saying in 2016, but what struck me was how much these leaders were innovating internally as well as externally. As I noted in this list, these CEOs broke the patterns of their predecessors -- in negotiation, style or approach -- or made unconventional hires, and in doing so show us to be brave internally, as well as in terms of developing cool products or launching in new markets.
11. Take care of yourself: Sleep, exercise, quiet time, family time, healthy eating....they all affect your thinking, stamina and performance, as well as your happiness. Just ask United's Munoz post-heart transplant, or Mark Zuckerberg now that he's a dad. If you need convincing, read Arianna Huffington's new books Thrive or The Sleep Revolution for the science behind what happens to your brain and your body when you're sleep- and nutrition-deprived.
12. Promote women and minorities: Once again, this list of 50 is predominately white male, which reflects the Fortune 500-level CEOs...still. The list includes five women, 11 Asians, two Hispanics and no African Americans. The rest are white men. Don't tell me you can't find qualified women - call me, I have "binders of women."
Hats off to all the women behind the scenes who helped make these CEOs successful, including Facebook's COO Sheryl Sandberg.
What trends do you see in high performing leaders today?
Tell us on Twitter @joanmichelson or on our Facebook page
Calling all HuffPost superfans!
Sign up for membership to become a founding member and help shape HuffPost's next chapter