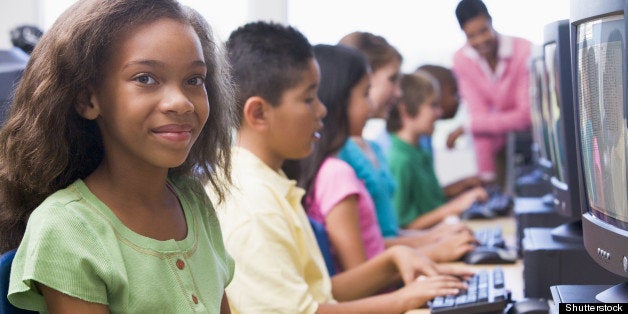 It's true, kindness combats cruelty. And since we're in the midst of October's National Bullying Prevention Month, it's the perfect time to turn thoughts into actions.
Being kind, being nice, treating others the way you want to be treated, and not hiding behind a computer screen to tear down others anonymously -- it all sounds too simple. At the end of the day, your offline personality should reflect your online demeanor. Getting everyone on board, however, takes a village. Erasing harsh words and replacing them with respectful and thoughtful messages is the motivation behind SmartSign's #TakeNoBullies campaign.
#TakeNoBullies is about building a community of upstanding digital citizens. With a variety of engaging, catchy slogans such as "Is your status more important than their feelings?" and "Tweet Responsibility,"#TakeNoBullies is making a difference by donating their stickers and buttons to schools and libraries across the country.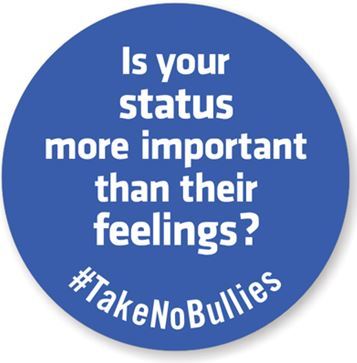 Inspired by the campaign, SmartSign and I sought out ways to help communities educate our future leaders about how to prevent peer cruelty and promote kindness. We spoke with teachers, librarians, coaches, and parents about the roles they play in the younger generation's digital experience for a "Cyber-Shield" article series. Our discussions illustrate the significance of each of us stepping up to be that extra cyber-support for a child whenever they need it. Below, you can learn more from each of our conversations.
SmartSign recently partnered with New Port Richey Public Library in Florida for their Bullying Awareness Night. Jessica Meredith, the Youth Services Librarian, expressed enthusiasm about the campaign's messages and how teens perceived them:
By providing our community's teens with buttons and stickers from #TakeNoBullies, we give them an opportunity to share an important message with peers using a platform that is familiar to them.

Jessica continued to say,
It's impossible to ignore the impact that both social media and bullying have on today's youth. We should be using any means necessary to spread the concept of digital responsibility everywhere. The teens have been taking extra materials to share with their friends at school, which I think is awesome.
Integrating #TakeNoBullies resources into schools and libraries can spur the creation of new events and enhance already existing initiatives. Of these, schools can leverage #TakeNoBullies to start another kind of anti-bullying program: kindness clubs. Kindness clubs can take several forms, including cyber-mentoring senior citizens, which can help reduce cyberbullying across ages. In turn, the elders can provide wisdom for the youngsters, while at the same time bridging the digital divide. All in all, kindness clubs encourage taking it upon ourselves to do good for others without being asked.
As we consider the multitude of issues online facing young generations, we should also identify the successes we've made in increasing digital citizenship awareness. We need more businesses like SmartSign creating campaigns to make a positive influence on today's youth. We must raise our children with empathy and compassion and recognize that the children of today are the leaders of the tomorrow.
•Start a kindness program at your workplace, and ask your employer about getting involved in your community.
•There's never an act of kindness that's too small. Organize your neighborhood kindness club - all ages included.
•Take action and be an upstander when you witness online and offline cruelty.
•Visit Spark Kindness, Ripple Kindness , Pennies of Time and Random Acts of Kindness for more ideas to get started with your program.
Many thanks to SmartSign for their generosity and support to communities.
Related