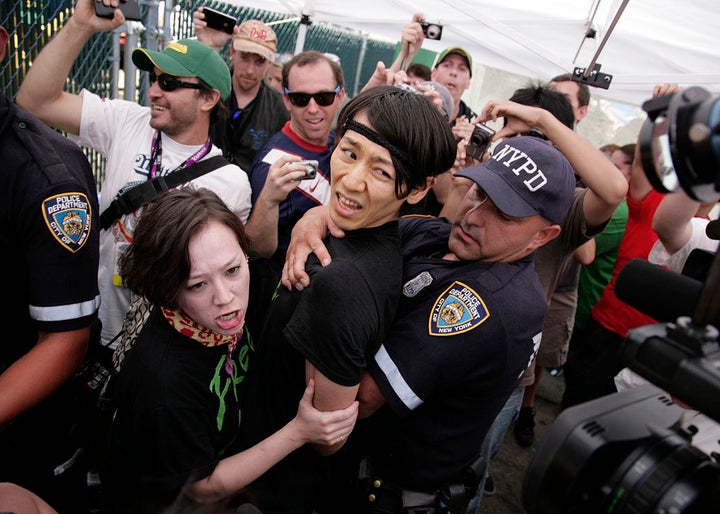 It's a case of righteous indigestion -- er, indignation -- for competitive eating legend Takeru Kobayashi.
Kobayashi, a man considered by many to the be the face of competitive eating, has had his face removed from the sport's de facto Hall of Fame.
Late last month, Major League Eating officials painted over a mural depicting Kobayashi in Coney Island, Brooklyn, where the Japanese professional glutton made history by winning the Nathan's Famous International Hot Dog Eating Contest six times in a row.
But after three years of losses and a shocking arrest after he stormed the stage at last year's contest, Major League Eating officials removed the wiener-eater's face from the billboard featuring competitive eating's top champs.
Unsurprisingly, the decision to purge Kobayashi from the mural left the famed eater with a bad taste in his mouth.
"Truth is, they cannot erase what people remember," Kobayashi told AOL Weird News. "I hope history lives on inside the people."
The removal of Kobayashi from the mural is the latest salvo in an ongoing food fight between the eater and Major League Eating, the group that organizes the Nathan's contest and most of nation's largest eating contests.
The discord started last year just before the July 4 hot dog contest, when Kobayashi bailed out of the competition due to an exclusivity clause in his contract that would have barred him from eating in some outside competitions, taking on sponsors or making media appearances without Major League Eating consent.
Kobayashi didn't compete, but he showed up at the event and rushed the stage, only to be arrested before he could reach the other eaters.
Though he hasn't been competing in many high profile competitions since his arrest, Kobayashi -- who once devoured 17.7 pounds of cow brains in 15 minutes -- hasn't been shy about discussing his beef with Major League Eating, releasing the following statement to AOL Weird News through his translator, Maggie James.
By not signing their contract, they will erase you from the wall. They are not deep about the spirit of history. They do as they wish. They are not presenting a contract that protects the league as a whole. They only present individual slave contracts which control each player in their category of value. Nothing protects the sport. Truth is, they cannot erase what people remember. I hope history lives on inside the people. That is more valuable than what is on a wall. I also respect the many other players before me who first left the contest and continue to do so, in search for feedom [sic] and new beginnings in competitive eating.
That's hogwash, according to hot dog contest organizer George Shea, president of Major League Eating.
Shea said Kobayashi wasn't erased from the mural because of contract disputes. He was removed because he's no longer relevant.
"The wall changes periodically," said Shea. "It is updated to reflect the current champion. It is not a 'Hall of Fame' that honors past champions, it is a 'Wall of Fame' that honors those who are competing now."
No new eaters were added to the current wall, according to EatFeats.com. But Kobayashi's prominent old spot now features Sonya "The Black Widow" Thomas, a popular eater on the circuit who has never been a top competitor at Nathan's.
According to Shea, Kobayashi's remarks about "slave contracts" were simply revolting.
"[Competitive eaters] are not slaves. I find that to be silly and somewhat offensive because there are slaves in the world," he said. "To invoke that language is self-indulgent, dangerous and inappropriate."
"Kobayashi made many hundreds of thousands of dollars from Major League Eating and was always treated with enormous respect."
Major League Eating is hardly a big money sport. For most competitors, it's a passion more than a profession. But top eater and reigning Nathan's champ Joey "Jaws" Chestnut earns more than $200,000, according to The Brooklyn Paper.
"The eaters have made significant money on our platform and we treat them very well," said Shea. "[Kobayashi] must be frustrated with his decision."
Calling all HuffPost superfans!
Sign up for membership to become a founding member and help shape HuffPost's next chapter