This weekend, Twitter was all about #TakeAKnee.
The hashtag, which was also referenced as #TakeTheKnee, is a response to not only Colin Kaepernick's decision to kneel during the national anthem last season, but also to President Donald Trump who called him ― and those who refuse to stand for the national anthem ― a "son of a bitch."
It was also used by Twitter users who condemned athletes' decision to kneel. To those Twitter users, it's a sign of disrespect towards the flag, the country, the military and even President Donald Trump. This view, though, entirely misses the premise behind the protests in the first place: calling out systemic racism.
That Trump took the time to not only call these men "sons of bitches," but called for their firing and for a boycott of the NFL, shows exactly how horribly divisive he can be.
Trump's response only motivated more players to take action; more than 150 athletes, coaches and owners stood in solidarity with Kaepernick during Sunday's games and spoke out against him. His remarks and outrage paint a clear example of the racist dog-whistle language he uses to try and keep black athletes who speak up in check.
"Trump's comments reflect a wider view of sports in which black people serve for the pleasure of white people, and any who deviate that... will be ruthlessly silenced," Rashad Robinson, the executive director of Color of Change, said in a statement sent to HuffPost.
"Our communities must refute this disturbing worldview and rise to the defense of the free speech rights of our allies in sports," he added.
Trump of course denied that outrage over the protest has something to do with race and responded on Monday with his own hashtag: #StandForOurAnthem.
But Trump's troubling attitude forces Americans to lose sight of the role racism plays in spurring action in the first place.
"To me, this is bigger than football and it would be selfish on my part to look the other way," he added. "There are bodies in the street and people getting paid leave and getting away with murder."
Racism is why oppression in America continues to function, creating a societal hierarchy that places black people at the bottom. Racism is why discrimination exists and why "black lives matter" must be said.
Racism and its manifestations in daily American life are also why many within the NFL and NBA, both dominated by black athletes, support Kaepernick. It's more action than Trump has taken on the matter; for his part, Trump has issued harsher condemnation of athletes who denounced racism than the white nationalists who recently gathered in Charlottesville to defend it.
This is bigger than Trump and the flag. Yet it's still easy for the narrative around the protests to derail into a debate about free speech, the right to protest and respect for the flag. It already has. Language like "unity" and "diversity" is already being used as reasons for why players must stand together. Many NFL owners sent this message over the weekend, supporting players who protested but failing to outright mention the oppression black Americans face that led athletes to take action.
Calling out racism by name is important; it's what Kaepernick's protest intended to do. If we lose sight of this, we stand the risk of losing the momentum and power the movement has built so far.
It's important that athletes and others #TakeAKnee, but if we don't identify and remain clear on what we're fighting against, then we not only lose steam ― we lose hope.
Before You Go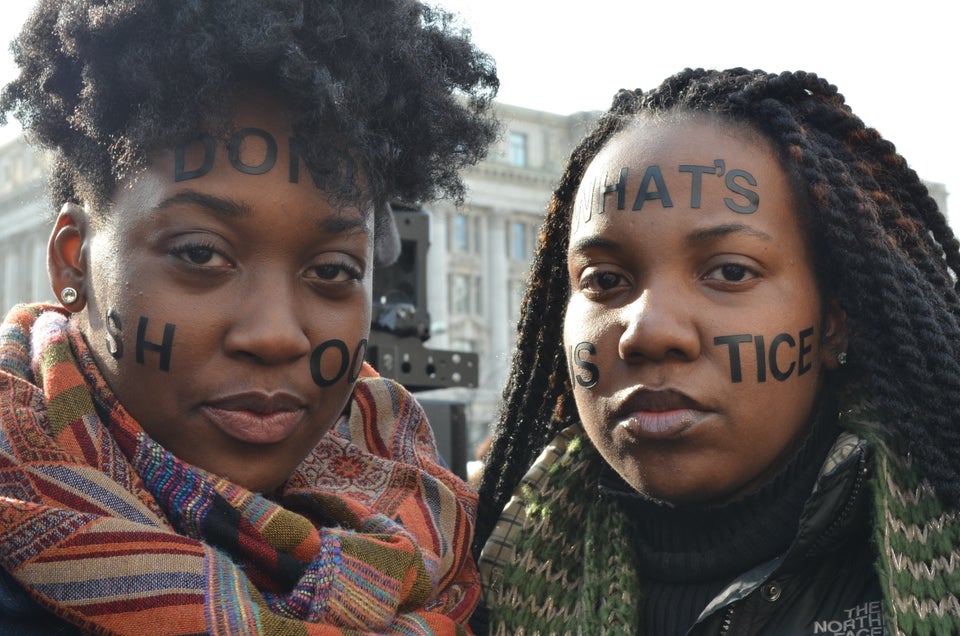 "Black Lives Matter" March
Popular in the Community